Possible catalytic converter theft tools found
Two suspects were arrested early on the morning of Oct. 17 in a 1998 Toyota Camry with an "altered" license plate, according to a post on the Piedmont Police Department's Facebook page.
Upon pulling the vehicle over, officers were informed that it had been reported stolen in San Leandro.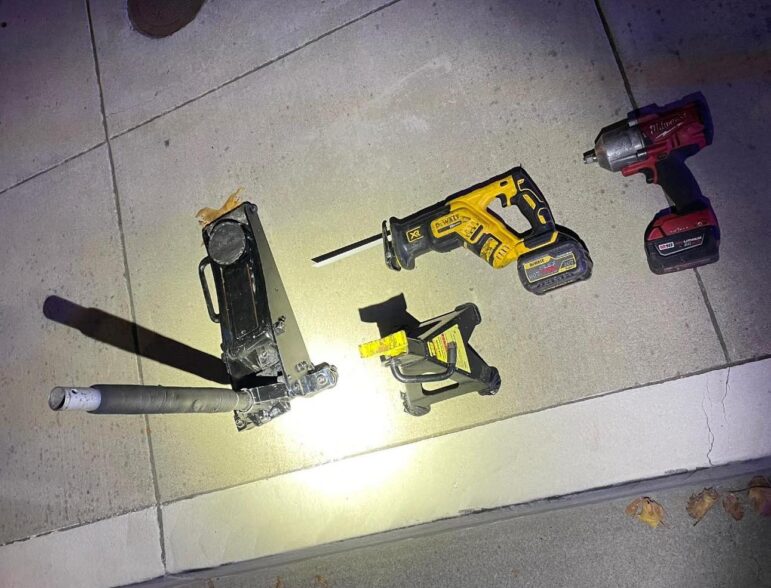 The two suspects were taken to Santa Rita Jail in Dublin for possession of a stolen vehicle, probation violations, and outstanding warrants. A search of the vehicle turned up multiple car jacks, a Sawzall saw, blades, and socket wrenches — tools believed to be used in catalytic converter thefts.
---
A disturbance was reported on Oct. 8 at the Safeway parking lot on Grand Avenue. The call came in at 10:52 a.m.
Both people got in a car, and the driver headed north on Grand as they continued to argue, according to Piedmont Police Capt. Chris Monahan. When the vehicle was stopped at a red light, the passenger, described as a suspect by the police, put the vehicle in park and took the key from the ignition and fled on foot.
Officers searched for the suspect but did not find her. The driver was given a courtesy ride to BART and the vehicle was towed and will be recovered if the owner can come with another key.
---
The log also reported an incident involving two people with dogs at Caperton and Sheridan avenues at 4:46 p.m. on Oct. 10. According to the crime log, one person was allowing their dog to run off-leash and the loose dog "charged" the reporting person's dog but did not bite the other dog. The two had a verbal exchange.
Police ask that similar incidents be reported to the non-emergency number, 510-420-3000.