The Highlanders capped a whirlwind week by beating San Leandro in four sets on September 30. The match had been rescheduled from two days earlier on the road to accommodate Piedmont's homecoming celebration after the varsity football team was shut down due to injuries.
That led to a big crowd coming to Binks Gymnasium to watch Piedmont pull off a 25-13, 25-27, 25-17, 25-15 win.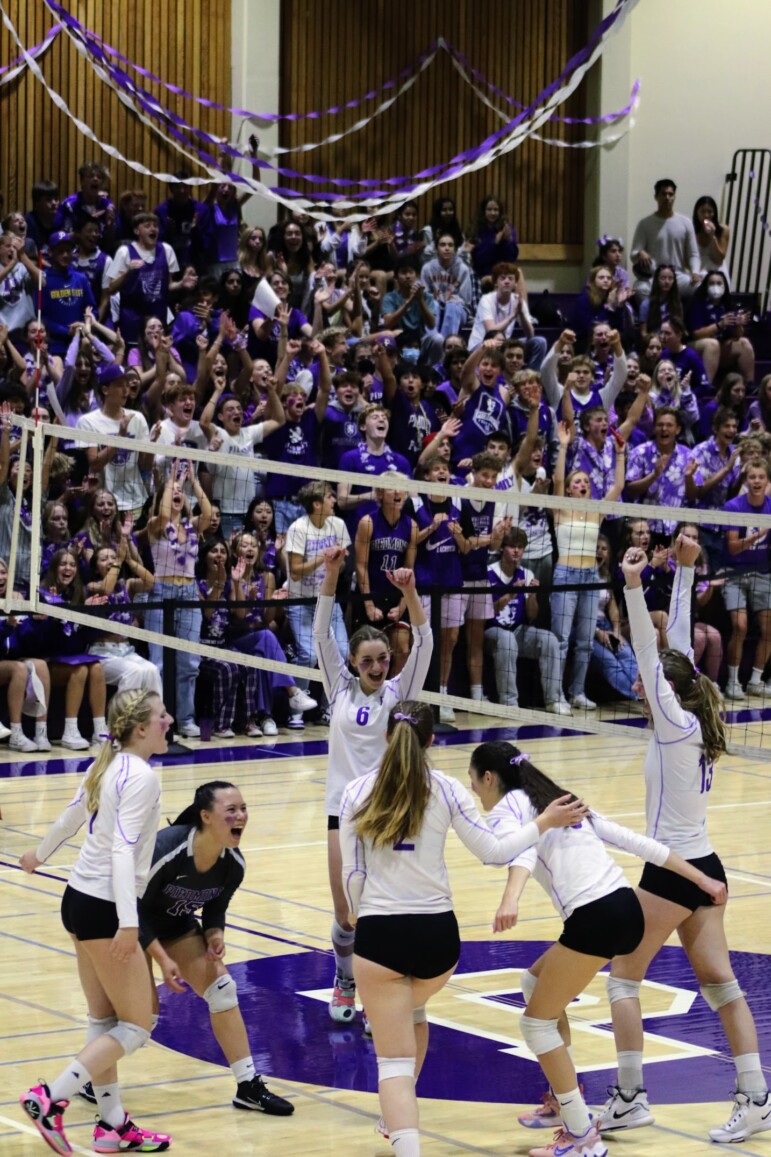 "We fed off of our amazing crowd; we had the band there, cheerleaders there, and a packed student section," Highlanders coach Mariah Cardenas said. "The girls came in super strong."
Cardenas said she continued to use Eden Lorin as an outside hitter with sophomore Klara Zietlow at libero. Lorin came into the year expected to play most of the time at libero.
"The past couple of games, it has been pretty evident that Eden is a killer on the outside and does really well all-around," Cardenas said. "So I'm definitely utilizing Eden playing front and back row, and Klara is the only sophomore we have on the team. Klara has taken over the role of libero as a champ."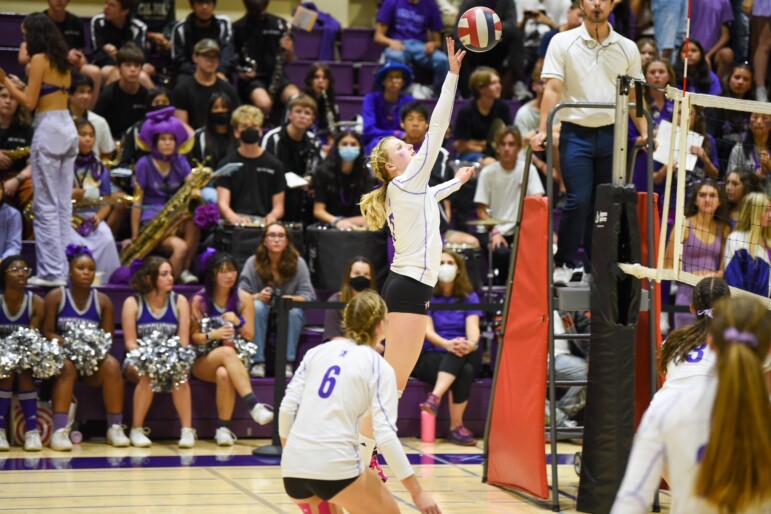 Lorin had 11 kills and seven aces to lead the way. Sadie Town had 13 kills and three aces. Lila Town added five aces.
Lila Town served a five-point run in the first set that gave Piedmont a 14-5 lead. Sadie Town had the kill that ended the set.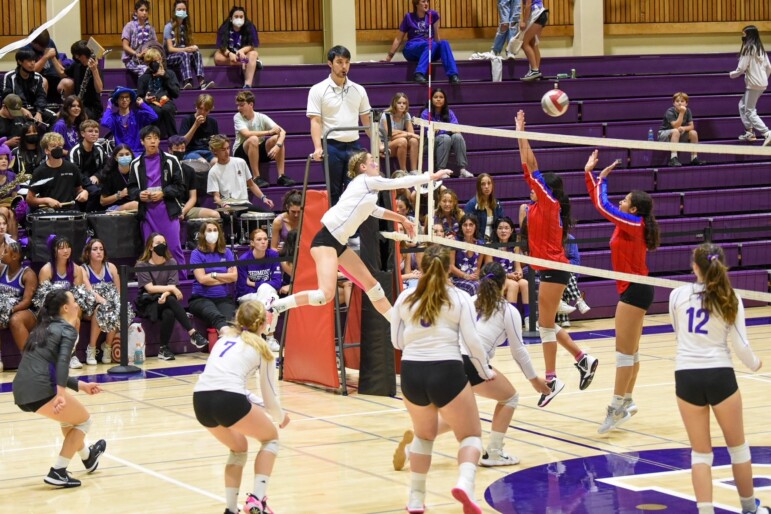 In the second set, it was a great battle, with the Highlanders leading through the middle, 15-9. Then, the Pirates fought back. The end was a terrific back-and-forth affair with San Leandro evening the match, 27-25.
The third set was close early on. It was tied at 12-12 before Piedmont edged in front. Sadie Town served out the final four points for a 25-17 win.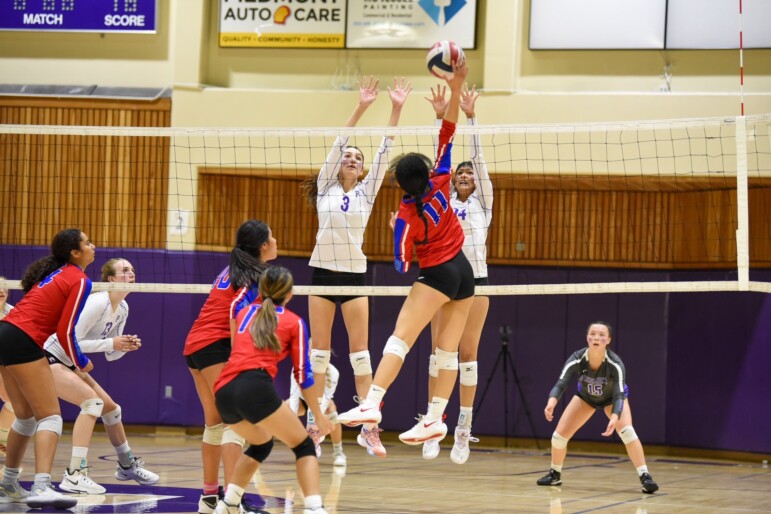 San Leandro jumped out to a 3-0 lead in the fourth set before the Highlanders rallied to take control. Lorin and Bree DeYoung combined on a block to put Piedmont in front, 4-3. From there, it was all Piedmont. Shelby Cavenaugh had the kill to finish off the match.
DeYoung, Cavenaugh and Tara Kothari each finished with four kills. DeYoung added seven blocks and Cavenaugh five.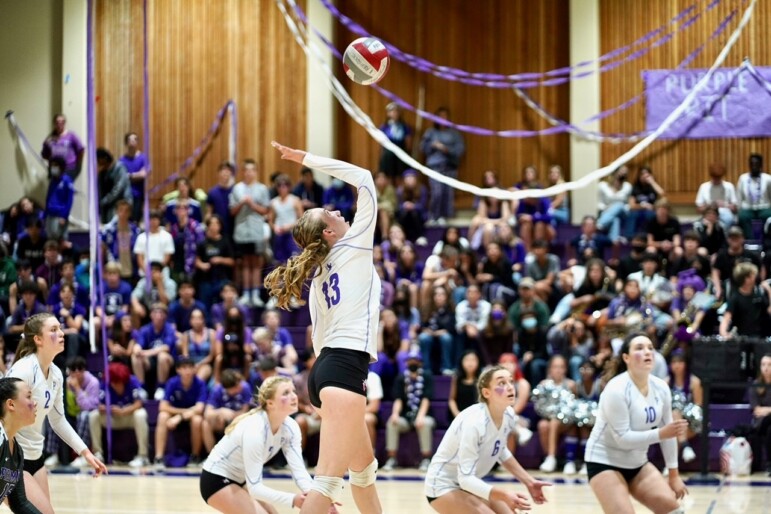 "Second set, I think we got a little comfortable," Cardenas said. "We mixed up the rotations just a little bit but it didn't work out as planned, so in the third set, we went back to the original rotation."
Piedmont then traveled to Berkeley to face a tough Yellowjacket team on October 3. Berkeley came away with a sweep, 25-23, 25-18, 28-26.
Homecoming photo by Sophie Hess