As the Oakland Symphony launches its new season Friday night in the art deco splendor of the Paramount Theater, the entire organization will be venturing forth on a quest. Guest conductor Ankush Kumar Bahl, leading the orchestra through a concert anchored by Hector Berlioz's epic masterpiece "Symphonie fantastique," will be the first in a line of six candidates throughout the season auditioning to replace the late and much beloved Michael Morgan as music director.
Morgan, who died unexpectedly in August 2021 of complications related to a post-kidney transplant infection, was known during his 30 years on the podium for programming and outreach efforts that reflected his commitment to directly engaging the orchestra with its diverse surrounding communities. There is every indication that his successor will be expected to respect and further that legacy.
"Absolutely," confirmed Dr. Mieko Hatano, executive director of the Oakland Symphony and a member of the 20-person search committee formed to select and evaluate the candidates. "Cultural fluency and curiosity about our diverse surrounding communities drove an aspect of Michael's programming and personal interests … We expect the next music director to take those values of accessibility and carve their own path through their own curiosity with an orchestra and audience that are used to being engaged with new music experiences that push traditional boundaries."
On the surface, at least, all of the guest conductors, each of whom arrives with a program he or she has curated, appear to have many requisite qualifications.
---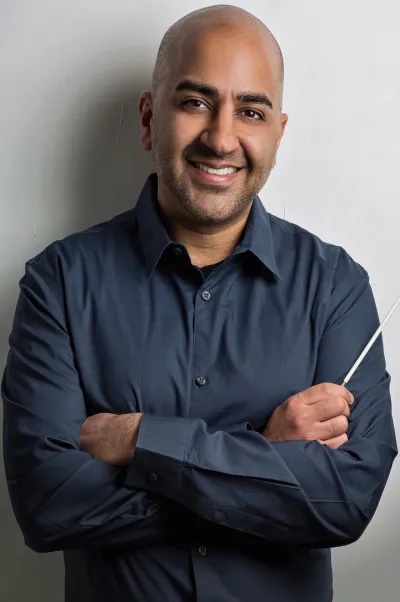 Bahl, an American of Indian descent and a San Francisco native who earned a music and rhetoric double degree from UC Berkeley before obtaining his master's in conducting from the Manhattan School of Music, is now in his second season as music director of the Omaha Symphony.
A former protege of then New York Philharmonic music director Kurt Masur, he has conducted orchestras all over the world, including the National Symphony Orchestra (where he was assistant conductor under Christoph Eschenbach), the Royal Concertgebouw, the New York Philharmonic, the Detroit Symphony, the Leipzig Gewandhaus Orchestra and the Orchestra National de France (where he also served as assistant conductor.)
Bahl's Friday night program will also include Carlos Simon's "Fate Now Conquers" and Chen Yi's "Golden Flute."
---
Up next on the podium at the Paramount on Nov. 4 is Zurich-based Holly Hyun Choe, a native of South Korea who was raised in Los Angeles, earned her master's degree at the New England Conservatory of Music and has amassed most of her professional conducting experience to date in Europe.
Under Paavo Järvi, she has served two full seasons as the assistant conductor of the Tonhalle-Orchester Zürich and is now also embarking on a principal conductor position with the innovative young chamber orchestra, the Hamburg-based Ensemble Reflektor.
For her Oakland Symphony appearance, Choe has chosen to conduct Leonard Bernstein's "Chichester Psalms," Mary Lou Williams' tone-poem series "Zodiac Suite" and Erich Korngold's "Much Ado About Nothing Suite."
---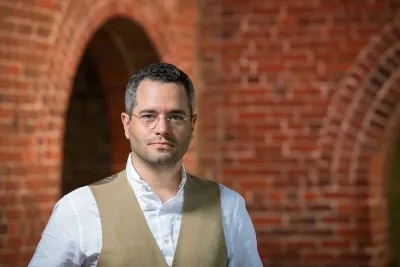 Bringing a program titled "Rooted in America" to the Paramount on Jan. 27, 2023, American-born conductor Andrew Grams stepped down as music director of the Elgin Symphony Orchestra in Illinois last year after eight years at the helm. Also an accomplished violinist, he graduated from the Juilliard School of Music and earned his degree in conducting at the Curtis Institute of Music in Philadelphia.
A former member of the New York City Ballet Orchestra (from 1998-2004), he served as the assistant conductor of the Cleveland Orchestra under Franz Welser-Möst. In addition to several engagements leading that orchestra, he has conducted the major orchestras of Chicago, St. Louis, Philadelphia, Dallas, Houston and Washington, D.C.
His international experience includes assignments in Toronto, Montreal, and Vancouver and appearances with the Orchestre National de France, Hong Kong Philharmonic, the BBC, the New Zealand Symphony Orchestra and the Barcelona Symphony Orchestra.
With the Oakland Symphony, Grams will conduct three American works – Florence Price's "Five Folksongs in Counterpoint," George Gershwin's Second Rhapsody and William Dawson's "Negro Folk Symphony."
---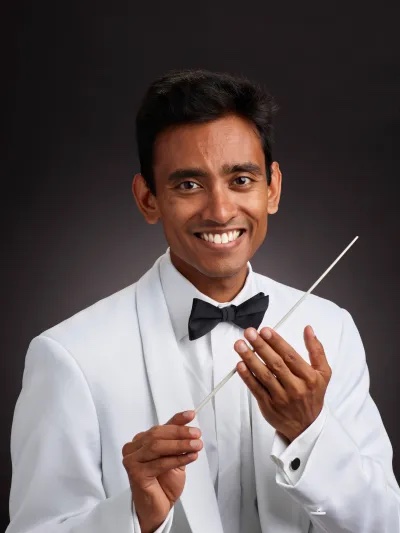 The fourth candidate, also a San Francisco native and a member of the San Francisco Youth Symphony Orchestra for six years, is Vinay Parameswaran, promoted at the beginning of last year to an associate conductor position at the Cleveland Orchestra after serving three and a half seasons as assistant conductor. Prior to that, he was an associate conductor at the Nashville Symphony for three years.
A graduate of Brown University, he received his conducting diploma at the Curtis Institute of Music, and he has led orchestras in Pittsburgh, Detroit, Louisville, Toledo, Tucson, Milwaukee, Jacksonville and Washington, D.C.
On Feb. 24, 2023, Parameswaran will lead the Oakland Symphony in the Bay Area premiere of Gabriella Smith's "Tumblebird Contrails" on a program that also includes Debussy's "En blanc et noir," Reena Esmail's "History of Red" and Stravinsky's Symphony in Three Movements.
---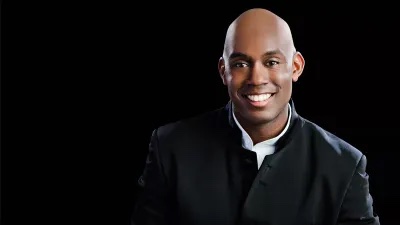 Berkeley Symphony music director Joseph Young, who opens that orchestra's 51st season on Sunday afternoon with a concert in Zellerbach Hall, is surely the most locally known entity among the field of candidates for the Oakland job.
Hired almost instantly in 2019 after striking up an immediate and palpable rapport with the orchestra as an emergency guest conductor, Young left his position as assistant conductor of the Atlanta Symphony to take up his new role. In addition to leading three concerts a season in Berkeley, where his contract has been extended to 2024-25, Young is also artistic director for ensembles at the Peabody Conservatory of Music in Baltimore and resident conductor for the National Youth Orchestra-USA in New York.
His conducting credits include appearances before orchestras in Saint Louis, Buffalo, Detroit, Phoenix and the New World Symphony Orchestra in Florida.
On the program for his March 24, 2023 stint on the Oakland podium are Lera Auerbach's "Icarus," the Mendelssohn Violin Concerto with soloist Rubén Rengel and music from Prokofiev's "Romeo and Juliet," with the participation of artists from the California Shakespeare Theater.
---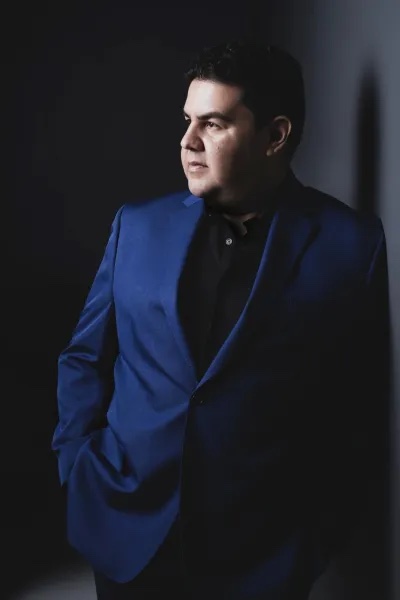 New York-born conductor Tito Muñoz, now in his eighth season as music director of the Phoenix Symphony, winds up the Oakland Symphony's season as its guest conductor on May 19, 2023, and quite coincidentally, is scheduled to guest conduct Symphony San Jose in the California Theatre on Oct. 22 and 23 in a program of music by Coleridge-Taylor, Vaughan Williams, Paganini and Mendelssohn.
Previously music director of the Opera National de Lorraine and the Orchestre symphonique et lyrique de Nancy in France and assistant conductor in both Cleveland and Cincinnati, he has a list of prestigious conducting credits as long as your arm, including the major orchestras of Atlanta, Baltimore, Dallas, Detroit, Houston, Indianapolis and Milwaukee, as well as the New York Philharmonic, the Orchestra of St. Luke's, the Saint Paul Chamber Orchestra and the National Symphony Orchestra in Washington, D.C.
Muñoz's appearance here will include the previously scheduled world premiere of an Oakland Symphony commission, Martin Rokeach's "Bodies on the Line: The Great Flint Sit-Down Strike," Beethoven's "Leonore" Overture No. 3 and Samuel Barber's Second Essay for Orchestra.
---
According to Hatano, the search for the new music director will not conclude with this season, but extend into the 2023-24 season, affording the committee the opportunity to evaluate additional candidates and possibly re-engage conductors from 2022-23. "This is definitely not a typical search after 30 years with a single conductor, let alone a music director," she noted. "We want to set up both our orchestra and our future music director with the most opportunity for success possible."
IF YOU GO
Oakland Symphony opening night, guest conductor Ankush Kumar Bahl, 8 p.m. Oct. 14, Paramount Theatre, 2025 Broadway, $25-$90, 510-444-0802 or www.oaklandsymphony.org.