Litquake Festival | Oct. 6-22
The 2022 roster features so many best-selling and award-winning writers who make their homes in the East Bay, a person might think there's a literary caravan traveling across the Bay Bridge during the annual festival's 16 days. Showcasing a bevy of established writers alongside new, exciting, up-and-coming literary stars and underrepresented voices, Litquake 2022 delivers 93 events and over 350 authors—ending with the big splash, the always-spectacular Lit Crawl finale.

There are author readings and talks, expectedly, but also Kidquake, special award events, workshops, podcasts, a film, craft-making sessions, panels, spoken word and poetry readings, live music performances and more. Visit the website to see the complete list of authors and locations; many family-friendly events occur at Yerba Buena Gardens, Museum of the African Diaspora, or the San Francisco Library. For adults, pubs, clubs, galleries and bars offer specially curated, intimate programs that often center on a prescient theme and combine art and music with literature. The majority of Litquake events are free, distinguishing it as one of the most egalitarian of book events held in the Bay Area.
Oct. 6-22 | Locations and times vary | Most free, some ticketed | www.litquake.org/2022festival
---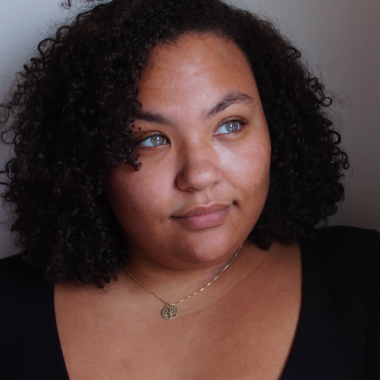 City Art & Lectures: Leila Mottley in Conversation | Oct. 6
If you haven't until just recently discovered Oakland native and writer Leila Mottley, do not despair because you are not alone. Until recently, Mottley was an insider treasure. For latecomers, now is the time to prepare for a treat and join the rapidly growing crowd of admirers. Her debut novel, Nightcrawling, is a 2022 Oprah Winfrey Book Club selection, making Mottley the youngest club author in club history. Her work calls for social justice in this powerful first novel and in poetry that has appeared in Oprah Daily and The New York Times. About Nightcrawling, writer Tommy Orange has said, "Leila Mottley's writing erupts and flows like lava," and, "makes hot bright an Oakland that runs the city's uncontrollable brilliance…Nightcrawling bursts at the seams of every page and swallows you whole." She is a former Oakland Youth Poet Laureate and appears co-presented with Youth Speaks, a leading presenter of Spoken Word performance, education, and youth development programs that include local and national youth poetry slams, festivals, and more.
Oct. 6 | 7:30 – 9:00 p.m. | $36 | https://www.cityarts.net/event/leila-mottley/
---
In-Person Author Event | Leslie Absher with Hilary Zaid: Spy Daughter/Queer Girl | Oct. 11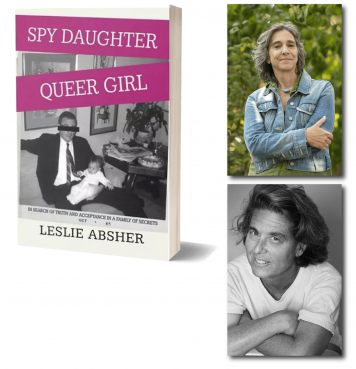 Absher's new memoir tells the harrowing story of growing up and seeking mature identity amid and despite a mountain of family secrets. As the daughter of a father who worked for the CIA, raised primarily in Athens, she became aware in her twenties that the CIA—her father's employer—had in Greece been involved in overthrowing democratically elected governments and conducting torture. New-found revelations led Absher to struggle with shame, unresolved curiosity, and frustration. Simultaneously exploring her identity as a young queer, Absher led a double life and questioned her ability to come out publicly. Working towards honesty, building strength to accept herself, the memoir leans toward reconciliation with her father and delivers a narrative that is sensitive but not sentimental. Absher is a journalist and essayist whose work has appeared in the New York Times, Los Angeles Times, Huffington Post, Salon, Ms., Greek Reporter, and San Francisco Magazine. She has a master's in education from Harvard and currently teaches writing and study skills to middle school and high school students. She lives in a treehouse in Oakland with her comic book writer/lawyer wife. The event is presented by Great Good Place for Books and will be held at Montclair Presbyterian Church, Oakland.
Oct. 11 | 7:00 p.m. | Great Good Place for Books at Montclair Presbyterian Church, Oakland | www.ggpbooks.com/event/SpyDaughter
---
In-Person Author Event | Lauren Groff: Matrix | Oct. 15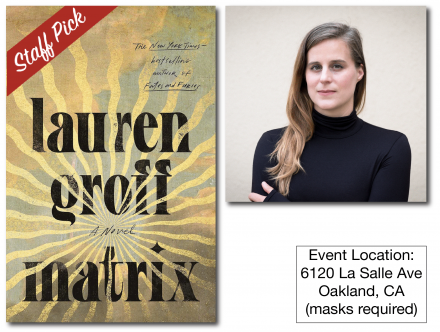 Groff is the winner of the 2022 Joyce Carol Oates Prize awarded by the New Literary Project and will appear in person at Great Good Place for Books in Montclair Village. Matrix was a finalist for the 2021 National Book Award for Fiction and listed as one of Barack Obama's Favorite Books of 2021. Additional honors include being named a Best Book of the Year by The New York Times, The Washington Post, TIME, NPR, The Financial Times, Good Housekeeping, Esquire, Vulture, Marie Claire, Vox, The Los Angeles Times, USA Today and others. In Matrix's 250 thrilling, gripping pages, Groff proves the achievement reached in her earlier best-selling novel, Fates and Furies, was no fluke. Here, seventeen-year-old Marie de France is sent to England to be the new prioress of an impoverished abbey. Marie finds reward in a collective life with the nuns. Gradually, devotion to her sisters supplants childhood aspirations as she becomes a women warrior and crusader determined to lead and protect her sisters. Groff is a three-time National Book Award finalist and the New York Times bestselling author of the novels The Monsters of Templeton, Arcadia, Fates and Furies and two short story collections, Delicate Edible Birds and Florida.
Oct. 15 | 5:30 p.m. | https://www.ggpbooks.com/event/Groff
---
Stanford Live: Margaret Atwood in Conversation with Dahlia Lithwick | | Oct. 22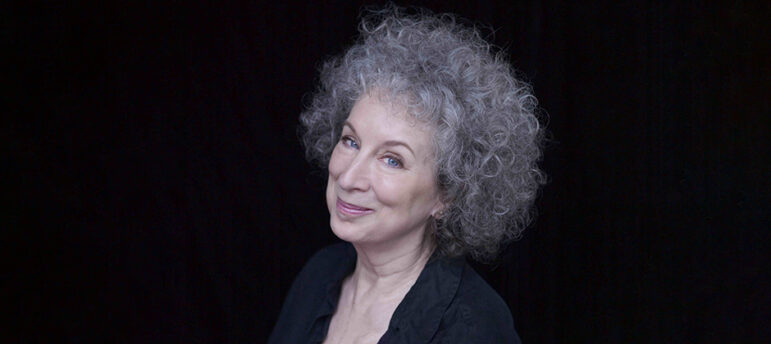 This event brings Atwood to Stanford's Memorial Auditorium for a conversation with Dahlia Lithwick, lawyer, writer, and journalist (Stanford Law School, JD '96). Atwood is the author of more than fifty books including The Blind Assassin, The Handmaid's Tale, The Edible Woman, Cat's Eye and others that have earned her the Booker Prize, the Franz Kafka International Literary Prize, and the PEN Center USA Lifetime Achievement Award, among others. Lithwick's latest book is Lady Justice: Women, the Law, and the battle to Save America. It's difficult to imagine a more valuable conversation than this one held between two esteemed women writers representing their generations and speaking to timeless, parallel, and universal themes.
Oct. 22 | 7:30 p.m. | Tickets start at $30 | live.stanford.edu/calendar/october-2022/margaret-atwood-conversation