SAN FRANCISCO OPERA opened a new production of Francis Poulenc's 1957 "Dialogues of the Carmelites" this week, scoring a starry triumph with glorious singing, faultless stage design and direction, and an orchestra that performed with stunning drive and beauty.
The Carmelites in this true story inhabited a convent outside of Paris during the French Revolution. Targeted during the 1794 Reign of Terror, they were led to the guillotine, testing their faith and devotion. Poulenc as composer and librettist created a tightly woven music drama featuring fully fleshed characters and music that can't help but move audiences. Poulenc preferred performances to be in the language of the audiences, but the French, as sung here, adds greatly to the richness of the experience.
An early moment in the opera sets the scene: Blanche, a young French aristocrat, lustrously sung by German soprano Heidi Stober, fears for her life and asks to be admitted to the convent. She is interviewed and finally welcomed by the ailing prioress, Madame de Croissy, whose brief appearance underscores the plot as it tracks her death. German soprano Michaela Schuster in her company debut sang with horrific fire, struggling to keep her faith in a time of great personal suffering.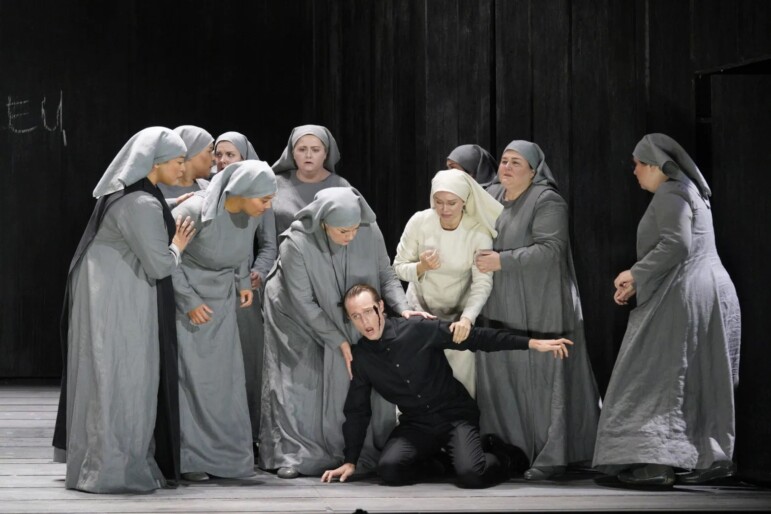 What follows the prioress' death is the transformation of Blanche from fearful to faithful, a transformation brought about by the others in the convent. Madame Lidoine, the new prioress, is sung by Michelle Bradley in warm colors; hers the loveliest of voices. The role was coveted by Leontyne Price, who sang it in San Francisco in 1957, the American premiere of the opera, and again in 1982, two of the three San Francisco performances.
Soprano Deanna Breiwick as the young, high-spirited counterpart to Blanche performed the role of Constance in bright tones and with exceptional verve, and Melody Moore, a former Adler Fellow, was vocally potent as Mother Marie. As Blanche's brother, American tenor Ben Bliss sang with ardor and perfect phrasing. Eun Sun Kim brought all of the musical intensity to the fore, shaping the score with precision and force, and the Opera Chorus delivered in lovely detail.
Pierre-Andre Weitz' production design, coming from Theatre des Champs Elysées in Paris and Theatre Royal de la Monnaie in Brussels, is ideal for "Carmelites" — a spare set of sliding panels that becomes an aristocrat's study with the lowering of a chandelier, various rooms in the convent and finally Guillotine Hill. Olivier Py's staging, directed here by Daniel Izzo, is clean and uncomplicated.
It is rare when all the operatic elements — singing, orchestral playing, staging and design — come together as they did in this performance of Poulenc's difficult work. This "Carmelites" shouldn't be missed. The opera runs at the War Memorial Opera House through Oct. 30.
---
IF YOU GO
San Francisco Opera presents Francis Poulenc's "Dialogues of the Carmelites" at the War Memorial Opera House. Wednesday, Oct. 26, and Sunday, Oct. 30, at 7:30 p.m. Tickets range from $26 to $364 for the Wednesday performance, and from $36 to $464 for Sunday. Visit online for more information, or call 415-864-3330.