Whether you're in a seasonally induced trick-or-treat mood or simply want to escape from reality and get bewitched by fancy footwork onscreen, there's much afoot on the Bay Area film scene this week.
This week's Pass the Remote gets you into the spirit for Halloween, dance films and the Silicon Valley Jewish Film Festival, virtual again this year. We'll even clue you on details about a special screening of the election-themed documentary "Too Big to Fail," and what's likely to be a lively panel discussion following it.
The 13th annual San Francisco Dance Film Festival, running Friday through Nov. 7 with streaming and in-person events, sprinkles in narratives among an impressive documentary-heavy menu, a temptation for dancer and non-dancer alike. A Bay Area treat is a collection of shorts with talent from the local area and beyond.
Should you be crunched for time, the film I recommend you make every effort to squeeze in is David Petersen's "Lift." It's a Kleenex-worthy account on the odyssey of Steven Melendez, a brilliant dancer with the New York Theatre Ballet who was once an unhoused youth in the Bronx. "Lift" tells his inspirational story and serves as an insider look at the New York-based Lift program, which offers scholarships for aspiring child ballet dancers who are homeless and proved to be an essential motivator for Melendez. The film charts the progress, obstacles and opportunities three young participants encounter over11 years – including formidable peer and societal pressures.
"Lift" never soft pedals or romanticizes, including showing the trauma triggered when Melendez visited the Bronx shelter where he lived for three years. While critics often toss around words such as "inspirational" and "rousing" to describe documentaries such as "Lift," this one lives up to those platitudes. Melendez will appear for a Q&A when the film screens at 7 p.m. Nov. 5 at the Delancey Street Screening Room in S.F.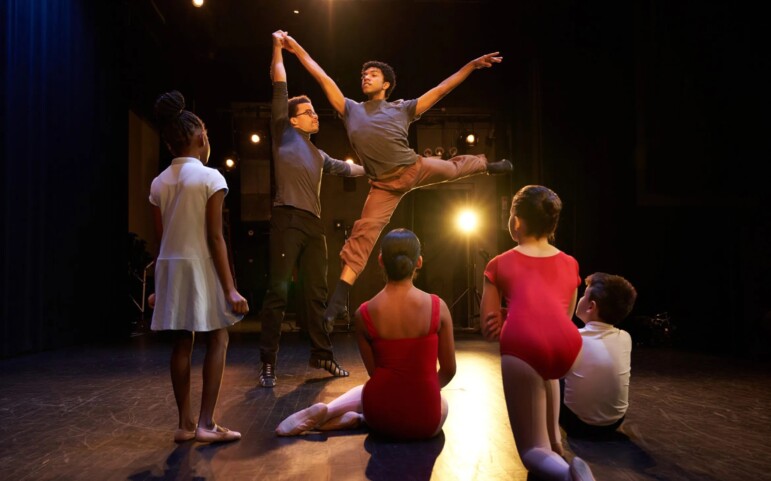 Buoyant, creative and stimulating, the Spotlight Shorts program kicks off the festival at 7 p.m. Friday at Lucasfilm Premier Theatre in S.F. The 55-minute compilation spotlights Bay Area and global talent, including Luke Willis' three-minute "I Don't Need a Reason," which features "RuPaul Drag Race" Season 14 contestant Lady Camden and San Francisco native Max van der Sterre dancing sensual and sensational choreography created by Myles Thatcher. In the powerful piece, Lady Camden talks about the liberating power of dance.
"Been Lovin' You," which delivers a big smooch to San Francisco, takes viewers through the streets of the city, Francisco, showcasing performers in the Financial District, parks and the beach. Dancer Benjamin Freemantle makes the outing utterly irresistible.
Those seeking something different may want to check out directors Jessica Wright and Morgann Runacre-Temple's "An Evening With Taglioni," a based-on-a-true 19th century event in which iconic ballerina Marie Tagiloni's pointe shoes were on the menu. No joke.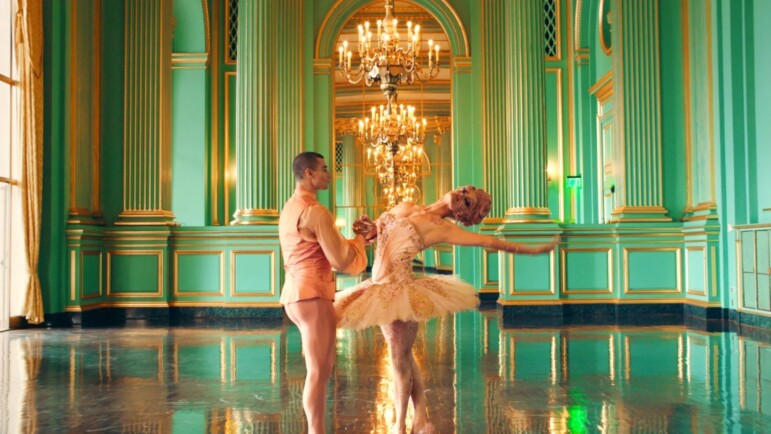 Other highlights include: The West Coast premiere of Bridget A Murnane's "Bella," a documentary about dancer, choreographer, teacher and independent thinker Bella Lewitzky (7 p.m., Nov. 4 at Delancey); director Kaveh Nabatian's steamy feature "Sin La Habana" about a couple from Cuba (he's a dancer with a whole lot of confidence) and their devious plan that ensnares a single woman from Quebec. (3:30 p.m. Nov. 6 at Brava Theater Center in S.F.); and Connie Hochman's "In Balanchine's Classroom," a look at the influence, legacy and work of iconic choreographer George Balanchine as expressed by former dancers and the voices of a new generation. (4 p.m., Nov. 5 at Delancey).
For a complete program and to order tickets, which range from $9 for streaming to $250 for a pass, visit www.sfdancefilmfest.org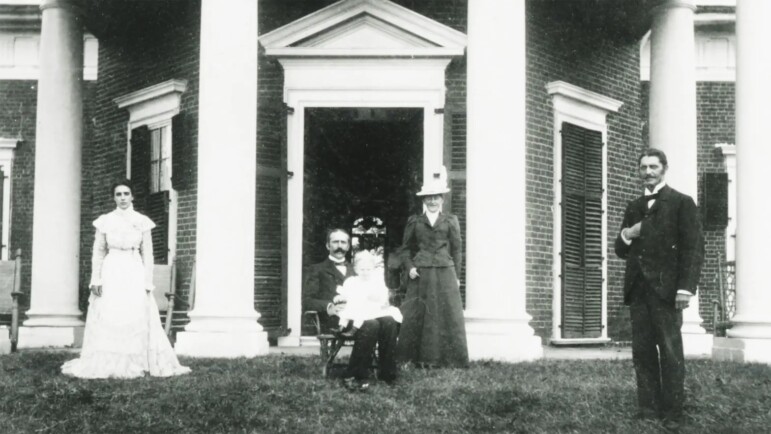 Unlike the bulk of recent festivals, the Silicon Valley Jewish Film Festival, marking its 31st year, is online exclusively through Nov. 6.
A documentary for American history buffs is San Francisco filmmaker Steven Pressman's "The Levys of Monticello," which recounts the tumultuous history of Thomas Jefferson's historical home: how it fell into horrible disrepair in the latter part of the late president's debt-saddled life, when relatives sold it and how it eventually was owned by Uriah Levy, a former Naval officer whose family was vital in restoring it. Pressman talks to historians and Jewish scholars and tells a fascinating chapter from history that also looks at the challenging legacy of Jefferson.
Other festival finds include Damir Lukacevic's "Wet Dog," a thought-provoking adaptation of an autobiography with a star-rising performance from Doguhan Kabadayi, playing a teen who passes himself off as Muslim once his family relocates to Berlin; Vadim Perelman's tense World War II drama "Persian Lessons" set mainly in a German concentration camp where an SS officer leans on a Jewish man – who pretends he's Persian (Iranian) – to teach him a new language; and Mano Khalil's 1980s Syrian set "Neighbours," which reflects on what life was like along the Turkey border from the perspective of an impressionable 6-year-old boy who sees life-changing events. It's the festival's closing night selection, and it's excellent.
For the online schedule and ticket information, visit https://www.svjff.org/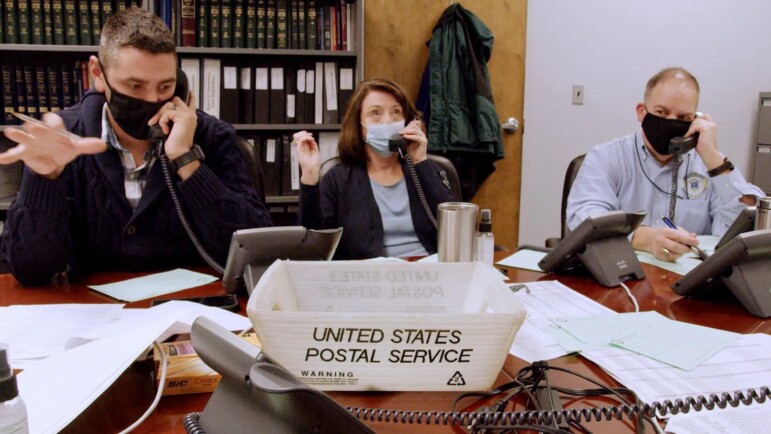 The contentious 2020 election and toll it claimed on exhausted election officials are under the microscope in the documentary "No Time to Fail." Sara Archambault and Margo Guernsey's feature focuses on the tumultuous voting period in Rhode Island and catalogs the misinformation and anger hurled at election workers. The film is available to stream starting Thursday, but the Roxie in S.F. is hosting a screening at 3:30 p.m. Sunday along with a panel discussion "The State of the State of Election Officials" with executive producer Maida Lynn and Tommy Gong, deputy county clerk-recorder of Contra Costa County. For tickets and more information, visit https://www.roxie.com/ai1ec_event/no-time-to-fail/
If all that 2020 voting outrage didn't horrify you enough, well here's something else that'll make you want to scream on Halloween weekend.
I'm most curious about the American Genre Film Archive's R-rated "Dismember the Alamo" series set for 11 a.m. to 5:30 p.m. Saturday at the Alamo Drafthouse New Mission in S.F. You'll enter at your own risk, since you won't know which four horror gems will get screened that day until you're in your seat. Never fear, there are breaks for popcorn and such. To get tickets, visit https://drafthouse.com/sf/show/agfa-presents-dismember-the-alamo-2022
Over at the New Parkway in Oakland, things get ghostly Thursday with a 3:45 p.m. Baby Brigade showing of the 2009 stop-animation macabre classic "Coraline" and a 4 p.m. Baby Brigade screening of Jordan Peele's tricky mind-messer "Nope," and later the slime-inducing comedy classic, 1984 "Ghostbusters" at 9:30 p.m.
If you're craving hardcore R-rated scares, return Friday for the underrated and very scary "Trick 'r Treat" from 2007 (10:30 p.m.)
On Saturday, the original Michael Myers debut arrives with "Halloween" from 1978 (10 p.m.). On Sunday, there's Tim Burton's "Beetlejuice" (6:30 p.m.) along with the excellent, chew-your-nails-to-the-nubbies Korean zombie thriller "Train to Busan" (8:40 p.m.) On Halloween Monday, things get even more ghastly with Tobe Hooper's 1974 slasher classic "The Texas Chainsaw Massacre" (6:30 p.m.); the nightmare-inducing original "Ringu" (7 p.m.) from Hideo Nakata; the William Friedkin demonic freakout "The Exorcist" (8:30 p.m.) and the original 1985 "Fright Night" (9:15 p.m.) For more information, visit https://www.thenewparkway.com/
Over at the Smith Rafael, the iconic, influential and deeply disturbing Alfred Hitchcock classic "Psycho" gets a 4K restoration that's part of "The Celebrating the Big Screen" series. It screens at 1 p.m. Sunday and 7 p.m. Monday. For tickets and more info, visit https://rafaelfilm.cafilm.org/4k-restoration-series/
If you refer to beam yourself to anywhere else this Halloween weekend, trek over to the "Star Trek" series at San Jose's 3Below Theater. It kicks off Thursday with the documentary "To Be Takei" (6 p.m.) and "Star Trek: The Motion Picture" (8 p.m.) and also includes screenings of Todd Thompson's documentary "Woman in Motion: Nichelle Nichols, Star Trek and the Remaking of NASA" (at 6 p.m. Friday) along with "Star Trek: First Contact" (8 p.m. Friday).
For a complete lineup and more info, visit https://www.3belowtheaters.com/