One of the interesting parts of working in a library you might not have considered is the stuff you find people have left in the pages of a book.
Maybe you've done it yourself — realized you didn't have a bookmark and used an old ticket stub or scrap paper to keep your place. It may be that you tucked away a photo to keep it from getting bent, but then forgot to take it out. Or perhaps you were reading a book when a receipt or note from someone else slipped out.
Sharon McKellar, a librarian at the Oakland Public Library, got in the habit of collecting the random items found in books, and her co-workers got into the habit of sending her any items they ran across in their work.
After amassing almost a decade's worth of found objects, Sharon decided the OPL website was the perfect place to digitize, catalog and showcase her collection.
Inspired by Found Magazine, a collection of found objects crowdsourced from all over the world, McKellar's "Found in a Library Book" collection (https://oaklandlibrary.org/found-in-a-library-book/) draws on a similar fascination with discovered ephemera. From photos to creative writing to kids' artwork, the found items give us a window into the lives of others at a particular point in time.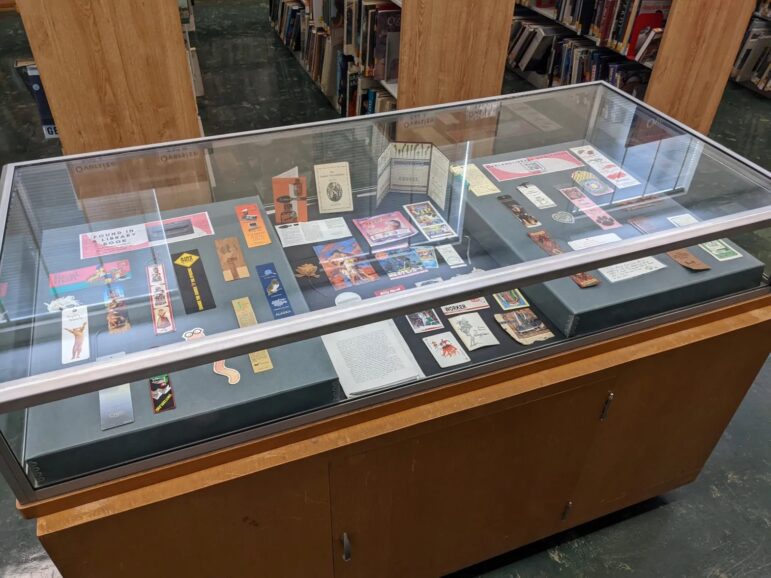 So what is our fascination with the things we find in the pages of a book? Perhaps it's the stories we imagine behind the objects and the people who left them. There's something fascinating about getting just one snippet of information and imagining the story and person behind the anonymous artifact.
Just as books give us windows into different experiences, these found objects allow us to peer into the stuff of others, however mundane or unusual.
With increasing interest in her project, McKellar has since expanded the "Found" collection into a real-life display, showcasing many of the found treasures. The live exhibition can be found in the lobby of OPL's Main Library at 125 14th Street.
Is there anything found that doesn't get included in the collection? McKellar removes any identifying information (e.g. surnames, address, etc.). And there are definitely some NSFW (Not Safe for Work) items too risque for a city library website.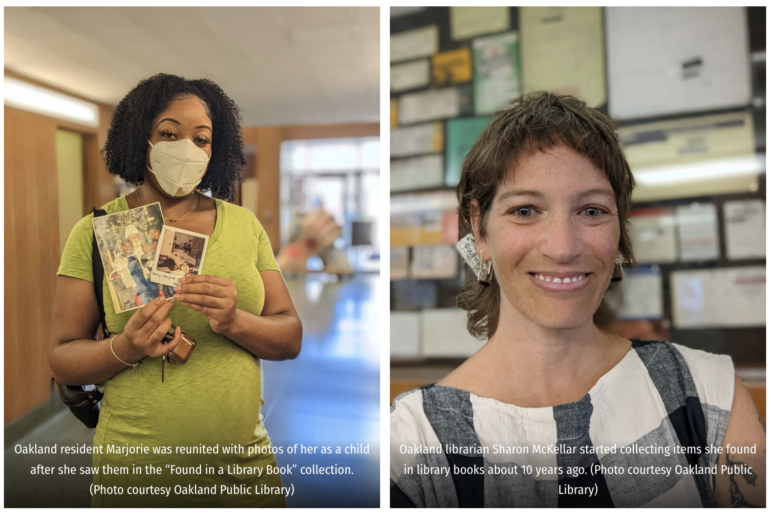 Up until recently, the anonymous discoveries have remained that way.
Then suddenly, as the project got more publicity, McKellar started hearing from people who recognized handwritten notes. One woman saw a note she had likely given a friend about the BRAT (bananas, rice, applesauce, toast) diet for constipation. Someone recognized a note they had once written to their child and someone saw a note their child had once written. One person reached out from across the country because a note in the collection was likely passed between her parents in the late '80s when they lived in Oakland.
Then McKellar heard, through a private message sent to the @oaklibraryfound Instagram account, from Marjorie. An Oakland resident, Marjorie saw two images of herself from her childhood in the collection and hoped she could retrieve them. Needless to say, it was a heartwarming reuniting of Baby Marjorie and her childhood photos, long lost. Now Majorie has baby photos she's excited to share with her upcoming baby-to-be. The reunion is documented back on the Instagram page (https://www.instagram.com/p/ChWR3EiO4QI/).
Now the library is collecting stories from those who view the collection, online or in-person. What do you think of when you see the gum wrapper, that funny to-do list, a funny drawing by a kid or a boarding pass for a flight to Paris? What stories do these items tell? Let OPL know at https://oaklandlibrary.org/foundstories. View the collection at https://oaklandlibrary.org/found or in-person at the main library through at least November.
---
Megan Keane is a longtime nonprofit techie and community builder turned librarian. She works as the Community Relations Librarian at Oakland Public Library. Connect with her at mkeane@oaklandlibrary.org or on Twitter at @oaklibrary.