Bannam Place is easy to miss. The unassuming alley skewers a Green Street block of North Beach favorites, dividing Sodini's from the former location of Baonecci Ristorante. By day, the slim passage is populated by stray tourists and residents enjoying a midday smoke. By night, it's host to barhoppers seeking clandestine refuge for romance or retch.
Like much of North Beach, however, the soiled stretch of pavement belies its rich history. For decades, the alley housed the art studio of Winston Smith, the legendary punk Surrealist artist best known for his work with San Francisco punk band the Dead Kennedys.
On May 27, Smith celebrated his 70th birthday alongside the grand opening of Fallout SF, a punk community art space in his very own studio at 50-A Bannam Place. The space is run in collaboration with international punk management agency Destroy Art, led by artist-curator team Craig Vincent and Farida Mazlan.
"I've always said that punk rock finds you," says Vincent, who discovered punk music as a New Jersey teenager through California skateboard videos, featuring the likes of Black Flag, Hüsker Dü, and Bad Brains. 
"It's so bizarre and loud and weird and shocking, but if it speaks to you, you just become it. The next day, you shave a stupid haircut in your head, just to see what happens. … You're so unforgivingly yourself that you transcend a lot of the bull— in society. Like, how can you take yourself so seriously if you look like a goofball?" 
In the early '90s, Vincent skipped college to go on tour with his band, The Degenerics. Following years of touring in several bands as a vocalist, Vincent began to tire of interpersonal band dynamics, which he compares to "dating three people at once."
Following the punk do-it-yourself ethos, Vincent was accustomed to booking his own shows, producing his own records and designing his own record artwork without authoritative oversight. He ventured the same approach could be employed in the art world.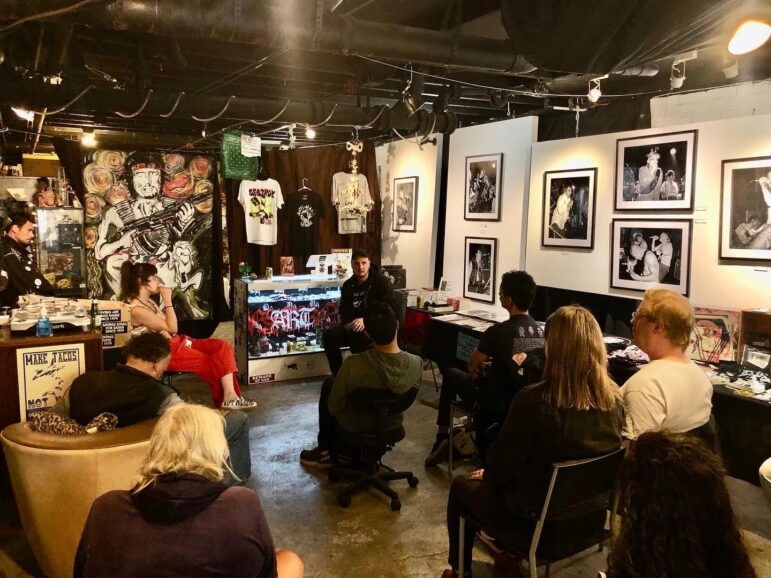 "I took the DIY record label approach and applied it to visual art," he says.
In practice, this approach meant years of haunting art galleries in New York City's SoHo district, portfolio in tow, and facing repeated rejection.
"I jokingly say some people would want to call security on me," Vincent says with a laugh. "I'd be like, 'But I just want to show you what I do! It's better than this s—!' And I got the door slammed in my face."
Disillusioned with the New York City art world, Vincent moved to California and took to the streets with stencils and wheat paste, creating art under the name DNGRCT.
In 2019, he met Mazlan at an art exhibition in Oakland. Mazlan had recently returned to California after studying independent curating and art business in London, and expressed interest in managing Vincent under DNGRCT.
Destroy Art is the collaborative product of their union, created to support the punk and underground artist community through "exhibition-making, collaborative art strategies and custom-designed manufacturing of prints, clothing and merchandise."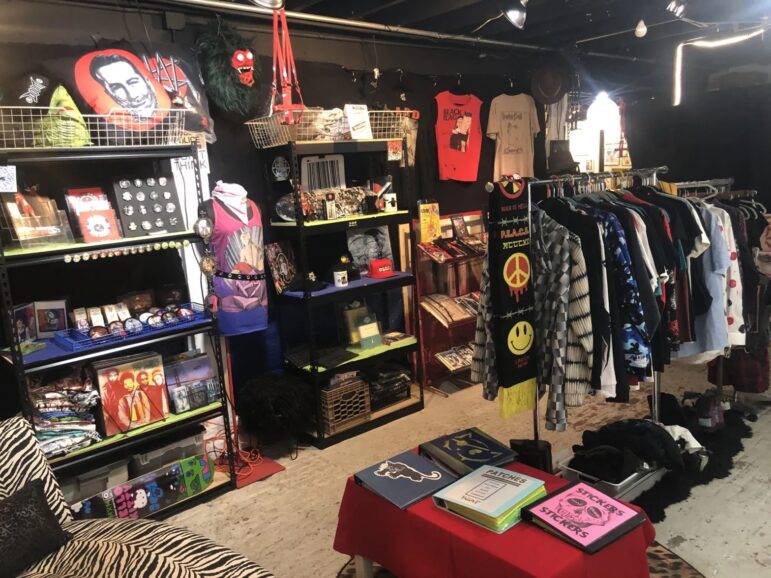 At present, they represent nearly 100 artists in their online store, including Girl Mobb, Rikk Agnew, Alison Braun and Edward Colver.
On Feb. 29, 2020, the pair co-hosted a group show with Winston Smith called "1984//2020 Punk on the Western Front" at Art Attack SF in the Castro District.
"It was packed out," Vincent recalls, estimating the turnout hovered around 800 to 1,000 people. "People were saying, 'There hasn't been this many weirdos in SF since the '90s! You guys nailed it!'"
Of course, the pandemic swiftly followed. The city went quiet, and the weirdos retreated.
Vincent has no doubt the fervor will return, however. When asked how he'd respond to those who question the relevance of punk culture, he answers thoughtfully:
"When people say, 'This doesn't mean anything,' it's like, 'No, this is the future.' Because the systems are failing, and this is like a cliche in punk rock — of course the systems fail. They don't give a f— about anybody. … You have a safe space in punk rock. I would argue that not many scenes even offer that. I'm not saying it's perfect, but there's an alternative there."
Specifically, Vincent values the kinship and support that the global punk community provides.
"I could go anywhere in the world, and I have a place to stay and a place to play," he says. "This is a worldwide network that not many other subcultures really offer." 
This is an investment that transcends aesthetic choices. Destroy Art works with West Oakland Punks With Lunch, a volunteer-run nonprofit that provides food, syringe access services and basic hygiene necessities to those in need.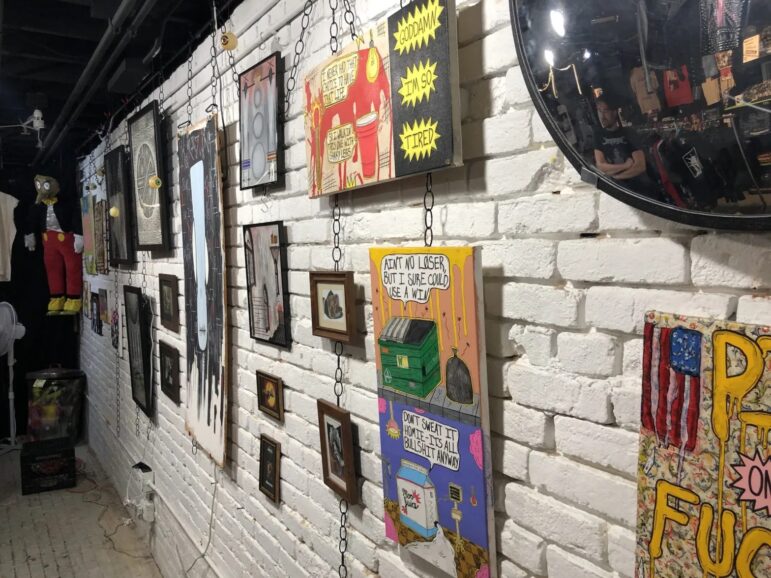 In 2020, Destroy Art teamed up with the Black Panther Party Alumni Legacy Network and began working with All Power to the People, a mutual aid project that supports original members of the Black Panther Party through art sales.
"The history of the Black Panthers was like a precursor to what punk rock became," Vincent says. "It wasn't about a fashion show. It was about the lives of their community members."
That said, Vincent doesn't dismiss the enduring resonance of punk fashion.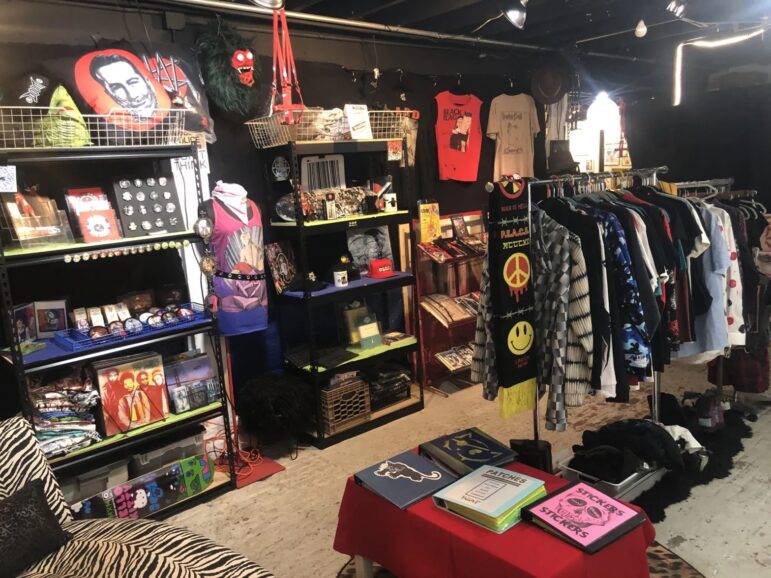 On Sept. 2, Fallout SF will celebrate the opening of "Passion Is a Fashion," a DIY anti-fashion group exhibition featuring art on apparel by Winston Smith, Punk Majesty and DNGRCT himself, among others.
"I love the philosophy of giving value to bull— like safety pins and paper clips," Vincent says. 
"Stick a paper clip in your ear. Why not? I love the irreverence of that s—. … It makes the world a unique place. Boring sucks! Don't be f— boring. You're not welcome here if you're boring. Or if you are boring, come here, and we'll make you un-boring."
In addition to monthly exhibitions, Fallout SF will host community events throughout the month, including music shows, book talks, workshops and film nights.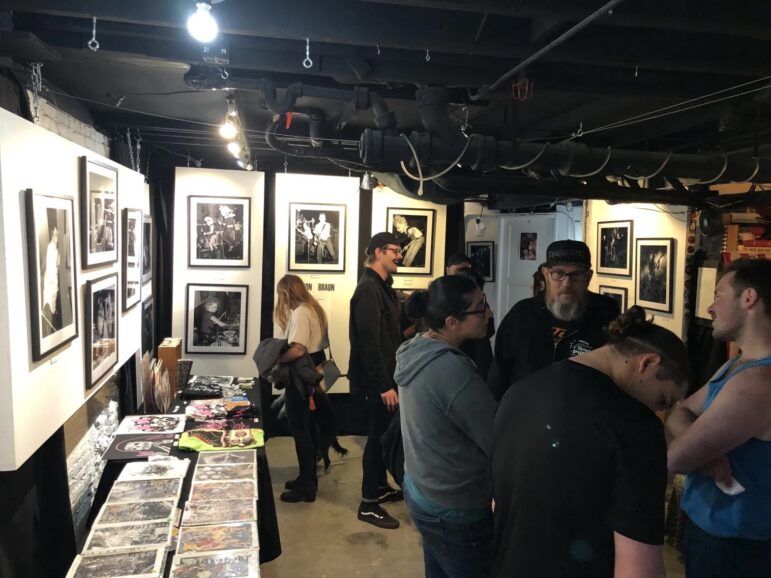 Next up is a textile art showcase by Better Tombs and Gardens with performances by San Francisco's own Ex-Heir and Oakland-based band Morbid Manda & the Monsters on Sept. 10.
Vincent and Mazlan also plan to assist in curating a punk rock gallery at San Francisco's Music Hall of Fame, which opened last year in the Music City Hotel in the Polk Gulch neighborhood.
"Everybody comes here, and they want to see the Jerry Garcia s—, but [the kids] don't want to see that anymore." Vincent says. "They wanna see Too $hort and Tupac, all the hip-hop from around here and all the punk rock stuff. Because that's all related. … It can't just be Jerry Garcia. A lot has happened since then.
"We'll let the young people decide what matters."
The opening of "Passion Is a Fashion," a DIY anti-fashion group exhibition, takes place 5-9 p.m. Friday at Fallout SF, 50-A Bannam Place, San Francisco. The following Saturday, Sept. 10, the community art space hosts a textile art show from 5-9 p.m. featuring works by Better Tombs and Gardens with performances by Ex-Heir and Morbid Manda & the Monsters. For more information, visit https://www.falloutsf.com/.