The Highlanders produced big play after big play in their Sept. 16 football game at Pierce-Arbuckle. But they couldn't quite stop the Bears in between the big plays and ended up losing in a wild and entertaining game, 56-35.
Piedmont fell to 0-3 on the season. The Highlanders hadn't played for two weeks after their game at North Tahoe-Tahoe City was canceled the week before due to poor air quality.
Piedmont set the tone from the start. On the game's first offensive play, Jack Nelson ran in motion and took the center snap while crossing in front of quarterback Markos Lagios. Nelson then flipped the ball to Sam Shelby, who was crossing the other direction as if the play was a reverse. However, he then stopped and fired the ball deep to Dominic Alexandre, who had slipped behind the defense. The 62-yard touchdown gave Piedmont a 7-0 lead.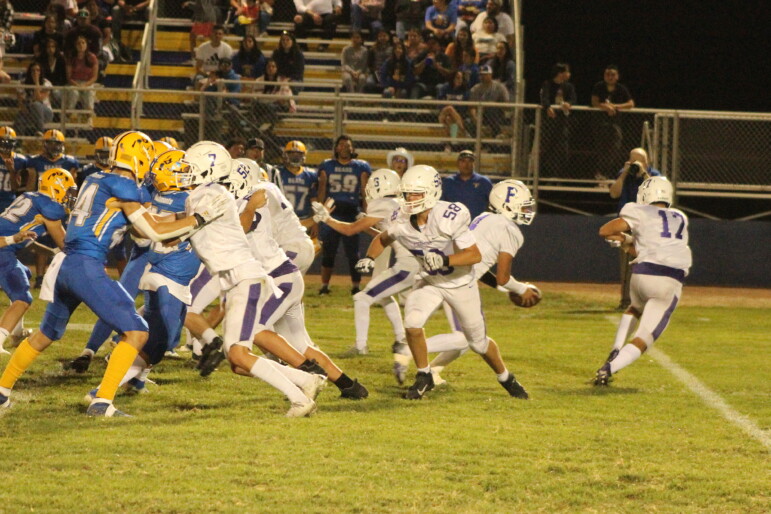 "Oh my god, it was the best," Shelby said of the play. "Jack flipped it to me, I saw Dom open and chucked it as far as I could. Everyone was super-hyped. It was awesome. Great way to start the game."
"We practiced that all week. Put a lot of work into it."
Shelby said when he found out the call would be made on the first play, "I was like, 'Ooweee! Here we go!'"
Pierce responded by marching right down the field with a five-play, 71-yard drive for the tying touchdown. Rudy Tapia got loose for the 53-yard score.
The Bears run a double-wing offense out of the mid-twentieth century, and they run it well. They only tried three passes on the night, but piled up 522 yards on the ground.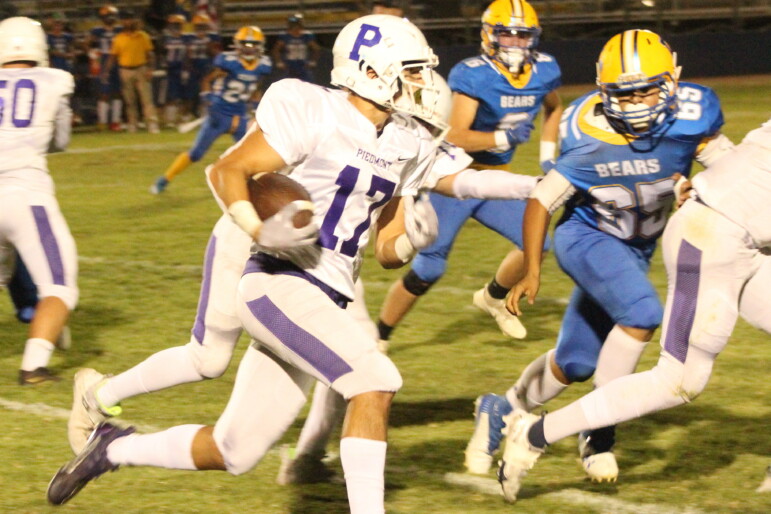 Piedmont answered back with Lagios connecting with Shelby on a 60-yard touchdown pass to go back in front. Shelby caught the ball short, but danced past Julian Camberos and Eduardo Cuellar and then sprinted down the right sideline for the score.
"It was a hitch," Shelby said. "I caught it, I saw the guy on my back. I don't even know what happened. I went outside, went inside, all of a sudden I was in the end zone."
Again, the Bears came right back. This time it was a methodical 13-play, 65-yard drive, with Manuel Lopez scoring on a 1-yard run. Lopez had a huge night, taking mostly inside handoffs and rushing for 169 yards and four touchdowns on 25 carries.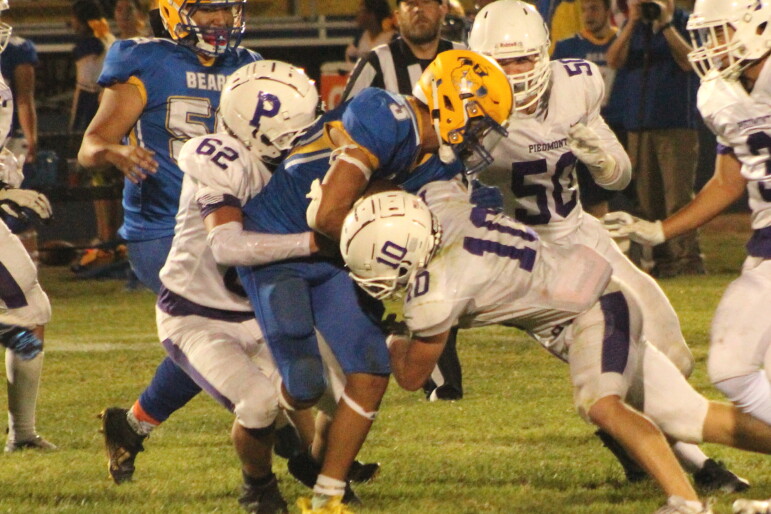 The game turned on the ensuing kickoff. Christian Garcia forced a Nelson fumble and Roberto Ramirez fell on it for Pierce at the Piedmont 40. Drew Burnum scored on a quarterback keeper from 27 yards out on the first play of the second quarter to give Pierce the 21-14 lead.
But Piedmont wasn't done. Matteo Costa took the kickoff back 86 yards for a touchdown to tie the score. Unfazed, the Bears then went on an eight-play, 65-yard drive, with Lopez scoring from 15 yards out.
Things settled down a bit and nobody scored the rest of the half. Piedmont drove into Pierce territory, but Lagios was sacked by Joel Velasquez on a key third down play to kill the drive.
The Bears broke the game open with two quick touchdowns to start the third quarter, sandwiched around a three-and-out for Piedmont.
Nelson gave the Highlanders hope with his own 83-yard kickoff return for a touchdown to make it 42-28. But by this time, the Pierce ground attack was chewing up the Piedmont defense. The Highlanders suited up 17 players and most were going both ways most of the night. The Bears ended up taking 72 offensive snaps to Piedmont's 35.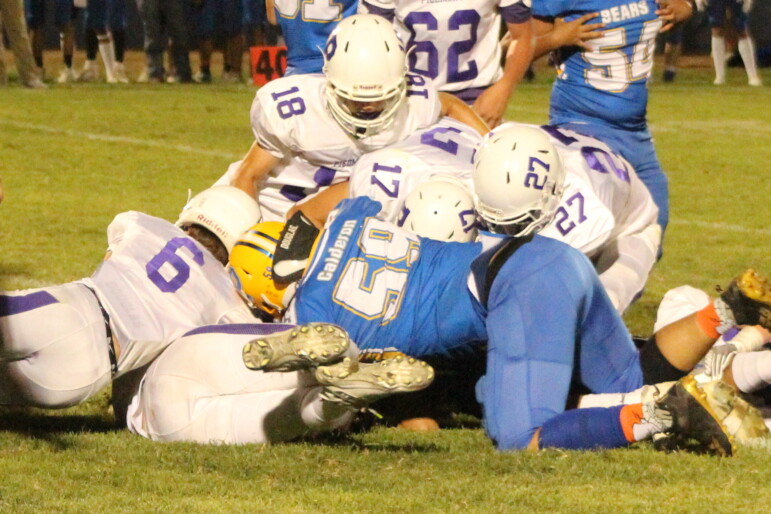 "You put up 35 points, you hope to win," Highlanders coach Jordan Seiden said. "Not too many games you get two kickoff returns for touchdowns. We made plays. That was great to see, it shows we have the kind of kids who can do that kind of thing."
"But it's a four-quarter football game. Attrition kicks in. I've said it all year long, it's not for a lack of talent with our main core group of guys. I have so much respect for these kids. I'm just so proud of them. The kids lay it out every time. They give it up."
Lagios completed 10 of 23 passes for 148 yards and two touchdowns against one interception. Alexandre caught four passes for 95 yards and two touchdowns. Nelson led the team in rushing with 17 yards on five carries. David Aguirre had 136 yards on 15 carries for Pierce.
Piedmont's next game is Sept. 23 at home against St. Mary's-Albany, Seiden's alma mater. Kickoff is scheduled for 7 p.m.
Photos by Damin Esper