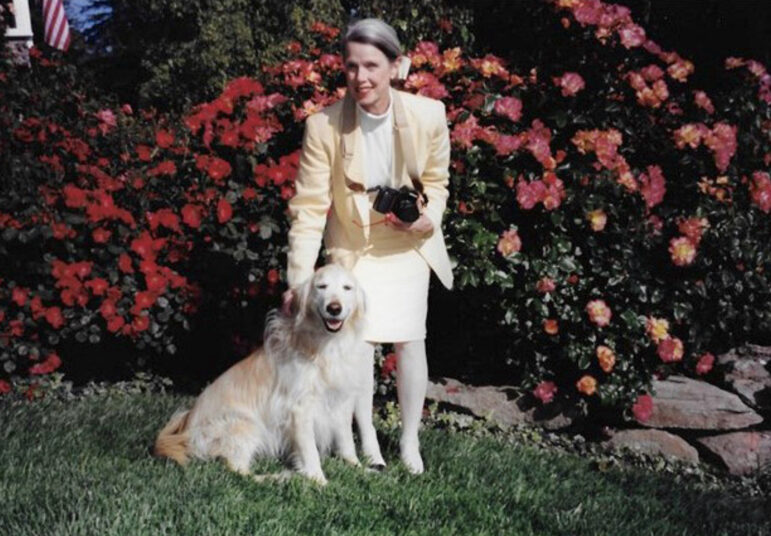 It's a long way from Hazlehurst, Mississippi to Heaven. Especially if you make stops along the way in Marion (AL), Columbus (GA), Poughkeepsie (NY), San Diego (CA), Brooklyn (NY), San Francisco (CA), and Piedmont (CA). Josephine McCollum Shuman completed that lengthy journey on August 29, 2022, passing away peacefully in her sleep at the age of 90.
She was born Josephine Laurine McCollum in December 1931 to Offa Shivers McCollum and Josephine Ellis McCollum in Hazlehurst. The family, including her brother Offa Shivers McCollum, Jr., eventually moved to Marion, where her father was the Commandant of the Marion Military Institute. Lieutenant Colonel McCollum served in the U.S. Army in the Pacific Theater in World War II. He was captured by the Japanese and survived the Bataan Death March, only to be killed when his unmarked prisoner of war transport ship was torpedoed by a U.S. submarine in October 1944 when Jo was 12 years old.
Following her father's death, the family relocated to Columbus where Jo attended Columbus High School and graduated a year early, the first evidence of her lifetime "smarts." Her mother married Charles Dexter Jordan of Columbus, who became a wonderful second father to Jo. Jo then attended Vassar College in Poughkeepsie, where she was an English major and received her bachelor's degree in 1953. However, her most important college experience came on a blind date, when she met and fell in love with her true soul mate, John Robert ("Jack") Shuman, a San Francisco native who was attending Dartmouth College.
Jack and Jo were married in Columbus on April 4, 1953, and they lived in San Diego while Jack served as a Lieutenant in the U.S. Navy during the Korean War. After Jack's honorable discharge, the couple spent a brief period in Brooklyn in 1956, where Jo held her last paying job (an operator for Ma Bell) and had her first child, Bob. The couple then moved to San Francisco, and in December 1957, Jo gave birth to her daughter Laurin. The couple moved to their last home in Piedmont in 1960, and in November 1962, Jo's third child, Stephen, arrived.
Jo was in constant motion, an unstoppable force capable of functioning on little or no sleep. She filled many roles including expert floral designer, fabulous cook, better baker (her chocolate, caramel, and coconut cakes will be sorely missed), sports fan (baseball being her favorite), hostess extraordinaire, and active participant in numerous organizations. With respect to the latter, among others, she was a member of the Junior League of San Francisco, the Francisca Club, Claremont Country Club, the Piedmont Garden Club, and the Garden Club of America. She capably served in many roles in those organizations (including President of several of them), and she also served as a certified flower show judge for the Garden Club of America.
An accomplished horticulturalist with a true "green thumb," Jo created a magnificent garden at the family's home in Piedmont. Although no one ever counted all of them, an estimate of 200+ rose bushes in her garden is likely close to the mark. Jo mastered orchid cultivation in a large greenhouse that she had built to replace an old gymnasium behind the home in Piedmont. Throughout each year, the varied and beautiful flowers she grew were put to good use in stunning flower arrangements for her home, her friends, and her regular flower show exhibits.
Jo was also an avid photographer, who documented her family's life, her friends, and thousands of floral arrangements with fanatical devotion. She leaves behind a veritable mountain of pictures that is a tribute to her love for and dedication to each of those subjects.
Jo made, collected, and cultivated many wonderful friends. She had an uncanny knack for putting people at ease, especially in her home, where she and Jack often entertained friends and family. The number of friends on her holiday gift list was frightening to behold, but she somehow managed the fire drill of getting through it every year. The standing joke among her children was that you never wanted to walk across the dining room to the buffet line with Jo at one of her clubs because (a) she would stop or be stopped at every table along the way, (b) you'd have to meet 50 of her friends, and (c) there was a good chance the buffet line would close during your 45-minute journey across the room.
Jo's kindness to others was the foundation on which many of her friendships were built. One example occurred every holiday season, when she would buy out See's Candies' supply of chocolate turkeys (for Thanksgiving) and chocolate Santa Clauses (the six-inch models, for Christmas). For the better part of two months each year, she carried a large supply of the turkeys and/or Santas in her purse for distribution to employees at her various clubs, garage attendants, bridge toll takers, unsuspecting children (whether she knew them or not), police officers, her multitude of friends, and just about anyone else with whom she came in contact.
Jo is adored and survived by her children, Bob, Laurin, and Stephen; her daughters-in-law, Beth and Valerie Shuman; her granddaughters, Grace Katherine and Katharine Josephine Shuman; her sister-in-law Nancy McCollum and Nancy's children Shivers, Gene, and Carolyn McCollum; her stepbrother, Thornton Jordan and wife, Sue, and their son, Miles Dexter Jordan; her stepnieces Mint Flowers and Ruth Calhoun; her sister-in-law, Joan Lyche and Joan's children Helga Andereck, Karen Lyche, and Sylvia Davis; and her beloved golden retriever, Sophia.
Jo will be deeply missed by her many friends and family, but we are happy to know that she is finally reunited with Jack, the love of her life. There will be a celebration of Jo's life at a later date that has not yet been selected. Friends wishing to make contributions in her memory may do so to the National Disaster Search Dog Foundation, 6800 Wheeler Canyon Road, Santa Paula CA 93060, EIN: 77-0412509; Marion Military Institute, 1101 Washington St., Marion, AL 36756, EIN: 63-0288853; Vassar College, 161 College Ave., Box 725, Poughkeepsie, NY 12603, EIN: 14-1338587, or to the charity of their choice.
This obituary first ran in the San Francisco Chronicle on Sep. 16, 2022 and has been reposted here with the permission of the family.