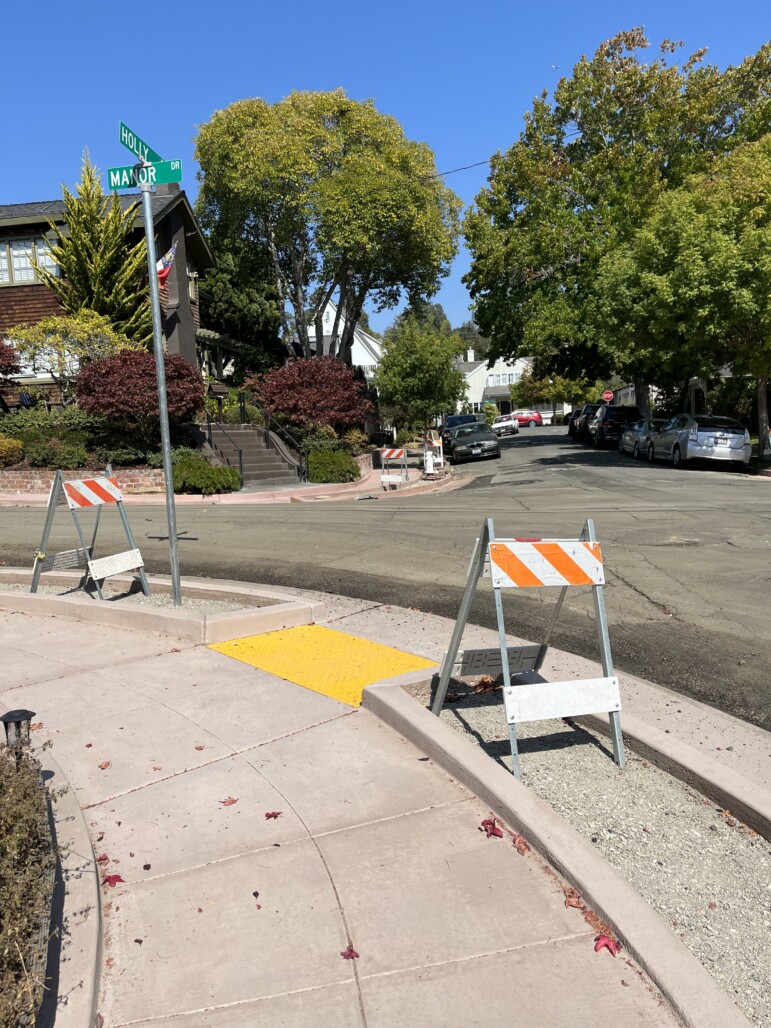 It isn't often that a neighborhood rises up against a sidewalk/curb improvement project, but recently completed changes at the corner of Manor Drive and Holly Place, some residents say, has been anything but an improvement.
Irene Westler uses a walker to get around that neighborhood, and used it to get into the City Council chamber on Sept. 6 to share her concerns about that sidewalk work.
"There's a lot of traffic there, and I will walk the extra block to lower Grand because I feel safer crossing there," Westler said.
Shawn Antaya, who lives on Holly Place near Manor Drive, said "The curbs are set up to be almost like a cattle chute." He wasn't the only one to use that specific analogy, nor was he the only speaker to say the recently completed sidewalk work appears to be unsafe, including a tripping hazard, or to make the intersection less safe for pedestrians. A couple of folks even called it unsightly.
Altogether, 13 people spoke up at the Sept. 6 Piedmont City Council meeting about this work, part of a citywide sidewalk ramp replacement effort — 22 ramps in all — accompanying the city's 2021 street resurfacing project. The work at Holly and Manor was done so the sidewalk and curb could meet Americans with Disabilities Act (ADA) access standards.
The new ramp at Holly and Manor is the one that's been getting all the attention, though, and it hasn't been good. And Tuesday night's objections were not the first.
"The city has received complaints from residents since the ramps at Holly and Manor were completed in early August," said Daniel Gonzales, Piedmont's public works director, in an email after the council meeting.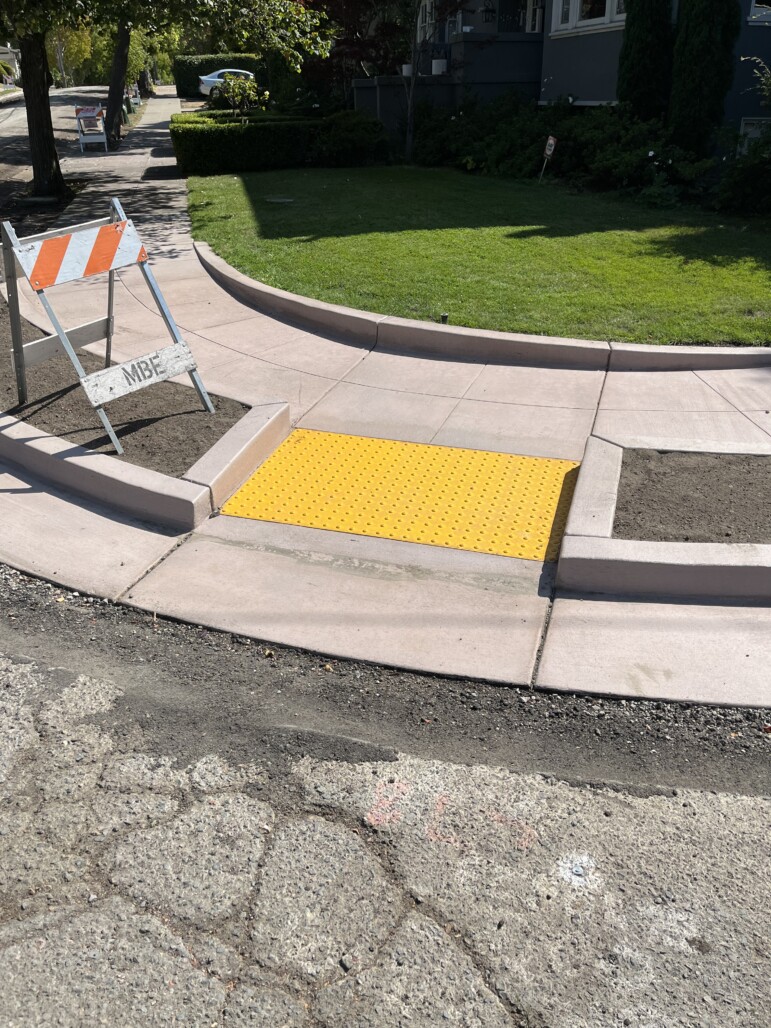 Several of the speakers said they didn't remember getting any advance notice of this curb work or its design. Gonzales did say the city sent out letters to nearby homeowners in June that the ramp replacement was included as part of the paving work and that the work would be done over the following two months. After the Sept. 6 meeting, Gonzales said city staff is reviewing its notification procedures, and that some modifications are anticipated.
Neither City Council members nor city staff members present, including Gonzales, could offer detailed responses to these speakers, because the matter was not on the council's agenda that night. Though the Holly/Manor curb work was mentioned as part of agendized general discussion about standards related to pedestrian ramps, several residents asked that the Holly/Manor project specifically be put on an agenda in the near future.
Gonzales said that, in the wake of the complaints, the city discussed the designs with residents individually and has organized two on-site group meetings for residents to review the plans, ADA requirements, design considerations and design alternatives.
"The city is considering possible modifications that can be implemented within ADA requirements and budget constraints," Gonzales said in an email. The city, he added, continues to engage neighbors and solicit feedback from residents before finalizing the project.
Liz Arney, who lives near Manor and Holly, echoed the sentiments of other speakers calling for delaying the street repaving in that area until the pedestrian ramp in question can be reconsidered and, hopefully, modified.
"I think it's just a matter of time before somebody gets hurt, and we really want to make a change before (that happens)," Arney said.
Contact Sam Richards at sam.richards4344@gmail.com