Only two (!) new COVID cases were reported in town since last week, according to the Alameda County Health Department's COVID-19 dashboard. COVID case counts in Piedmont on Tuesday stood at 1,580 — up from 1,578 one week ago. It seems highly unlikely that number is a true representation of local cases but all we really have is anecdotal evidence right now.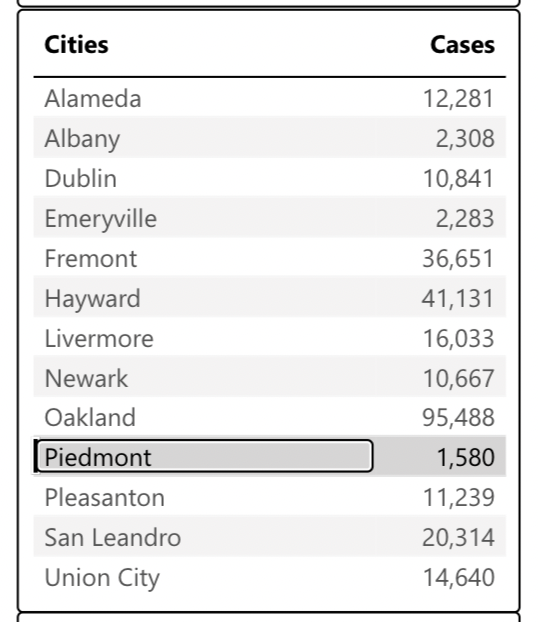 (Case data is updated daily but may change as the county reconciles its records. Official numbers do not reflect actual local case numbers due to increased use of home testing.)
On Tuesday PUSD told the Exedra that it did plan to continue using its online COVID dashboard to track cases within the schools even as it updates COVID protocols for the new year. Free rapid tests were made available to school families, and families were encouraged to test before returning to school on Wednesday, Aug. 8.
From the San Francisco Chronicle on Tuesday:
Dr. Erica Pan, the California state epidemiologist, on Tuesday expressed optimism that coronavirus infection trends will continue dropping from its summer peak in July, saying, "I think we are hopefully at the tail end of this most recent surge." At a virtual forum sponsored by the California Medical Association, she also sounded a hopeful note on hospitalization trends. "Hospitalizations increased a bit but are plateauing," she said. About three quarters of California counties remain in the "high" category for coronavirus transmission, as defined by the Centers for Disease Control and Prevention, down from 99% on July 21. While the most recent sublineages of the omicron coronavirus variant have been highly transmissible and infections remain high, these strains have not caused as much serious illness as early coronavirus variants, especially before the rollout of vaccines.