Amid a general decline in cases around the Bay Area, Piedmont adds 22 cases this week, an uptick after last week's lull.
Students returned to school on Aug. 10. PUSD has said it plans to update its COVID dashboard but as of today it still reflects end-of-year numbers. Families are asked to report positive COVID cases to PrimaryHealth which provides data to local and state health departments.
(Case data is updated daily but may change as the county reconciles its records. Official numbers do not reflect actual local case numbers due to increased use of home testing.)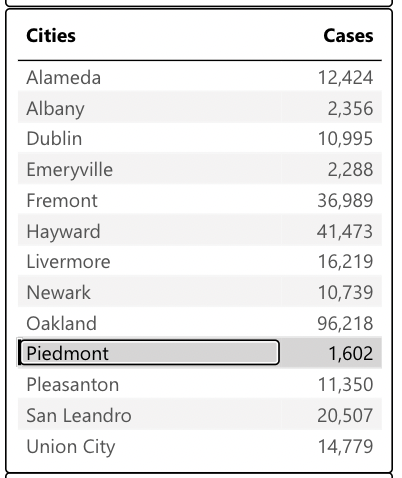 According to the San Francisco Chronicle on Aug. 16:
A continuing downward trajectory in Bay Area coronavirus cases is maintaining hopes for a denoument in the summer surge. The 7-day average for new infections across the Bay Area was 24 per 100,000 people, a drop from 32.5 per 100,000 a week earlier, and down from the daily average of 54 cases per 100,000 at the beginning of July, according to new figures released by state health officials Tuesday and analyzed by The Chronicle. Statewide, California had a 7-day average of 27 new infections per 100,000, and the rate in San Francisco was just under 22 cases. The encouraging trend is still higher than the 6 cases per 100,000 seen in April after the end of the winter omicron surge. And it's above the ratio of fewer than 5 new cases per 100,000 that the CDC considers a safe level of community transmission.