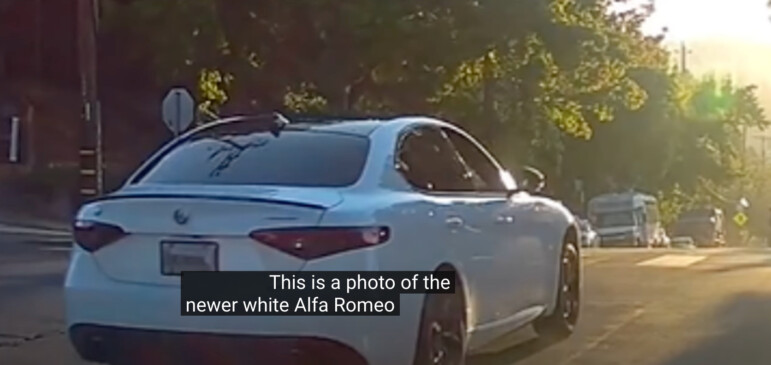 Several calls came into the Piedmont Police Department on the morning of August 2 reporting shots fired in the area of Sunnyside and Oakland avenues. Investigation turned up information on a road rage incident according to Piedmont police. One car was described as a newer model white Alfa Romeo with paper plates. Three people were in the vehicle and one male had a handgun and fired five or six shots, according to police. The victim's vehicle was hit twice. There were no injuries. The investigation is ongoing.
A KTVU video showing the suspect car was posted on Tuesday:
---
A resident and the city's Automated License Plate Reader (ALPR) system joined forces to stop an apparent catalytic converter theft, with one suspect apprehended.
On July 27, a resident walked into the Police Department to report a catalytic converter theft in process. At about the same time, Piedmont's ALPR cameras recorded a hit on a stolen vehicle entering the city at Park Boulevard and Estates Drive. Officers responded and found the vehicle traveling south on Estates, according to Piedmont Police Capt. Chris Monahan.
The black Audi UT fled, nearly hitting two Piedmont police cars, according to Monahan. The car then crashed into a front yard on Estates. Three occupants fled the scene. One, the driver, was found on Wyngaard Avenue, where he was detained.
Monahan said a search of the vehicle turned up burglary tools and stolen packages. The car had been stolen in San Rafael.
A witness identified the driver, according to police. The suspect was taken to Santa Rita Jail in Dublin and charged with possession of a stolen vehicle, possession of burglary tools, possession of stolen property, and fleeing from police.
---
A residence on St. James Drive was burglarized on July 27. Unknown suspects broke a glass window near the front door, according to the report. They then went through the house, according to Monahan. The victim is the homeowner's father and it's unknown what was taken.