No matter our political leanings, here's something we can all agree on: Don't waste taxpayer dollars. Neighbors around Nova and Magnolia are asking the city not to spend money on a project we do not want.
In 2019, the City of Piedmont installed its first use of plastic bollards to calm traffic at the intersection of Nova and Magnolia. The bollards compromised the neighborhood aesthetic, and, in letters and testimony at council meetings, neighbors urged the city to take a different approach. We were told the bollards were only temporary, simply a trial design for a landscaped solution.
This eyesore was supposed to enhance safety, but has not. The bollards have created confusion and posed their own safety risks. Neighbors have asked the city repeatedly to remove the bollards ASAP, but, even in the face of a petition signed by 120 residents, the bollards are still there.
Now the city is proposing to install black and orange asphalt bumpers at a cost of $50,000 in lieu of the bollards. But these, too, are ugly and pose safety risks.
Neighbors have done everything the city asked in order to get a landscaped solution. For example, we were told to go to the CIP, and nothing occurred. We were told to raise funds; we did, but were rebuffed.
Now we have some simple requests to the city:
Remove the bollards
Do not spend $50,000 of taxpayer money to foist on residents raised eyesore markers that are inappropriate to the neighborhood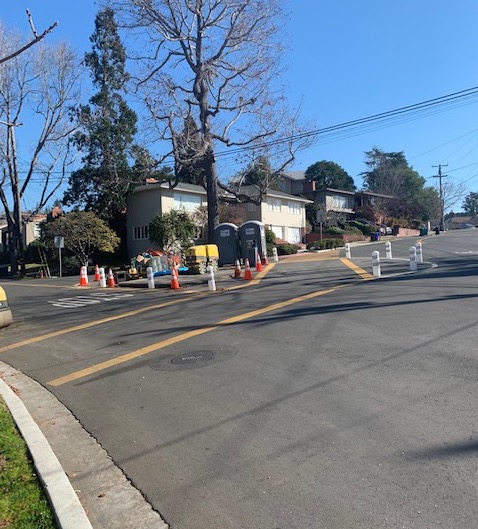 Many of us are longtime residents and we are all taxpayers. This intersection, which abuts a main Piedmont artery, deserves more than a slipshod solution. If we have to raise money, we need a good list of options and how much money each would cost. Perhaps nothing further is even needed.
This is all common sense. Spending the $50,000 would be folly. Let's hope a majority of the city council agrees.