Family: Jon, Allison, Jack, Austen and Tenley Elvekrog
Pet: Red Elvekrog
Age: Red will be 4 years old in September.
Breed: Golden Retriever
Adoption story: We were out to breakfast as a family, including my mother but minus eldest son Jack who was off visiting colleges. Once we finished breakfast, my mum asked if anyone had anything else they wanted to do in the city before we headed back to Piedmont. Austen enthusiastically said, "Yes, let's go play with puppies!" She googled "puppies near me", found SF Golden Retrievers, and called and asked if they had puppies we could come see with her family. Turns out their litter was exactly 8 weeks to the day, and the breeder said if we came quickly, we could look at them before a family was flying in from LA to get the pick of the litter. While the plan was just to look at them, Allison fell in love with the puppies, the therapy pup breeder's story, and — after years of saying no to a dog — quickly pivoted to "if we are ever getting a dog, we are doing it now. Pick your puppy!" We had identified two, one light and one dark golden; FaceTimed missing son Jack — who chose Red.
Likes: Red absolutely loves to swim. His favorite weekend activity is when his family takes him to San Francisco to swim and play fetch at Crissy Field. He loves playing in the back ravine with his dad and overseeing projects that are taking place. He loves sunbathing on our orange patio couch. He loves eating Pup Patties from In-n-Out — his favorite treat.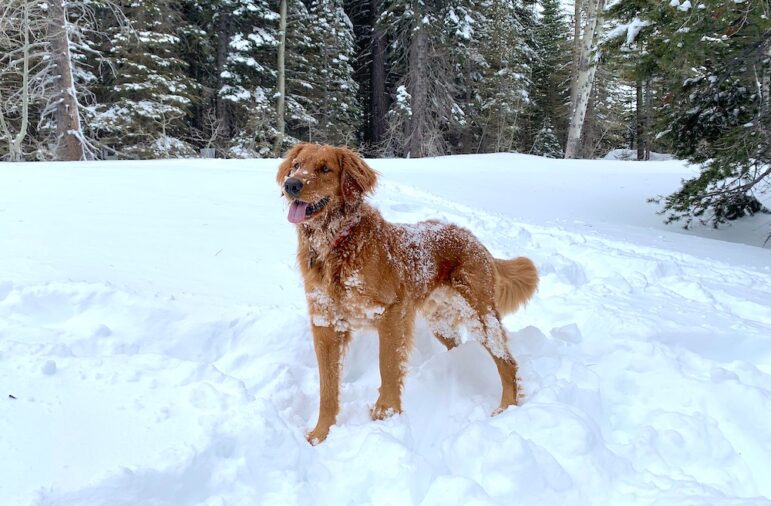 Dislikes: Red is not a fan of vacuums or balloons.
Interesting facts: Red's best friend, Bogie Halverson, lives two doors down, and the boys can be found most evenings romping and wrestling on Bogie's front lawn. If Red is ever missing, he has most definitely bolted down the hill to squeeze through Bogie's gate for a spontaneous play date. Red also has three cousins in town whom he loves to encounter and play with on walks. Another interesting fact is that while Red's dark coloring often leads people to believe he is an Irish Setter, he is a dark Golden Retriever.