A long time ago, in a bar in San Francisco, my husband met a man who said if he could live anywhere in the world, he'd live in Kelowna, British Columbia. He described an area full of fruit orchards and vineyards amidst a beautiful lake valley surrounded by snow-capped peaks — topped off with friendly Canadians, of course. This summer we decided it was time to see for ourselves what was so special about this Kelowna, and other less traveled parts of BC. So in June we flew to Spokane, WA and rented a car for a week-long road trip. Our itinerary included driving up the Okanagan Valley, as far north as Revelstoke (a mountain town/ski destination in the winter) and down the West Kootenay Valley, with our final destination being the small town of Nelson, BC. It did not disappoint.
Here's a look at our itinerary and some highlights if you're looking for a way to spend the final weeks of summer:
Day 1: Our destination for the day from Spokane was Kelowna. The most direct route takes about five hours, but we were very interested to see the Okanagan Valley, rich with orchards and wineries with terraced vines along the hills and roads overlooking lakes, so we opted for the slightly longer route.
As we drove through Washington state, our first stop was to admire the Coulee Dam. Built between the years of 1933-1941, it's still the largest power generating facility in the U.S.
In a short 3.5 hours we were at the border of Canada. Entering Canada was fairly easy in June. (Check on the process before you go in case things have changed.) Three days prior to entry, you must download an app and enter your vaccine information, which the customs officer confirms once you are at the Canadian border. It was easy and straightforward.
The first city you pass through upon entering Canada via route 97C is Osoyoos. Osoyoos is said to be Canada's only desert and is very arid. Next we drove through the towns of Oliver, Penticton, Summerland, and Peachland. The sights were just as had been described so many years earlier to my husband: beautiful blue lakes, orchards, wineries, and in the distance there were indeed snow-peaked mountains.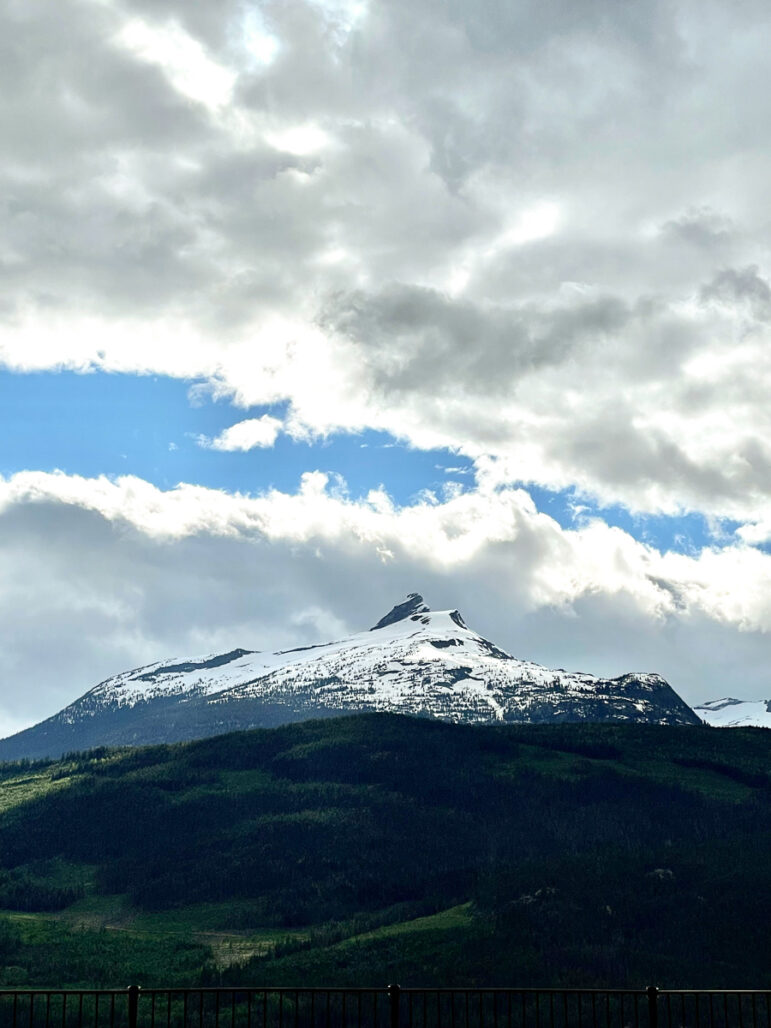 There are hundreds of wineries in the Okanagan, a valley that sits along a large lake of the same name. Known as the "Tuscany of Canada," the region is one of the country's top wine-making areas. (We had heard that floating the channel between Skaha Lake and Okanagan Lake in Penticton is a highly recommended activity. There are also lots of trails with beautiful views throughout the valley.)
Aside from visiting wineries, there are distilleries, cideries, and farms. We had heard that many wineries and cideries offer lodging throughout the Okanagan and found one that was particularly intriguing due to its location on 13 acres of farmland, vineyards, and pine forests, but still a short drive to downtown Kelowna. In addition, there are other residents on the property — namely, alpacas!
We booked a room at Soma Craft Cidery, which is located in a beautiful contemporary building. Our stay was quiet and lovely. We visited all the alpacas and enjoyed some of the handcrafted hard ciders made from 100% freshly pressed apples grown in Soma Craft orchards. Our favorite was crisp and refreshing Raspberry Basil Cider.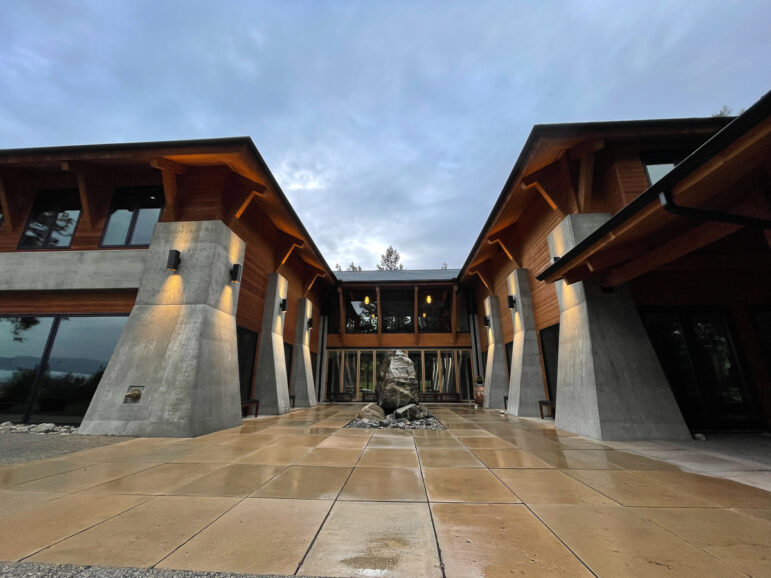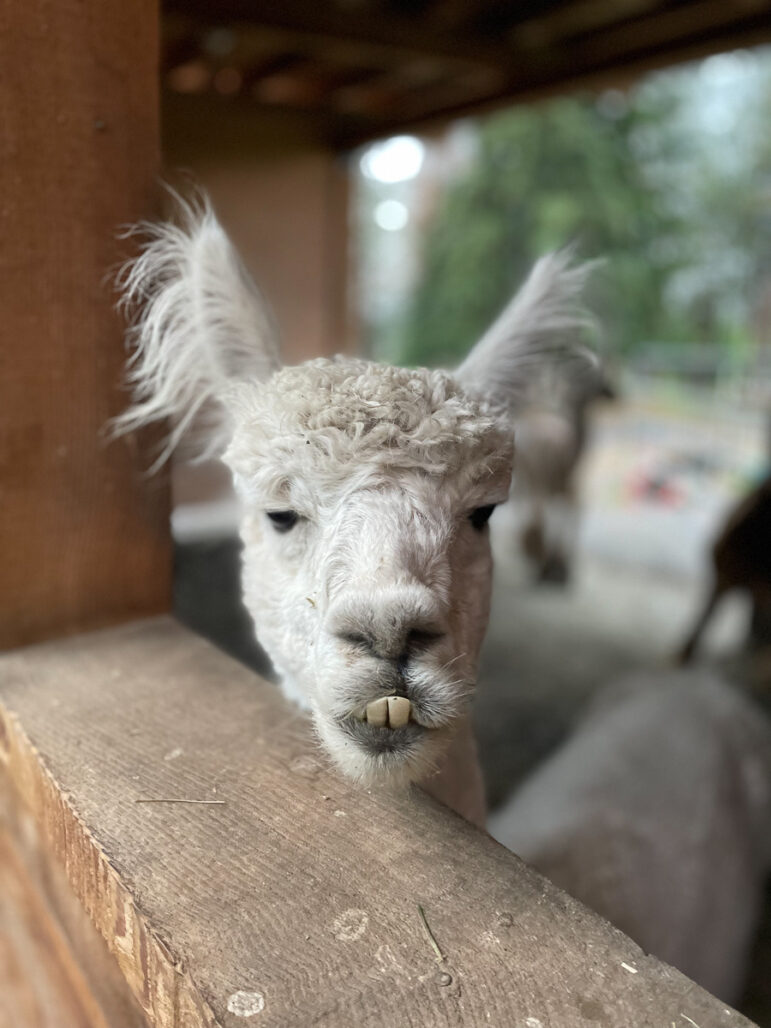 Day 2: We bid farewell to the alpacas and drove a short 15 minutes to downtown Kelowna. The city is a mix of old buildings and new, some high-rise housing and lots of restaurants, coffee shops, and stores. At the end of one of the main streets, Bernard Ave, we were at the waterfront, where there is a lovely park and marina. We sipped coffee and enjoyed walking along the lakefront pathway appreciating the stunning mountain views all around us. The lake is really beautiful and at 84 miles long is visible for as far as the eye can see.
After seeing the sights of downtown Kelowna, we decided to hop in the car and visit the Kentucky-Alleyne Provincial Park. I'd read about the lakes at this park rivaling the clear, turquoise waters of Bermuda. After a little over an hour drive we arrived. There were campsites and two small lakes. We decided to take the 4 km walking path around Kentucky Lake. It's a beautiful easy walk through large Douglas fir and Ponderosa pine trees, and the water was as crystal clear turquoise as we'd heard. We jumped in but did not stay in the chilly water long. Then it was back to Kelowna, where we checked into a lovely B&B and had dinner at a lively waterfront restaurant overlooking the marina. All in all, a perfect day.
Day 3: Our destination today was Vernon. But we took a slight detour as I'd read there was a not-to-miss attraction: Kangaroo Creek Farm. Yes, there are kangaroos, wallabies, sugar gliders, capybaras, pot belly pigs, and other animals. And though I realize these animals are not native to Canada, it was worth a visit to get up and close to some of these cute creatures. They all roam around on a nice farm setting.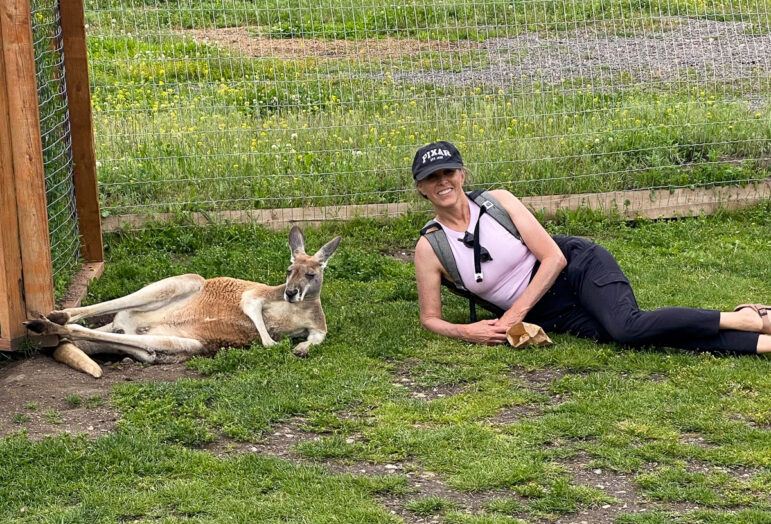 Back in the car, we drove for an hour or so past more lakes and up a windy mountain road with rolling hills and the verdant terrain of Predator Ridge. Turning a corner, we saw our destination, Sparkling Hill Resort and Spa, built atop a granite bluff. It is a dramatic sight. The architecture is stunning and once in our room, the vistas overlooking the northern portion of Okanagan Lake were breathtaking. The hotel's rooms feature sliding window walls that allow you to fully take in the panoramic views of the Monashee Mountain range and Okanagan Lake. The resort was created by a Swarovski heir and named after three million-plus sparkling crystals incorporated throughout.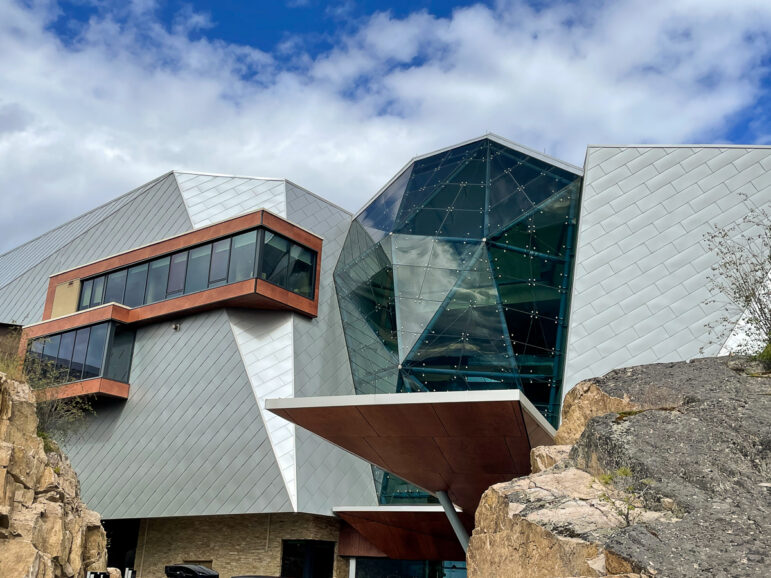 Rooms and architecture aside, the 40,000 sq. ft. KurSpa is the real draw. With the seven uniquely themed steam rooms and saunas, the outdoor infinity pool, the indoor pool with music playing underwater and twinkling lights that come on at night, a large jacuzzi and the Kneipp hydrotherapy pool, you can revitalize in Canada's largest luxury spa.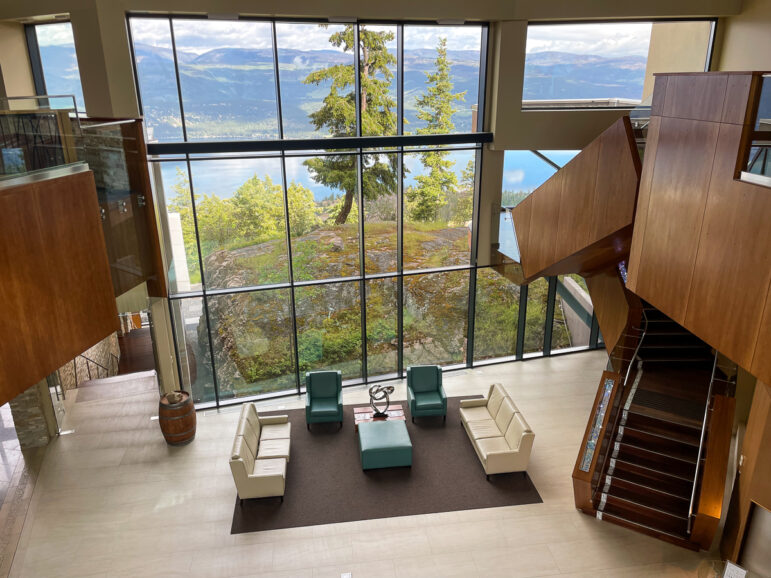 Day 4- 5: We checked out of Sparkling Hill Resort feeling very relaxed and headed north to the year-round Revelstoke resort. On our drive, we took in more Canadian scenery, including thick groves of trees growing on either side of the two-lane highway with an occasional view of a river and snow-capped mountains. We arrived at Revelstoke and had a walk around the historic town built in the 1880s and had a bite to eat. Our destination was the Revelstoke Mountain Resort, which is a prime ski resort in winter. In the summer you can take a gondola up and take the fun way down: the Pipe Mountain Coaster. You sit in a toboggan-like cart that is attached to a fixed track where you send yourself down the mountain for almost a mile, down a 915 foot vertical drop at up to 26 miles per hour with a hand-brake to control your speed. It was exhilarating and I wish we'd bought more than one ticket.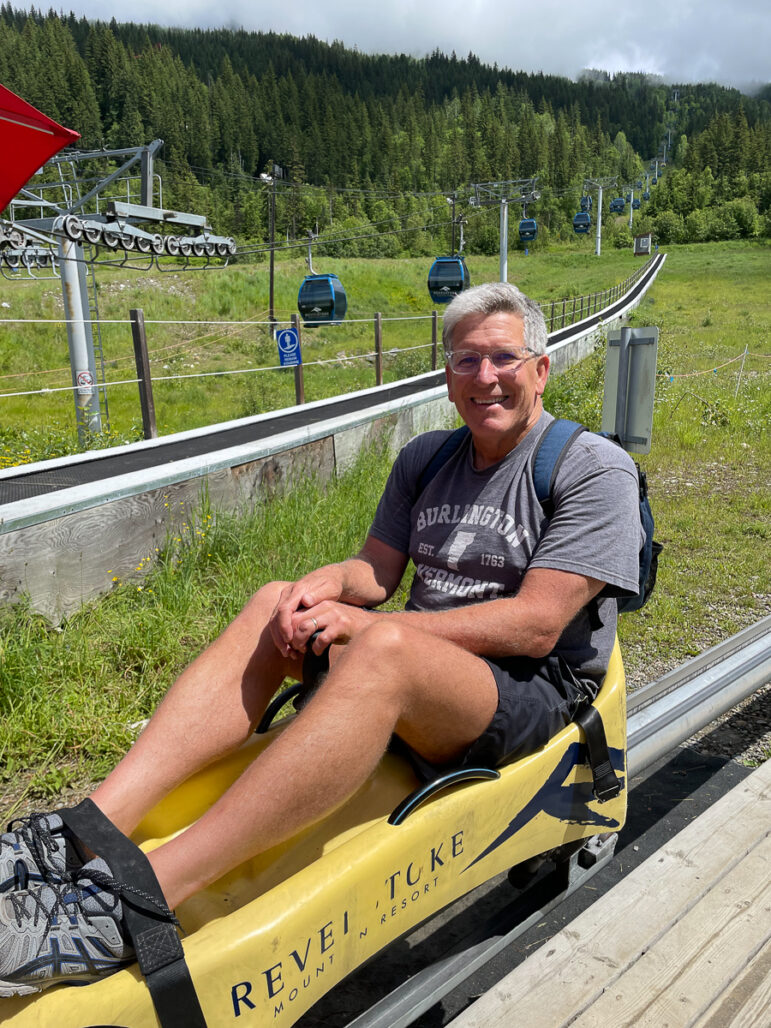 From Revelstoke our next stop was to a hot springs resort just North of Nakusp. In order to get there we had to take a car ferry to get from one side of Upper Arrow Lake to the other. After a short wait, we drove on to the ferry, and then stepped out of our car and took in a half hour of beautiful scenery as we ferried across.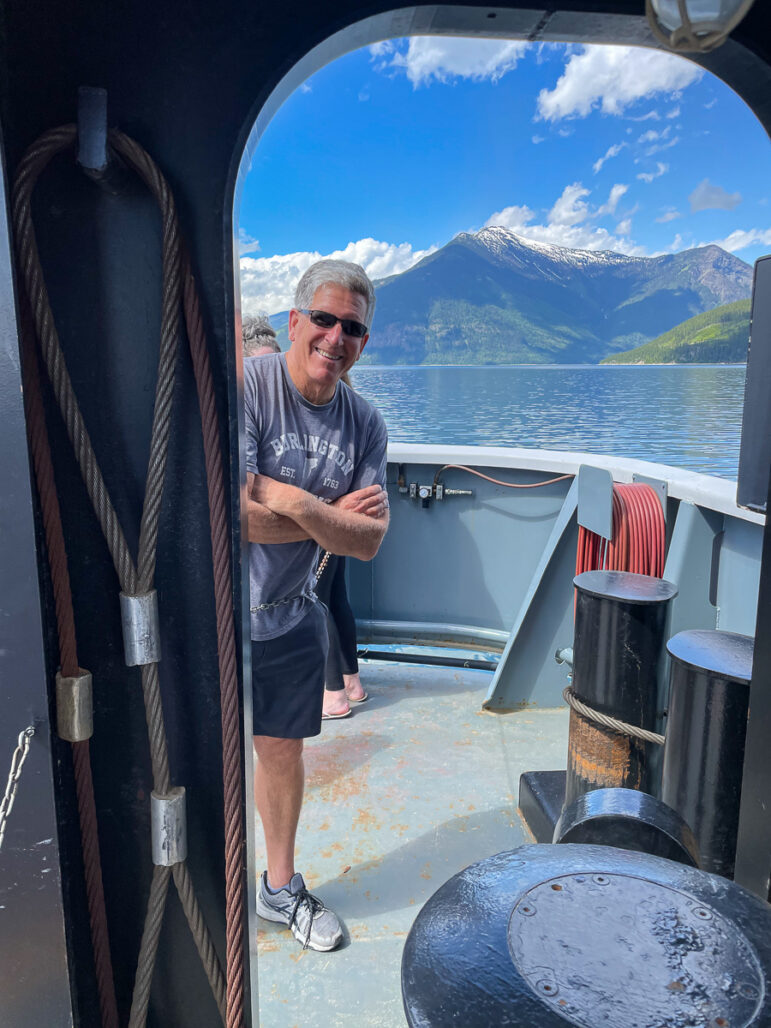 British Columbia has a number of hot springs, and our next stop at Halcyon Hot Springs featured healing lithia-rich waters. According to the Halcyon Hot Springs website: "Long known for its antidepressant properties, a variety of studies have shown that lithium has potent anti-oxidant and anti-inflammatory properties, including the capacity to regenerate pathways in the brain." Our stay here, in a small one bedroom cottage with a deck, was perfect for enjoying the hot springs. Halcyon has two spring-fed pools on the upper deck; one hot and one warm, plus a cold plunge. On the lower deck there is a mineral swimming pool; the views from the pools overlook Upper Arrow Lake and the Monashee Mountains.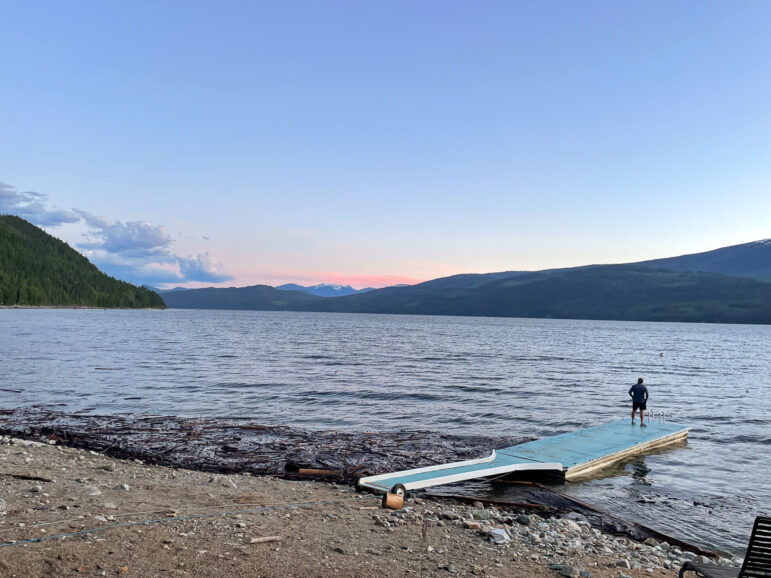 The next day we explored the small town of Nakusp, where we stepped inside the oldest hotel in B.C., the Leland Hotel, and then walked along the pretty riverfront path and then took a hike to Vicky's View. This short, very steep hike ends with a glorious view of the valley, lake, and mountains. That night we had an exceptional dining experience at Bella Soriah, a tapas bar that had opened four months prior in Nakusp. Our food was fresh, interesting, and beautifully plated. We were surprised to find such a treasure in a village of only 1,500 people.
Day 6 and 7: After one last dip in the healing waters we were off again. Our route to Nelson took us through more beautiful scenery and small towns. We especially enjoyed the farmers market and quaint downtown of New Denver and seeing the S. S. Moyie Sternwheeler (passenger steam vessel) which carried passengers and freight on Kootenay Lake starting in 1898 until 1957 in Kaslo.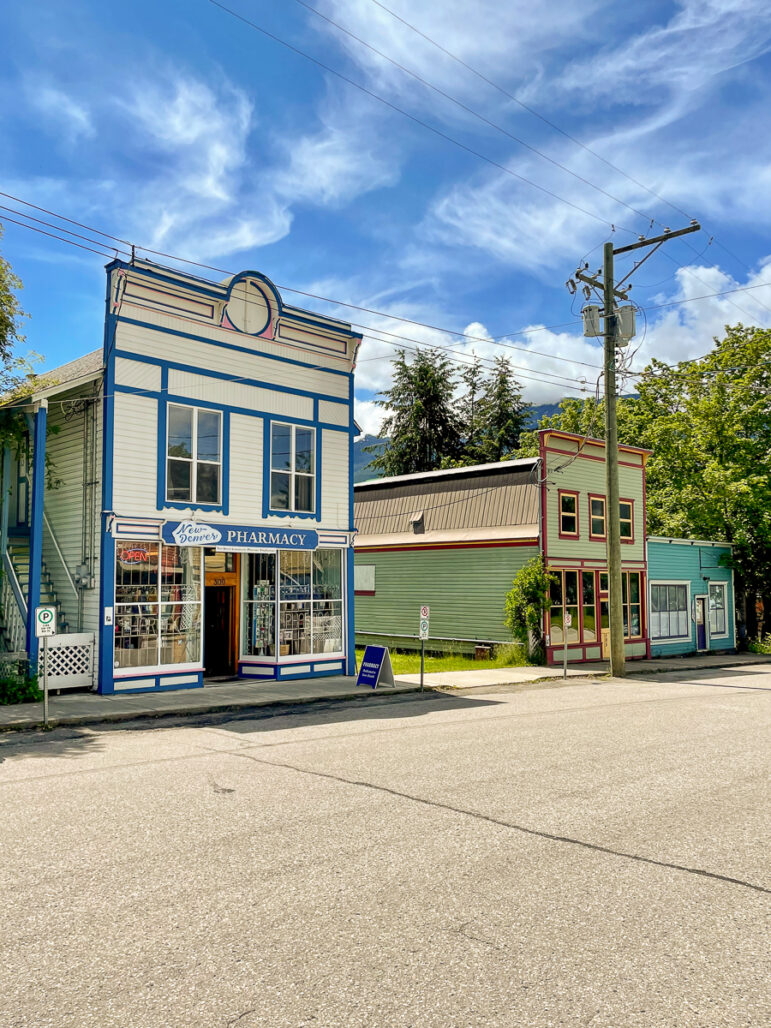 We arrived in Nelson, our final destination in B.C., in the late afternoon. Surrounded by stunning mountains and set on the shores of pristine Kootenay Lake, Nelson has been called "the prettiest small town in Canada." Home to over 350 restored heritage buildings, Nelson's charm creates the quintessential storybook setting. The town was made famous by the 1987 movie Roxanne starring Steve Martin and Daryl Hannah. We enjoyed taking in the sights of the many heritage buildings as well as the waterfront park with views. We discovered Nelson has a vibrant nightlife and lots of good people watching. There is a lively art scene and a bit of a hippy vibe. The weekend we were there it was the opening weekend for the annual Nelson Artwalk. I enjoyed seeing all the murals that decorated the alleyways behind some of the main streets.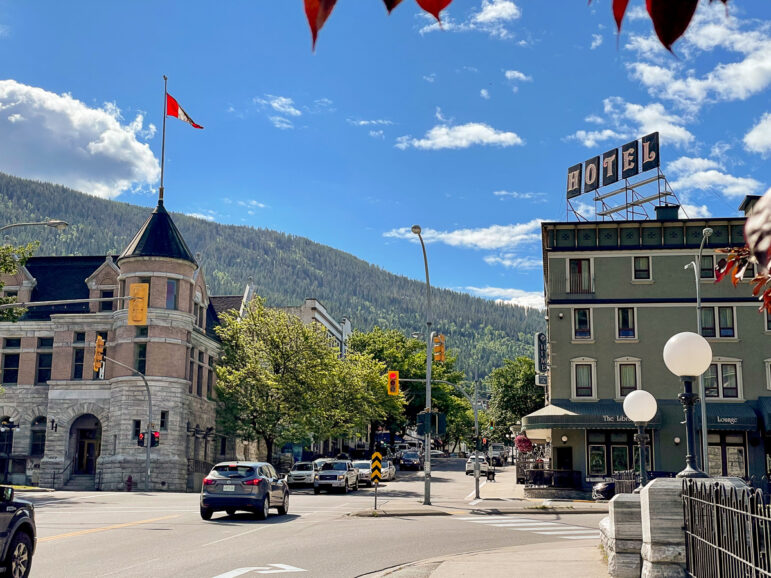 The next morning we enjoyed coffee at well known Oso Negro where you can enjoy fresh roasted coffee in the cafe's outdoor seating area that includes sculptures, attractive gardens, and a view of the Selkirk mountains.
From there we walked to Nelson's Saturday Farmer's Market, located at Cottonwood Falls Park. The market features local farm produce, bakers, artisans, and a variety of locally hand-crafted products on Saturdays throughout summer. It's set in a park next to a beautiful falls as the name implies. After picking up some gifts from a local artist as well as a loaf of artisan-made bread, we set out to the nearby visitor center which is set in the Canadian Pacific rail station. The visitor center staff was very helpful providing information on a recommended hike. The 120-year old restored depot is worth seeing plus many local artist's work is on display and available for purchase.
Next we walked to Gyro Park, where you can get a birds-eye view of Nelson's heritage downtown, waterfront, and surrounding mountains in addition to viewing some very pretty local foliage and flowers within the park.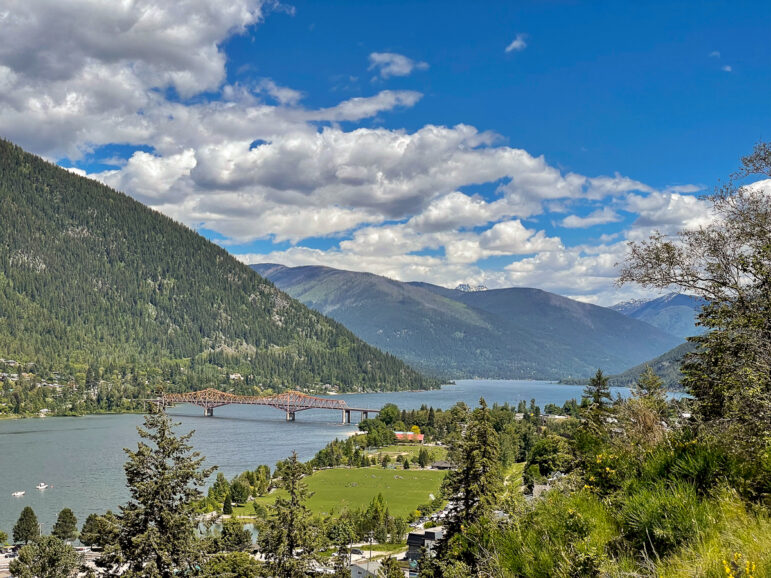 And finally, to round out a day of walking and hiking, we set out on our planned hike to Lyon's Bluff. Just a short drive away, across the Big Orange Bridge (fondly referred to as BOB), and down a 1/2 mile or so, we found our trail marker. Lyon's Bluff is a similar hike to the popular hike to Pulpit Rock but is newer, so less traveled. The hike is short and steep, up stone stairs on a well-marked trail. The reward at the end is another stellar view, this one much higher up than from Gyro Park, looking out over the Kootenay valley and the town of Nelson. Some 22,966 steps later we were ready for a nice, cold beverage and to return home via Spokane the next day.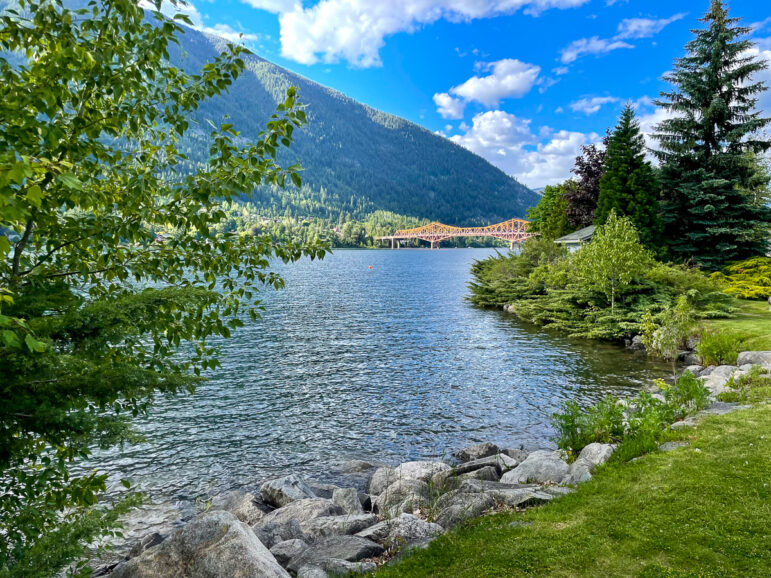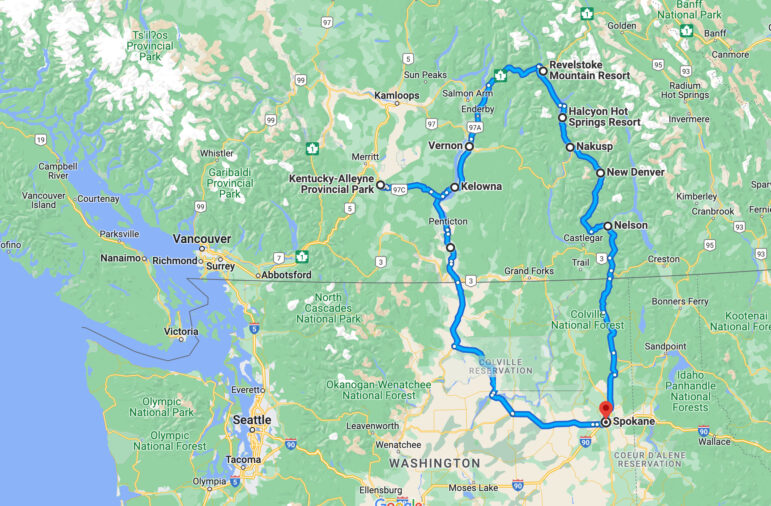 Julie Reichle is the Piedmont Exedra's photographer and a longtime Piedmont resident.
(Editor's note: The Reichles did not receive any compensation for mentioning any of the attractions, resorts, or restaurants in this article.)