There have been 62 new cases of COVID-19 reported in Piedmont since last week, according to the Alameda County Health Department's COVID-19 dashboard. COVID case counts in Piedmont on Tuesday stood at 1,481 — up from 1,419 on June 28. (Case data is updated daily but may change as the county reconciles its records. Official numbers do not reflect actual local case numbers due to increased use of home testing.)
The CDC updates its models of circulating variants every Tuesday HERE. On July 9, the BA.5 variant accounted for 65% of all infections nationally, compared to just over 50% the week prior and BA.4 now accounts for a little more than 16% of cases.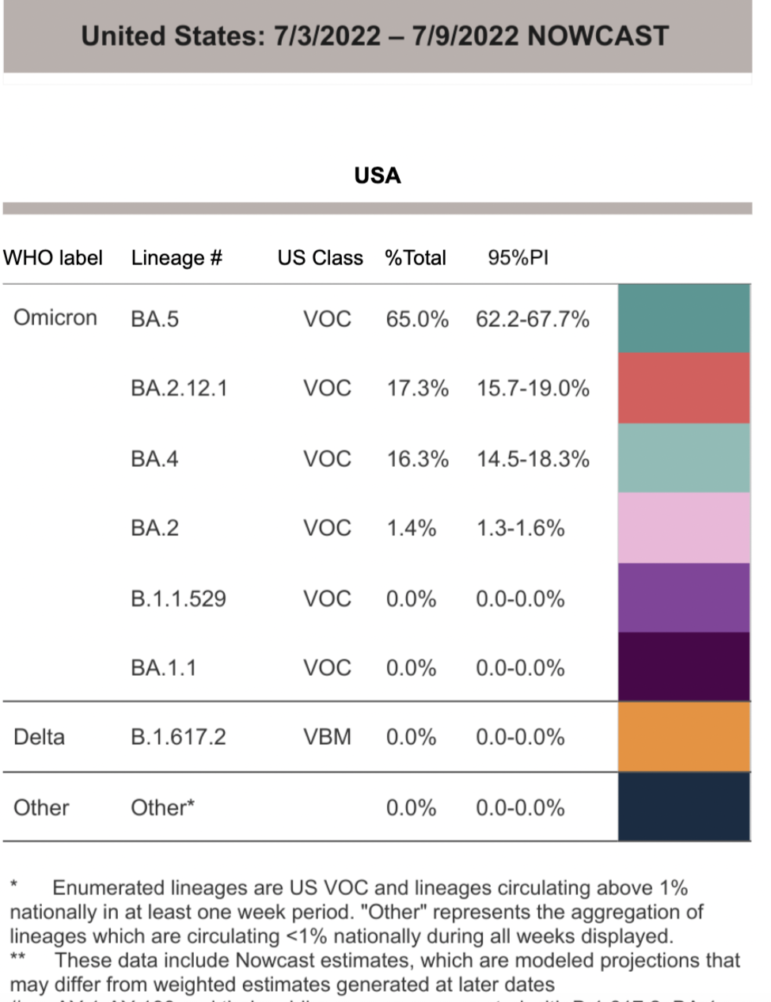 White House, WHO signal concern related to spread of new subvariants
The Biden Administration and WHO released statements today calling for increased vigilance and care as COVID cases continue to spread.
The White House issued a fact sheet on Tuesday outlining the federal response to the variant threat, saying "early indications signal that BA.5 may have some increased ability to escape immunity, including from prior infections, meaning it has the potential to cause the numbers of infections to rise in the coming weeks. This potential for increase is greatest where fewer people are up to date on their vaccinations and there is increased waning of immunity from vaccines."
The Administration's strategy to manage BA.5 includes making it easier to get vaccines and boosters and treatments like the antiviral pill Paxlovid and at-home test kits. You can find a "test to treat" location and order more free home test kits HERE. According to the CDC site , you can also get free N95 masks at CVS and Walgreen's stores in the East Bay.
In its announcement, the Administration also said it was working on measures to protect immunocompromised people, including working to make sure they were up to date on vaccines and boosters and had easy access to pre-exposure prophylactics such as Evusheld. Improving indoor ventilation remains a priority, the White House said, with the government offering a "best practices" guide for improving indoor air quality and reducing the risk of spreading dangerous airborne particles and the Clean Air in Buildings Challenge, which calls on all building owners and operators, schools, colleges and universities, and organizations of all kinds to adopt key strategies to improve indoor air quality in their buildings and reduce the spread of COVID-19.
In a separate statement, the WHO's Director General Dr. Tedros Adhanom Ghebreyesus said that the global pandemic has not eased and that sub-variants of Omicron, like BA.4 and BA.5, continue to drive waves of cases, hospitalization and death around the world even as testing and sequencing has been reduced significantly and diagnostics, treatments, and vaccines are not being deployed effectively. He also noted the ongoing challenge of long COVID and the disconnect between COVID risk perception between the general public and the scientific and political leadership.