Award-winning poet, novelist and playwright Judy Juanita had the official launch for her newest book of short stories on July 16 at SweetFingers Jamaican Restaurant in East Oakland.
The book, titled "The High Price of Freeways," is co-winner of the Tartt First Fiction Award. The collection of stories chronicles the changes of the Black experience in Oakland, from the Great Migration to today. Juanita is a cemented Bay Area expert. She is writing teacher at Laney College and recently accepted a full-time position at University of California, Berkeley.
Juanita grew up in Oakland and attended San Francisco State University, where she became the editor-in-chief of The Black Panther, the newspaper of The Black Panther Party. She was first familiarized with Black Panthers while studying at Oakland City College. Her locker was next to Huey P. Newton's girlfriend's, and he'd often stop by looking for her. Juanita credits Oakland City College and its environment for radicalizing her and a generation of students, but she sees major differences in Oakland students today. They do not have the same priorities, she said.
They are focused on much more than just school because getting an education is much more expensive than it used to be. Additionally, young people have an increased sense of identity and personal freedoms. One thing that Juanita admires about young people today is their sense of adaptability due to the realities of growing up in a gentrifying city.
"I admire my Black students at Laney College and the Black demographic there so much," Juanita said. "They have come to me and other instructors and said, 'We were given five days' notice. We had to move. I'm up in Chico now.' These brutal realities of gentrification are part of the landscape now, but what I have observed is that our young people have what I call representational skills."
By representational skills, Juanita refers to the ability to go anywhere and succeed, even in new environments. Eventually, Juanita left the Oakland and lived in New Jersey for a few years. Her East Coast experiences provided a new perspective of California life, setting the foundation for this collection of stories that have been about 18 years in the making.
"I was born in Berkeley, I grew up in Oakland and was educated in San Francisco," Juanita said. "So, I'm really a Bay Area person, but that 18 years away was extremely important because I was able to really see [California] was paradise. It was idyllic. It was a wonderful place to grow up. It has changed tremendously, but everything changes."
By paradise, Juanita notes the community and culture that a diverse group of people contribute to in cities like Oakland. Despite that, residents can have a complicated relationship with the Bay, Juanita noted. Living here is not perfect. The realities of gentrification have pushed many in the Black community into other cities like Stockton, Tracy and Manteca.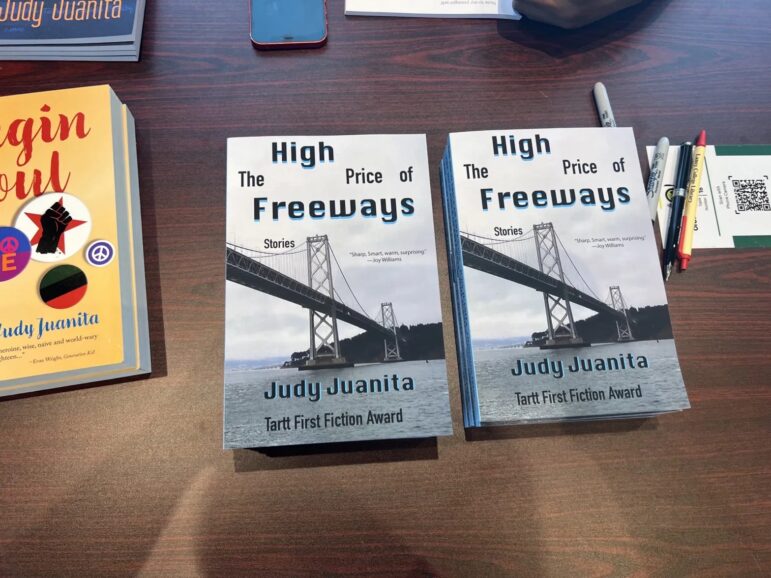 "California seems like it's free, but it costs a lot. It takes a lot out of your soul to live here, and you have to make a lot of compromises to live here. That's what I try to explore in these stories," Juanita said in a Zoom interview, referring to the stories in "The High Price of Freeways." "When Black people move, they take something valuable with them. They take a sense of community with them."
Juanita began her talk on July 16 with a reading of "Huelbo," one of the final stories in her new book. It is partially autobiographical and recounts her experiences during her time as editor-in-chief of The Black Panther. It explores how she handled the new role she was given after Bobby Seale's death, as well as contradictions within the movement — sexism, colorism and feminism. Second, Juanita read, "The Elephants: An Oppression Story" a humorous take on gentrification in the 2010s through a Black women's book club.
During her readings, people in the restaurant listened and laughed and gave her their undivided attention. Co-owner of SweetFingers, Roxanne Mosley, spoke about why SweetFingers makes rooms for events like Juanita's book launch.
"This is the kind of history that people try to keep from us," Mosley said. "We have an elder here illuminating what really happened, and it's so important. We'll always make space for this."
After Juanita's readings several members of the audience filled with her peers and family recounted their own stories and memories about California. From poems about Temescal, to the changes in East Oakland's projects, to gentrification, their testimonies all reflected the themes explored in Juanita's short stories.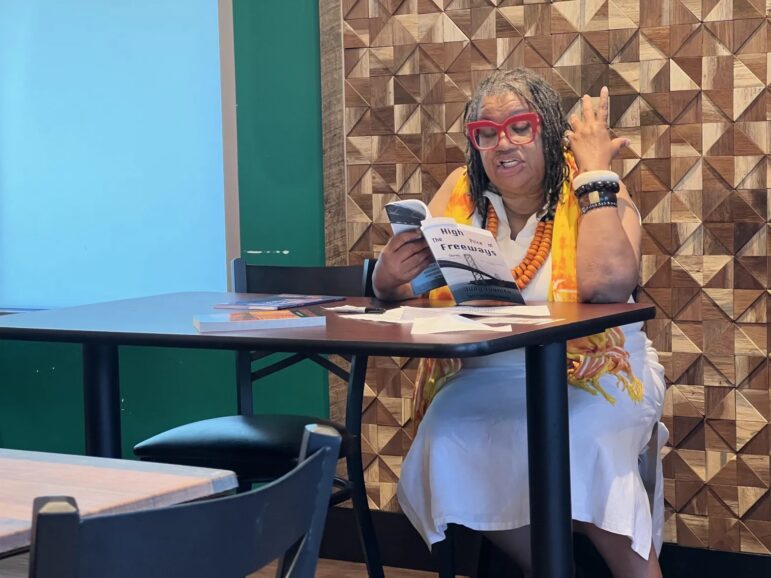 "As a teacher, I see there are so many stories that need to be written," said Blanca Gordo, a lecturer at the University of California, Berkeley. "This book talks about parts of our experience that aren't spoken about in the open."
Juanita's ex-husband Clarence Thomas is a former Black Panther and third generation retired member of the International Longshore Warehouse Union. They were college sweethearts, and Thomas spoke about what he's learned from Juanita over the years. Activists often don't see the value in writing down what happened, he said. But Juanita's continued chronicling inspired him to write his own book, "Mobilizing in Our Own Name: Million Worker March."
"She knows that words can kill and words can heal," Thomas said. "She's demonstrating the importance of documenting are history. If we don't do it, someone else will revise and release our story for us."
Juanita closed with a reading of titular poem of her last book of poetry. An ode to Oakland entitled, "Manhattan My Ass, You're in Oakland."