A swirling simulation of hunting dragonflies. A giant fluorescent orchid mantis. A Japanese honeybee hive defending itself against a swarm of hornets.
"Bugs," a new exhibition at the California Academy of Sciences in Golden Gate Park, showcases the fascinating world of arthropods with larger-than-life models, microscopic details and interactive activities.
Created by the Te Papa Tongarewa Museum of New Zealand and Weta Workshop (which designed sets for Peter Jackson's "The Lords of the Rings" trilogy), the traveling exhibition is on display at the Cal Academy until Jan. 22, 2023, inviting visitors to see the world through the eyes of bugs.
"Bugs aren't always featured. We tend to overlook them," said Paige Laduzinsky, senior exhibit content developer at Cal Academy. "Bugs are really the fabric that holds ecosystems together. If you take bugs out of the equation, then you could have entire ecosystem collapse. So, once we had this opportunity to have an up close and personal — but also very immersive and fun — exhibit about bugs, we were really excited by it."
The exhibition design is unconventional — the room is dark, with three chambers and interactive activities, videos and specimens scattered around the space. One chamber is a huge hypnotic zoetrope — an animation device that produces the illusion of motion — that shows the precision flight of dragonflies pursuing and hunting their prey. Another interactive activity invites each visitor to make their own flying paper bug and release it into a column of wind to test different wing shapes.
"When Te Papa [Museum] was originally conceiving this exhibition, their intention was to really go beyond the realm of what they consider a regular natural history exhibition and to make it very immersive, creative, engaging, visually stunning," Laduzinsky said. "They even talk about how in today's very media-saturated environment, they wanted to produce an exhibition that would just be very captivating in terms of the way that people learn and consume content."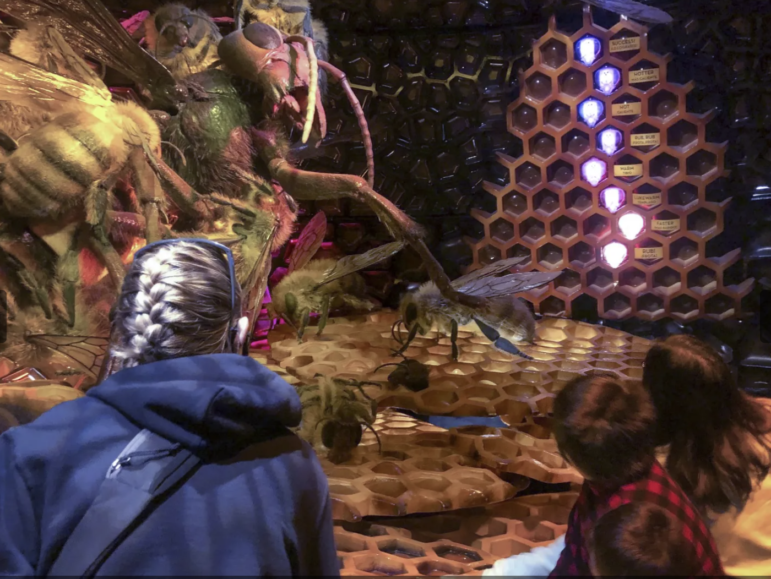 The exhibition is designed for multigenerational families with kids of all age groups. The interactive chambers are meant to be explored together, while drawing and other creative activities for children are positioned next to more text and video-heavy exhibits for parents, grandparents and caretakers.
"The interactive stuff is really cool," said Becky Kies, who brought her 4-year-old daughter to the exhibition. "Just the size of things — walking into a bug universe is really neat."
The designers also considered millennials a target audience, drawing from the realms of science fiction, movies and pop culture to construct the exhibition. Agnes Palotas, who works in guest experience, said she sees a lot of teenagers and millennials coming to the exhibition to take Instagram pictures in the vibrant chambers.
The intersection of natural science with culture and technology features prominently in the exhibition, with videos and displays communicating how scientists and humans are learning from bug adaptations.
One part of the exhibition has translations from te reo, the Māori language, to English explaining how bugs have inspired art, storytelling and mythology for the indigenous people of New Zealand. This section aligns with Cal Academy's updated mission from 2020, which pledged to collaborate with more indigenous populations and integrate broader systems of knowledge into museum research and exhibitions.
Other parts of the exhibition dive into how bug traits have informed human advances in robotics, engineering, biomechanics, aerodynamics and communications. One display explains how humans are using the microscopic structures in the blue morpho butterfly's wings as inspiration to design bank notes that are nearly impossible to forge. By punching millions of nano-sized holes into a bank note surface, color is created through many reflections of light rather than pigment.
"Whether it's the tensile strength of spider silk or hive communication, the idea is [to convey to viewers] what the future might look like if we studied more of this bug genius," Laduzinsky said, adding that bugs are often misunderstood creatures, and she hopes that the exhibition "can flip people's perceptions and inspire more wonder rather than just fear and trepidation" when it comes to the bug world.
Christine Doran, a scientist who studies bugs and brought her daughter to the exhibition, agrees that perceptions about the little creatures need to be changed.
"This exhibit is fun because she [her daughter] can bang on things and see things that quite often in media aren't presented very positively," Doran said.
For Palotas, who spends time in the exhibition every day enhancing guest experience, the traffic "Bugs" generated in the first week after opening on May 27 was both exciting and a relief.
"I feel like this is a start of us being able to bring in new content," Palotas said. "COVID really hit museums; it's been a really slow reawakening. Now it feels like people are coming here just specifically for this [exhibition]. It's like a reassurance that we're going to be OK."
"Bugs" runs through Jan. 22, 2023, at California Academy of Sciences, 55 Music Concourse Drive, Golden Gate Park, San Francisco. The museum is open 9:30 a.m.-5 p.m. Mondays-Saturdays, 11 a.m.-5 p.m. Sundays and 6-10 p.m. Thursdays for the 21+ NightLife event. Timed daytime tickets, $31.75-$43.75, are available at https://www.calacademy.org/.https://embed.bloom.li/article/map?zoom=close&post_key=5YKD3JGiAfxD8Ox91o67#amp=1