This is part of an occasional series to highlight hyperlocal curiosities our readers are wondering about. Curious about an old plaque in a public park? Want to know what's up with an unusual street marker? Send your queries and suggestions to news@piedmontexedra.com and we'll either try to get an answer for you — or hope that a reader can solve the mystery.
It may not be news to Havens Elementary School families, but inquiring minds driving by Havens this week have been wondering why the school's central playfield has been torn up.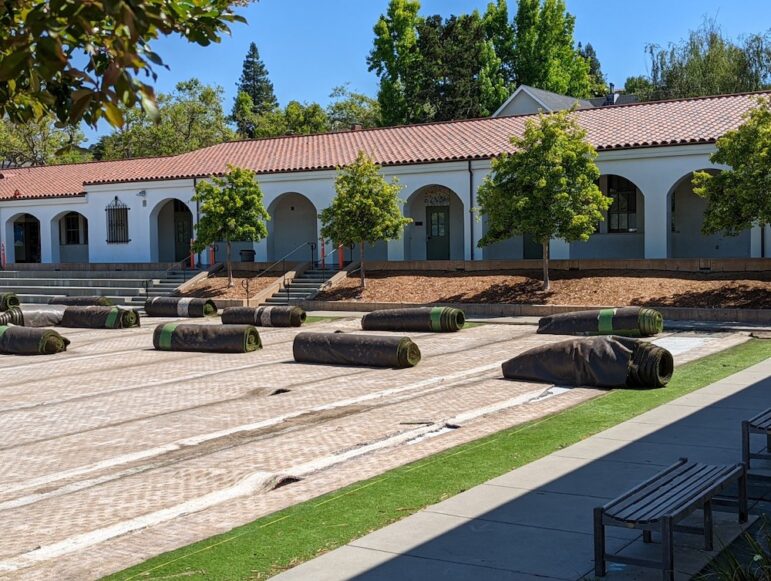 According to PUSD Director of Communications Brian Killgore this week:
"The field is at the end of its lifespan and is due to be replaced. It will be replaced with Field Turf — specifically Vertex Prime turf with True Blend-natural cork and sand infill. The work started last week and is expected to be completed by July 18."
Former Havens families may well remember the community debate that transpired after the new Havens building was completed regarding the best material for the new Playfield. After a campaign by the Havens and Beach Green Committees in the fall of 2009, the School Board at that time voted to install an organic field of crushed cork and coconut husk infill for the new Havens Playfield instead of opting for a less eco-friendly synthetic option (tire crumb rubber). The new turf was installed in 2010.
A sign on the gate encourages parents to donate to an effort by the parent club to raise up to $40,000 to cover the new field. Killgore says parents have raised around $25,000 so far.

And for those wondering when Witter Field will get its due, Killgore said that turf replacement will start next spring.