A car stolen out of Los Angeles was found in Piedmont on June 23 leading to the arrest of two suspects. A loaded handgun was found during the stop.
The city's Automated License Plate Reader (ALPR) system recorded a hit on a red 2022 Ford Escape. Officers found the vehicle on Oakland Avenue and detained the two occupants. According to a Piedmont Police Department Facebook post, the suspects were armed with a loaded 9mm handgun.
The suspects were arrested and taken to Santa Rita Jail in Dublin.
---
Just after midnight on the morning of June 25, a Piedmont police officer was flagged down by a person who reported that their stolen vehicle was parked in front of the Safeway on Grand Avenue. Piedmont police found two suspects who had "walked to the rear" of 3735 Grand Avenue. The two males were detained and identified via a "field lineup," according to the Department's post on Facebook.
The driver was arrested for possession of a stolen vehicle and two active bench warrants, for vehicle theft and possession of stolen property. The other suspect was arrested for possession of Fentanyl.
The two suspects were taken to Santa Rita Jail. The vehicle was returned to its owner.
---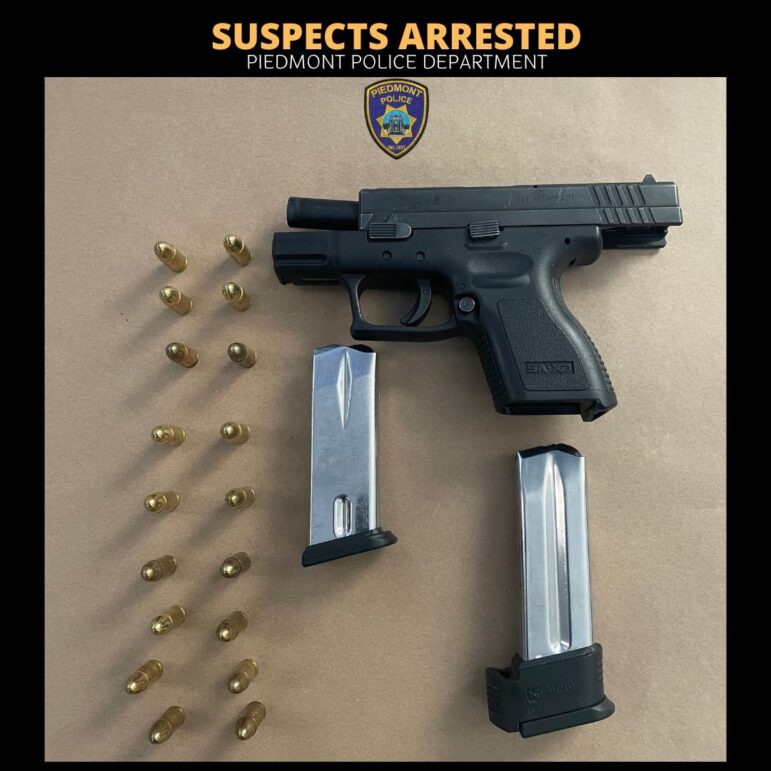 Just before 4 a.m. on June 27, the ALPR system reported a hit on a vehicle reported stolen from Alameda County. As officers searched for the vehicle, a 911 call came in on an attempted catalytic converter theft in the Monticello area, according to a Piedmont Police post on Facebook.
Police found the vehicle at Monticello and Ramona avenues. Three suspects were inside the vehicle and officers observed "freshly cut catalytic converters" visible in the vehicle. The suspects were taken to Santa Rita Jail. One of the suspects had warrants from Alameda, Napa and San Mateo counties, according to police.
---
Piedmont Officer Jasdeep Singh was part of an Alameda County Regional Auto Task Force that arrested two suspects that fraudulently purchased two vehicles from local dealerships. Officer Singh was part of the surveillance and arrest teams, according to Piedmont Police Capt. Chris Monahan. A warrant was executed on June 21. Other identity theft items were recovered, according to a PPD Facebook post. Both suspects were on probation and had probation revoked.
---
A hit and run accident was reported on June 19 at 11:37 p.m. Multiple people called about a blue 2006 Prius. Police arrived and found the vehicle disabled in the roadway after hitting a parked Toyota Sienna van. The Prius had major damage on the front end and fluids had leaked on the street. The driver was arrested for DUI. The road was cleaned up.