Two films with significant Bay Area connections, including one that was not only shot here but is also about a San Francisco man's essential role in the Bay Area's recovery from a headline-making accident, storm into theaters this week.
San Francisco native Colin Trevorrow grew up in Oakland and graduated from Piedmont High School. Now he's wrapping up the "Jurassic World" franchise that he helped oversee. "Jurassic World: Dominion" stomps Thursday in theaters.
Not bad. Not bad at all for a homegrown talent.
Meanwhile, Marin-based filmmaker Patrick Gilles crafts a crowd-rouser about a shrewd Hunters Point Black businessman who one-ups racist "suits" in the wake of a messy 1971 Bay Area oil spill. "I'm Charlie Walker" opens Friday with an exclusive screening, with the cast and crew in person, in San Francisco at the Roxie. It will also screen in San Rafael at the Rafael Film Center.
---
For the 45-year-old Trevorrow, "Jurassic World: Dominion" came with challenges from the start of the shoot because the pandemic shut down production as it got off the ground
Another challenge for the screenwriting team was melding the iconic 1993 "Jurassic Park" characters played by Laura Dern, Sam Neill and Jeff Goldblum into a "World" with the characters portrayed by Bryce Dallas Howard and Chris Pratt from Trevorrow's "Jurassic World" series that launched in 2015.
Treverrow powers through all of it with his mega-blockbuster "Jurassic World: Dominion," a roller-coaster ride wherein dinosaurs roam the globe and don't always get along well with humans. And vice versa.
New to the cast are two standout characters and actors, the tough pilot-for-hire Kayla Watts (DeWanda Wise) and the head of communications for the unscrupulous Biosyn, Ramsay Cole (Mamoudou Athie).
As with the monstrously successful 2015 "Jurassic World" and its less successful — creatively and financially — sequel 2018 "Jurassic World: Fallen Kingdom," Trevorrow co-wrote the screenplay for "Dominion."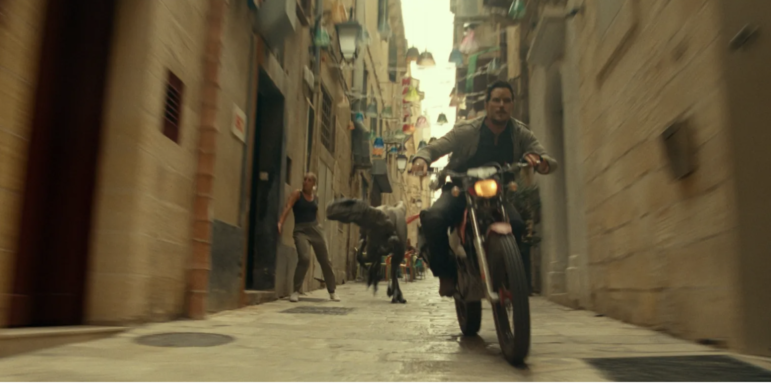 The plot hinges on mutant locusts chewing up the American food supply, a looming concern that catches the attention of Dr. Ellie Sattler (Dern). Before you can say reunion, Sattler, dino expert Alan Grant (Neill) and cocky chaos-theory expert Ian Malcolm (Goldblum) discover it's linked to Biosyn, where Malcolm is now on the payroll. Sattler and Grant finagle a day pass and start to snoop around.
As that scenario plays out, dino whisperer/wrangler Owen Grady (Pratt) and former park manager Claire Dearing (Howard) and their adopted, genetically engineered daughter Maisie Lockwood (Isabella Sermon), who first materialized in "Fallen Kingdom," hole up in the woods until someone nabs Maisie. The crime triggers a global chase and fuels this fast-paced blockbuster adorned with perilous cliffhangers and incredible CGI dinosaur critters — some sporting feathers.
Like the dazzling "Top Gun: Maverick," it should be seen on an IMAX screen.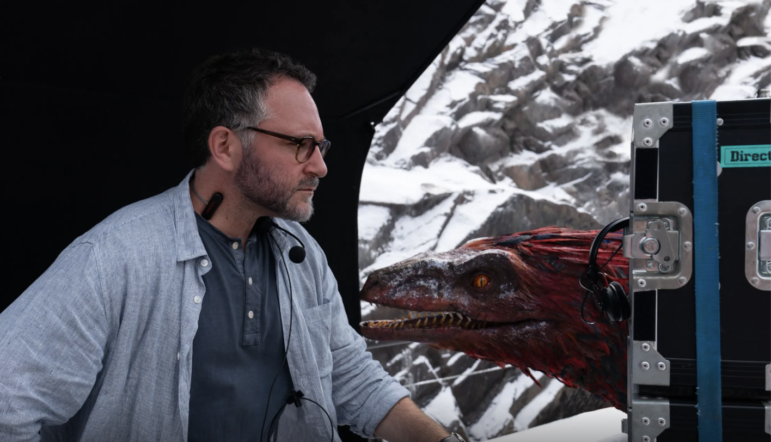 Trevorrow's debut narrative feature from 2012 — the delightful quirky genre-buster "Safety Not Guaranteed" with Aubrey Plaza, Mark Duplass, and Jake Johnson — made quite the splash, and even though the Sundance Film Festival award winner wasn't written by him, it reflects his passion for creating a gumbo of genres — romance, drama, sci-fi, etc. That blending didn't gel so well with audiences and critics alike in his 2017 feature, "The Book of Henry," starring Naomi Watts, Jacob Tremblay, and Lee Pace. It's a film he believes is worth another shot.
Before all of that, Trevorrow was making shorts and a documentary, and he had some of his work in the Mill Valley Film Festival and the San Francisco Documentary Film Festival. He found the Bay Area to be a supportive region for a fledgling filmmaker.
"The Bay Area, historically at least for the last 40 to 50 years, is one of the most diverse and creative regions," he said. "It's a very special place. It's a place where art and creativity are fostered especially with kids, and it's never a shock to me when I see a new filmmaker — like Ryan Coogler — come out of the Bay Area.
"We are definitely raised to appreciate art and music, and we're also in an environment that allows us to know many different kinds of people and perspectives. We're not just in this tiny little bubble that completely shuts us out from people who are not like us. And I think it's a really important way to grow up."
---
Gilles' entertaining "I'm Charlie Walker" biopic of sorts is more of a homegrown production, and it includes a delightful and fun cameo from former San Francisco Mayor Willie Brown, playing a cab driver.
"Luke Cage" star Mike Colter radiates megawatt charisma as Walker, a Hunters Point trucking and construction entrepreneur who stares down racism as his ingenuity helps sop up Bay Area shorelines in 1971 after two oil tankers collide under the Golden Gate Bridge and spill 80,000 gallons into the bay.
Walker encounters hostility from white folks as he devises a plan to save the shores and, in the process, getting "the hippies" to volunteer and then later get paid. With its numerous Bay Area locales and rich period details, it's a Bay Area treat.
Gilles' entertaining take on this Bay Area slice of history suggests upfront it sprinkles in fiction with the facts as it tells a telling story about racism.
The scenes between Colter and great character Dylan Baker, playing a shady oil CEO, are magnetic. "Walker" might be a low-budget production, but there's a lot of quality splashed up on that screen, particularly in the performances from those two.