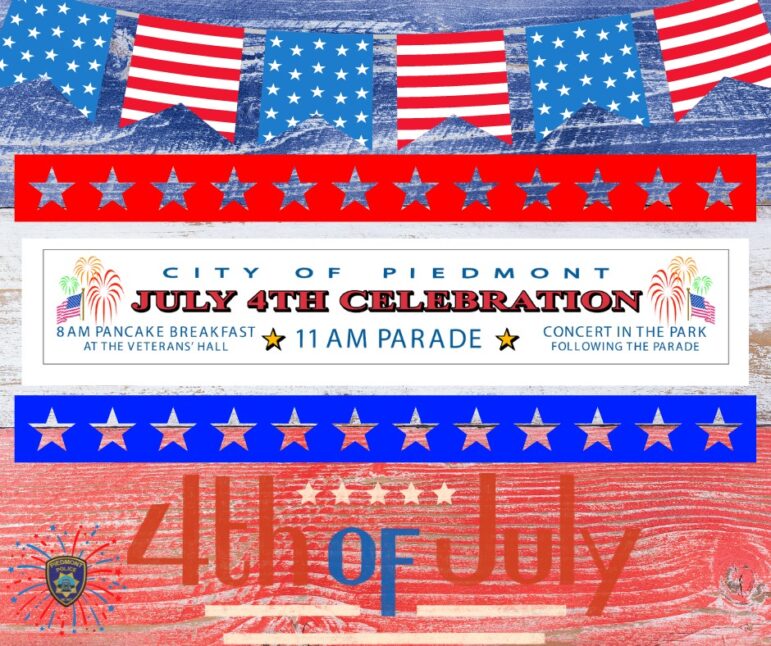 The City of Piedmont will celebrate its annual Independence Day Parade this year on Monday, July 4, starting at 11 a.m. at the corner of Highland Avenue and Park Way.
Each year the community is invited to participate at no cost with neighborhood floats and entries from various community organizations. The Piedmont parade is unique for the appearance of several bagpipe bands in keeping with the city's Scottish traditions, and with a rich array of dozens of antique and classic cars.
A Grand Marshal historically leads the parade, which is less than eight blocks, ending just past Piedmont Park. A festive community picnic is held in Piedmont Park following the parade, with music provided by a big band on the main stage. This year the band is Dave Martin's House Party, and begins at 1:00 p.m.

---

Pancakes! Preceding the parade, a Piedmont tradition, the Pancake Breakfast will be held from 8:00 a.m. to 10:30 a.m. in the Veterans' Hall. Join your friends and neighbors for a hearty breakfast before the parade begins!

---

Block Party? If your neighborhood is planning on holding an Independence Day block party, click to fill out the Fourth of July Street Closure Request Form. Applications are due by 5:00 p.m. on Wednesday, June 29th. Applicants will be notified on Friday, July 1 if they have been approved. Barricades for approved closures will be delivered on Sunday, July 3.

---
Be considerate with parade chairs!
As the 4th of July Parade is nearing and residents are beginning to scout out the best viewing spots for next week's parade, we'd like to ask that residents be considerate of each other when placing chairs for parade viewing on Highland Avenue.
Please be considerate when placing chairs in front of homes and businesses. Please don't block access from the street to the sidewalk, so people getting out of cars to visit their neighbors and local businesses can do so without fear of falling. Please keep people in mind who have mobility issues when deciding where to place chairs.
Placing chairs on the sidewalk next to bus stops is not allowed. It will block people who are trying to use AC Transit to get around and could block the handicapped lift.