Piedmont's Title IX celebration committee will be giving out free popsicles compliments of Mulberry's Market this Thursday, June 23 from 3:30-4:30 p.m. at the Exedra plaza.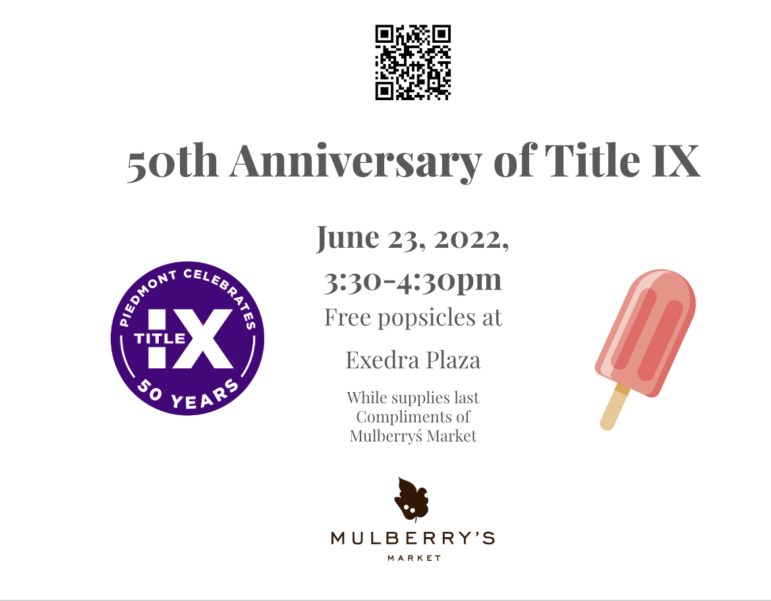 June 23 is the 50th anniversary of Title IX, the civil rights law that prohibits sex-based discrimination in schools and other educational programs that receive federal financial assistance. The landmark legislation provided girls and women athletes the right to equal opportunity in sports in educational institutions from elementary schools to colleges and universities.
"After the passage of the 19th Amendment granting women the right to vote over 100 years ago, Title IX is widely believed to be the most impactful legislation to benefit women and girls," said City Councilmember Jen Cavenaugh, a member of the committee promoting Title IX awareness this year. "Title IX affects all aspects of education, but it especially worked to provide more equitable access to athletics, an essential part of our students' academic experience. Like their male counterparts, female athletes see benefits not only to their physical health but also to their mental health, self esteem, and confidence."
"Although the law has been in existence for 50 years," she said in an email, "we know that we need to remain diligent in ensuring that our schools provide equal numbers of spots on teams and an equitable experience on the playing field, the court, and in the pool. Piedmont schools have identified opportunities to improve and demonstrated a commitment to equity for female athletes"
This year the Title IX celebration committee is promoting this milestone with speakers and films highlighting the accomplishments of female athletes. Students and parents can show their support by wearing Title IX hoodies and t-shirts (available at www.PiedmontStore.org).
---
see related