There are more than three dozen terrific reasons to join the third annual Piedmont Art Walk on May 7. Along with the 35 local artists and arts organizations participating, the Piedmont Art Walk information booth offers a check-in station at 323 Highland Ave. to pick up a map (also click HERE or see below) and learn about event underwriters and how purchases made during the tour support local artists while also supporting art in Piedmont schools. Twenty percent of the Art Walk proceeds are donated to the Piedmont Education Fund. Last year's event raised just under $20,000.
Art presented during the tour includes painting, ceramics, mixed media, sculpture, photography, jewelry, textile arts, and more. Among the highlights are the evocative and expressive landscapes found in Brian Judd's plein air paintings; Christiana Reining's deeply investigative drawings often inspired by nature or the young students in her art classrooms; ceramicist Heather Chan's functional and aesthetically soothing and sophisticated bowls, plates, mugs and vessels; and P.E. and special education teacher Raul Jorcino's energetic paintings that often depict lively urban street scenes richly textured with collage materials.
One of the particular pleasures of the tour is visiting artists in their homes or studios and hearing firsthand about their work and lifestyle practices. Many artists share stories of their ancestry, like Paula Valenzuela, who was born in Chile and, while pursuing a career as a Clinical Psychologist and Public Health worker at UC Berkeley, considered her artistic endeavors a private sideline. After moving to the Mission District in San Francisco in 2001, she immersed herself in printmaking and public art commissions. She eventually returned to clinical practice in Chile. Now a resident of Piedmont, Valenzuela on her website writes, "I returned to the U.S committed to integrate my passion for fine art with my love of psychology, mindfulness and the healing arts."
Valenzuela's layered, mixed media works on canvas, panel and paper portray planetary phenomena in pieces bearing titles such as "Underwater," " Minerals," "Melting," and "Flow." There are the small abstract landscapes made during the coronavirus pandemic. In another series of paintings grouped under grief as a theme, the images capture isolation, kindness, healing, mystery, love, and death. In addition to original art, Valenzuela offers limited and regular edition prints and a collection of five cards with abstract paintings she has selected to add brilliant color and texture to a handwritten letter or greeting.
Interior designer and fine arts painter Michael Friedes' newest collection of paintings on exhibit at Piedmont Center for the Arts are being holdover and will be on view during the art walk. Friedes will be in the gallery to greet visitors and available to talk about the new pieces that pay homage to locations in California, from the East Bay to San Francisco to Sonoma. Meditative, stormy, peaceful, joyful, celebratory or subdued, Friedes' singular ability to convey subtle expression in surreal, softly abstract and semi-representational style draws unexpected emotional response. These are paintings that upon each viewing over time offer new and deep stories, and are an open invitation to expand the imagination when inspired by art.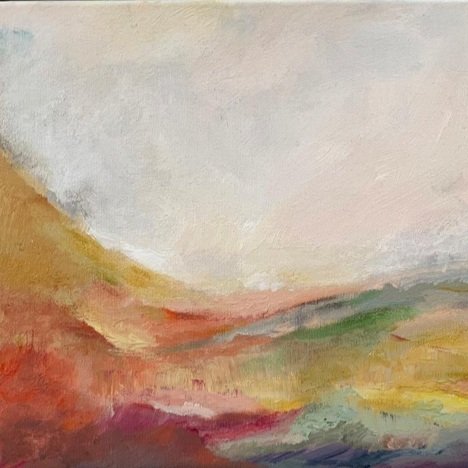 ---
To learn more about the art walk, visit https://piedmontartsfund.org/piedmont-art-walk-2022
Art Walk Map