Summer is here! This refreshing and healthy recipe is always a crowd pleaser especially on a hot day. Bonus: it can be done in advance and tossed together right before serving.
INGREDIENTS:
6 ounces Japanese Soba Noodles
2 cups julienned carrots
1/2 cup chopped flat-leaf parsley leaves
1/2 cup chopped fresh basil
1/4 cup chopped fresh mint
¼ cup green onions sliced on the diagonal
¾ cup of shelled edamame cooked
2 dozen large shrimp cooked
1 red lettuce head broken into bite sized pieces
Peanut Dressing (see recipe below)
2 tablespoons roasted and salted peanuts, chopped
Peanut Dressing:
1/4 cup creamy peanut butter
2 tablespoons fresh lime juice
1 tablespoon honey
1 tablespoon unseasoned rice vinegar
1 tablespoon soy sauce
2 teaspoons sesame oil
1 teaspoon sambal oelek
1/2 teaspoon finely grated fresh ginger
1 small garlic clove, finely grated
Lime slices for garnish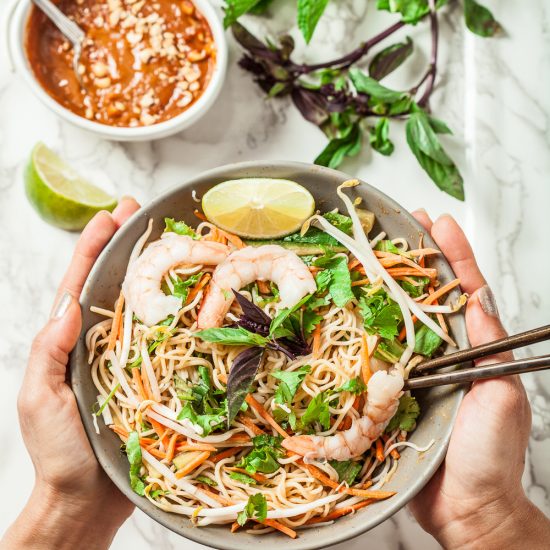 DIRECTIONS:
Peanut Dressing: Whisk together the peanut butter, lime juice, honey, vinegar, soy sauce, sesame oil, sambal oelek, ginger and garlic in a small bowl. Thin out with a little water until a nice spoonable consistency.
Boil the soba noodles in a large pot of salted water and cover for 5 minutes until al dente, then drain and rinse under cold water to cool.
Add the carrots, shrimp, edamame, green onions, parsley, basil, mint and red lettuce to the bowl with the noodles.
Add the Peanut Dressing and toss to coat the noodles and vegetables. Transfer to a serving bowl and sprinkle with the chopped peanuts and garnish with limes.
Enjoy!
For more summer salad ideas, visit @saladsaresuperawesome on instagram.