From a Piedmont Police Department update on May 24:
On May 23, 2022, detectives were conducting surveillance in the 700 block of Warfield Ave. based on information received indicating the subject had been seen in the area in the past. Detectives were able to locate the subject in front of a residence and took her into custody. She was processed and booked into the Santa Rita Jail. The case is currently being reviewed by the District Attorney's Office for appropriate charges.
The woman is described as a 30 to 40-year-old Latinx with long, curly black hair that was tied up in a bun, between 5 feet, 6 inches and 5 feet, 10 inches tall and weighing 110 to 120 pounds. She has a hoop nose ring and was wearing square sunglasses, a pink short-sleeved shirt, black sweatpants, and white and blue tennis shoes.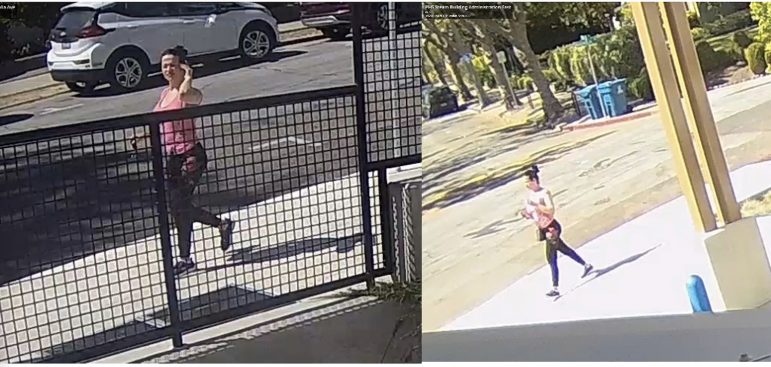 The victim is a 17-year old male student, according to the Piedmont Police Department. The assault happened near the Binks Gymnasium between 3:30-4 p.m. on May 19.
Anyone who has seen the suspect is asked to contact the Piedmont Police Department at 510-420-3000. People with information on the identity of the suspect are asked to contact Detective George Tucker at 510-420-3013.
In a memo to PUSD families, Superintendent Randy Booker wrote, "This is a very alarming situation that will be investigated fully, both in cooperation with the Piedmont PD and internally, to ensure we are providing a safe environment for our students, staff and all visitors to our campuses. We will be providing extra supervision on campuses during passing periods and meal times, as well as after-school. We will also work with Piedmont PD to provide additional presence through the end of the school year as needed."
---
On May 7, Piedmont's Automated License Plate Reader (ALPR) produced a hit on a gray Toyota Tundra associated with a failure-to-appear warrant from Oakland and a subject accused of sexual abuse of a child. The vehicle was stopped on Grand Avenue, where the driver was detained and released. The driver turned out not to be associated with the crime.
---
On May 9, the ALPR system reported a blue 2004 Acura TL involved in burglaries out of Fremont. Officers found the vehicle in the area of Glen Park Road and Park Boulevard. After stopping the vehicle, which had two occupants, Piedmont police "advised both subjects were clear," according to Piedmont Police Capt. Chris Monahan. He added that Fremont police wanted the subjects detained, identified, and released.