On Friday, May 20, more than 50 tennis players and friends gathered at Piedmont's Corey Reich Tennis Center for the 2022 Spring Fling Tennis Social. Lead sponsors Michelle Heafey and Sarah Meyjes from Grubb & Co. welcomed participants on the beautiful spring morning; expert trainers from StretchLab in Albany led the group in a warm-up; and then instructors Andrew Wendel, Sydney Williams, Ali Stein, and Michael Hieu organized drills and tennis games with fun prizes. 
After the tennis, players walked to the beautiful backyard of Grace and Taylor Harris to enjoy brunch and a rousing game of tennis trivia.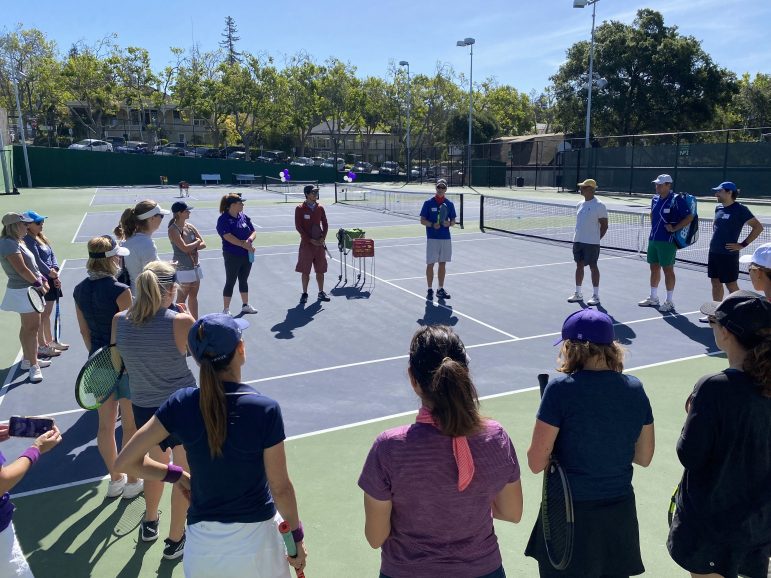 All told, more than $5,000 was raised during the event to support Piedmont's elementary schools, via the Piedmont Education Foundation.
Co-hosts for the event included Cortney Allen, Tonya Antonucci, Courtney Azad, Sasha Bainer, Katherine Bini, Susie Burden, Chrissy Droessler, Penny Graham, Grace and Taylor Harris, Emily Harrold, Amelie Kappes, Cori Kau, Molly Kennedy, Srikant and Laurie Misra, Dre and Ashley Stevanovic, Alissa Welch, the Piedmont Education Foundation, and the Piedmont Recreation Department.