On Thursday, May 12, 2022, the Planning Commission will hold a special meeting to consider the Draft 6th Cycle Piedmont Housing Element (Draft Housing Element). On April 8, 2022, the City published the Draft Housing Element for public review and comment. The Draft Housing Element is posted to the homepages of the City of Piedmont website and Piedmontishome.org. Other formats of the Draft Housing Element are available upon request.
The May 12, 2022, Planning Commission agenda is posted on community bulletin boards and to the Planning Commission page of the City website here. The staff report is posted here. The meeting will be held at City Hall at 5:30 pm and can be viewed on KCOM (learn more HERE.)
---
Provide feedback
Everyone that lives, works, attends school, or cares about housing in Piedmont is encouraged to review the Draft Housing Element and provide comments to City decision-makers. Comments can be made using any of the following methods.
Use the Share Your Voice tool on the homepage at https://Piedmontishome.org 
Mail to: Draft Housing Element, 120 Vista Avenue, Piedmont, CA 94611
Attend a public meeting: Planning Commission is May 12, 2022, starting at 5:30 pm.
---
Learn more
Watch these short videos for 10 things you need to know about the Housing Element. Topics covered in the videos include:
What is the RHNA?
What is the Housing Element?
What are the components of the Housing Element and General Plan?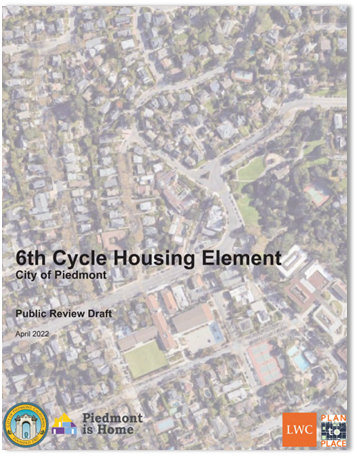 ---
Housing Element Update Timeline
May 12, 2022: Special Planning Commission public hearing, starting at 5:30 pm.
June 2022: City Council public hearing
May 2023: Deadline for adoption of the final draft of the updated Housing Element, date amended due to recent state law requiring additional review and longer comment periods.
---
see related