Piedmonter Jill Lindenbaum is the founder of Roomily, a home-sharing venture started in 2018 that seeks to connect aging-in-place homeowners with people looking for affordable rooms to rent. Lindenbaum spoke to the Exedra on May 5.
What is Roomily?
We're a home sharing program, and we offer education, resources and support to enable more home sharing in the Bay Area. We're specifically focusing our efforts on Alameda County and Santa Clara County. Our main mission is to expand home sharing to become more mainstream, because there are so many financial, social, and even wellness benefits.
What inspired you to start Roomily?
We started back in 2018. Another Piedmont resident, Siggy Rubinson, and I had come together to talk about the housing challenges [facing the region]. Just by virtue of being a resident of the Bay Area, we came face-to-face every day with the kind of impact the housing crisis was having on our fellow community members. Both of our kids had teachers who had left that year, and it took months for them to be replaced because of the teacher shortage and the affordable housing shortage. We asked ourselves, where could we have an impact in the housing crisis? We started researching home sharing as a solution that addresses multiple needs – it expands naturally affordable housing and addresses the growing needs of seniors.
How has Roomily evolved over the years, especially given its side-by-side timeline with the pandemic?
We began researching the idea in 2018 and started our first pilot programs in 2019. In 2020, COVID hit and we also received our first full funding from the Chan Zuckerberg Initiative. We accepted the grant even though we knew it would be a challenge with COVID. During the pandemic we've spent a lot of time designing a revamped program and coming up with new strategies, and we're now getting ready to scale our program. We've just started a partnership with Silvernest which is an online housemate matching platform. They've got a fabulous platform that really streamlines the process, so we can focus on working locally with awareness, education, and one-to-one support.
What are some of the benefits of home sharing as compared to other programs to increase affordable housing?
Home sharing is really beneficial because it helps people stay in place, and it creates naturally-occurring affordable housing immediately. There are a lot of seniors who lose their homes because they can't afford their mortgage or their rent, and they don't have anywhere to go. Seniors are the fastest rising homeless population. It's so much more effective to support people that are already housed than to have them go out on the street. The impact is horrible on a personal level, and on a policy level, keeping people housed makes a lot more sense. Building new affordable housing is important, too — I believe we need to consider lots of models to address the housing crisis — but the costs are high and the construction time is long. Home sharing is starting to be seen by municipalities as a real housing solution because its [effects are more] immediate.
What are some of the personal benefits of home sharing for renters and home providers?
As the Boomer population is becoming our seniors, they're choosing to age in place. They're living in isolation because they're living at home and they don't want to move to a retirement community. As people age, however, they start to have more needs, like help around the home, companionship, and income. Having someone live in their home with them makes a lot of sense to address these needs. For renters, it creates more affordable housing closer to people's work, and it's much cheaper than other rental options. They can choose neighborhoods of their liking. They get more than a room, they get a house with a yard. And it creates a sense of community.
Who participates in Roomily and how do you find people who want to home share?
On the renter side, we focus on vital community employees — teachers, nonprofit workers, city workers, municipal workers, and health care workers. We try to help them find housing because they are supporting our community, yet they can't find affordable housing to live here. On the home provider side, we have many seniors and empty nesters. A big part of our program is developing partnerships with community organizations so that we can reach people who might benefit from home sharing. Our strategy is to work with housing organizations, senior organizations, churches, synagogues, mosques — basically partnering with organizations that can help us extend our reach and develop trust through the community. We've had successful partnerships with the Oakland Unified School District and the Catholic Charities of Santa Clara County.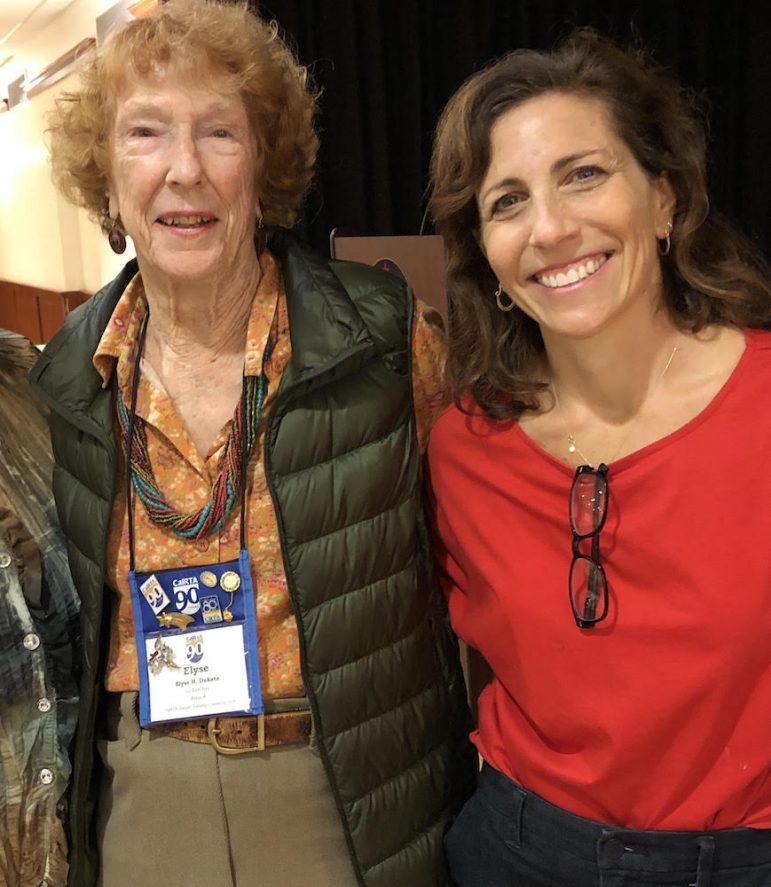 What are some important factors for those considering home sharing?
Trust is a really big factor. We've looked at how to enhance trust so that people feel more comfortable exploring and potentially getting into a home share arrangement. We offer a lot of education and additional security through consultations, background checks, and references. We're trying to foment a high level of trust and security.
How much opportunity is there for home sharing to grow in the Bay Area?
There's a lot. Trulia did a study and found that in Oakland, there were 50,000 people aged 55 and above with two or more spare bedrooms. If even a small fraction of them came on board to home share, we would have a lot more housing for people. I don't have data like that for Piedmont, but we know that we have a large percentage of older adults here and that most homes have three or more bedrooms. There are some older adults in Piedmont who are technically considered low-income, and they want to stay in their homes but could really benefit from that extra income and companionship. They have this space to potentially help someone else out – so there's a lot of opportunity for people to step into this mutually beneficial arrangement.
Any last thoughts to end on?
Annamarie Pluhar, a home sharing educator I work with, calls it whole person health. It's the idea that people are meant to live with other people. The idea of living alone is new in human history – we've always lived in communities where we could rely on each other, and our current culture and lifestyle doesn't support that as much anymore. Home sharing goes back to addressing that need to live in a community, to be seen and heard. To have someone living with you and sharing that space, it makes a difference in people's lives. People report that they're happier when they are living together.
*********
Is home sharing for you? Roomily is hosting "Home Sharing 101" workshops

Roomily will be hosting "Home Sharing 101," an online event for individuals and professionals interested in learning about long-term home sharing on May 10, from 12:15 p.m. – 1:15 p.m. and May 12, from 12:00 p.m. – 1:00 p.m.

The sessions are being presented in conjunction with the East Bay Housing Organization (EBHO) and SV@Home and their Affordable Housing Month programming. "Home Sharing 101" will be led by Lindenbaum and Annamarie Pluhar, author of "Sharing Housing: A Guidebook for Finding and Keeping Good Housemates," who will address topics such as how to find and keep a good housemate and best practices for successful home sharing.

Register HERE