Henry Littel scooped up the ball from the scrum. The Bishop O'Dowd player knew there were only seconds left to try to tie the score. In his way was Piedmont's Jack Nelson. Littel had a height advantage, but it didn't matter.
Nelson blasted Littel to the ground, dislodging the ball, which bounded away. Nelson scooped it up and the horn sounded on a thrilling West Alameda County Conference boys lacrosse championship match on April 29.
The Highlanders prevailed, 10-9, avenging their sole WACC loss of the season. The victory secured a berth in the North Coast Section Division 1 playoffs as well as a home game – Piedmont will host Vista del Lago-Folsom at 7 p.m. on May 3.
"That scared me," Soren Dixon said of the final seconds. "But No. 1 (Nelson), my best friend since kindergarten, I saw him coming in. He loves big-hitting people. I knew he was going to get that guy. Laid him out, won the game."
Said Piedmont coach Alex Yu, "Quite honestly, that's the best I've seen our boys play. We knew we had to play together, we knew we had to play as a family and have each other's backs. I could not be more proud of them."
The Dragons defeated the Highlanders at home on March 18, 13-7. The rematch was at Witter Field, although Bishop O'Dowd was the designated home team.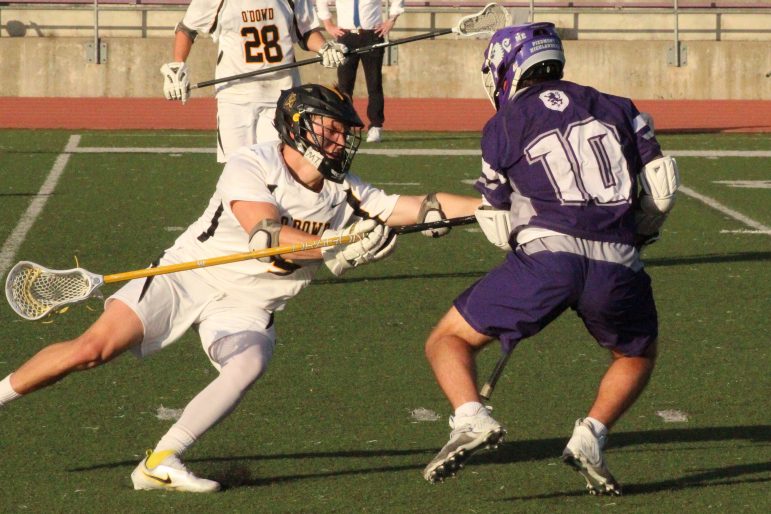 Dixon got Piedmont off to a fast start, scoring the first two goals of the game in the opening five minutes. The first came a man up off of an assist from Nelson.
"I was just pushing the side with Jack," Dixon said. "I've played with him for six years so we know what we're going to do. I faked like I was going to go, pass it to him. My defender slides to him, he passes it back and I put it in the goal."
Dixon finished with four goals and three assists. The quick start was huge – having to rally against Bishop O'Dowd's defense is a tall order. The Highlanders never trailed although the game stayed close: it was tied five times, and Piedmont's biggest lead of 10-7 didn't come until the fourth quarter when they scored three consecutive goals.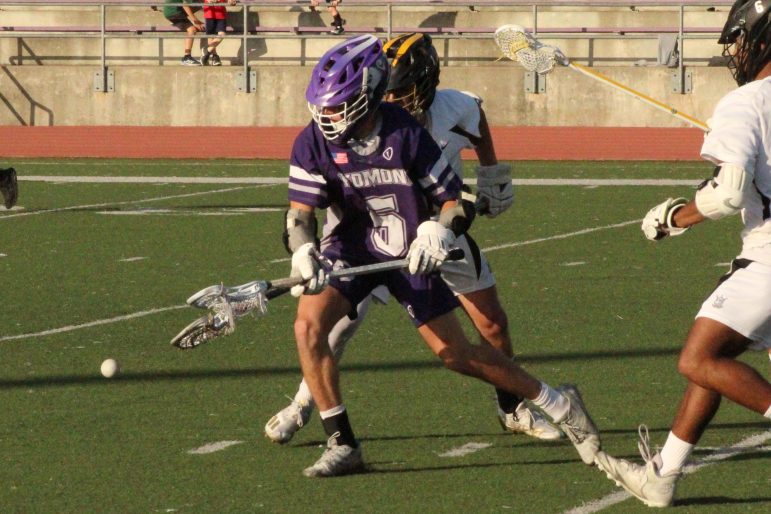 All three came via Nathan Fredericks, with Dixon assisting on the third. However, there were still nine minutes, 14 seconds left on the clock.
Freshman goalkeeper Gus Van Metzsch made a pair of saves, but then Cole Siegler scored for the Dragons with 4:41 left. The lead was now 10-8. Could Piedmont hold on?
What followed was a terrific example of keepaway by the Highlanders. The clock kept ticking down and O'Dowd couldn't secure the ball. Four minutes, three minutes. Finally, the Dragons got it and called a timeout with 2:18 to go.
Still, the Piedmont defense wouldn't surrender. The clock continued to run. Under a minute. Under 30 seconds. Finally, Luke Ullman scored with 7.9 seconds on the clock.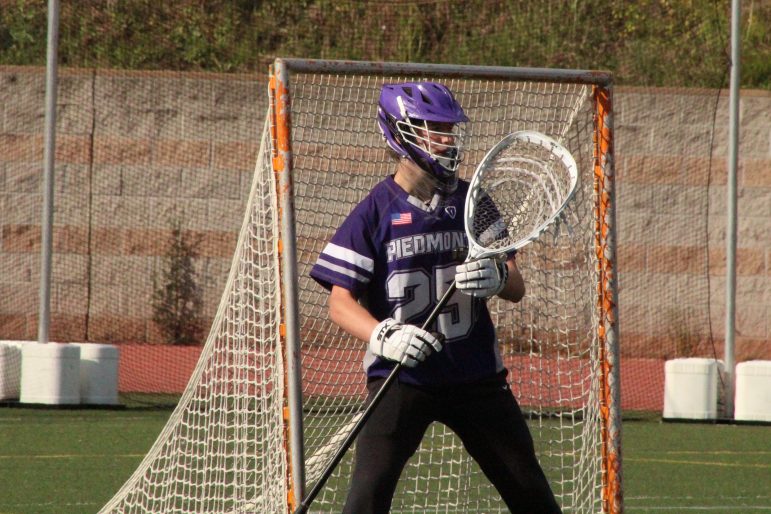 Off the draw, the ball bounced around before Littel got control. That's when Nelson came in with the big hit. And not a moment too soon.
"I was exhausted," Dixon said. "A week ago, I was sick, so I was kind of unconditioned. So running up and down the field just trying to hold the ball to kill the clock was exhausting. That last couple of minutes, we're just running around for our lives, we're up by two. You just give it everything you've got."
Players from both teams play club ball together, and Dixon said he was getting texts leading up to the game from the Dragons, telling him, "Oh we're going to beat you so easily on your home field."
Said Dixon, "They texted us, they posted on their Instagram stories."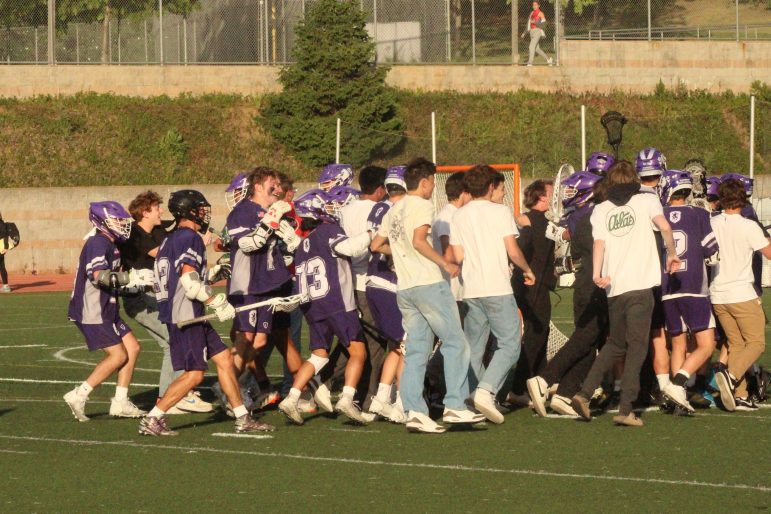 Spencer Settlemier had two goals for Piedmont. Fredericks finished with the three. Nelson had a goal and two assists. Siegler had three goals for Bishop O'Dowd, while Ullman had two.
Piedmont made the finals with a 9-6 win over Berkeley at Witter Field on April 27, in another impressive effort by the defense. Fredericks had four goals and an assist. Dixon and Settlemier each had two goals.
Photos by Damin Esper