The Bay Area is a hub of artistic expression, attracting artists, writers and musicians from around the globe to live, work and create. We highlight some of the offerings here.
---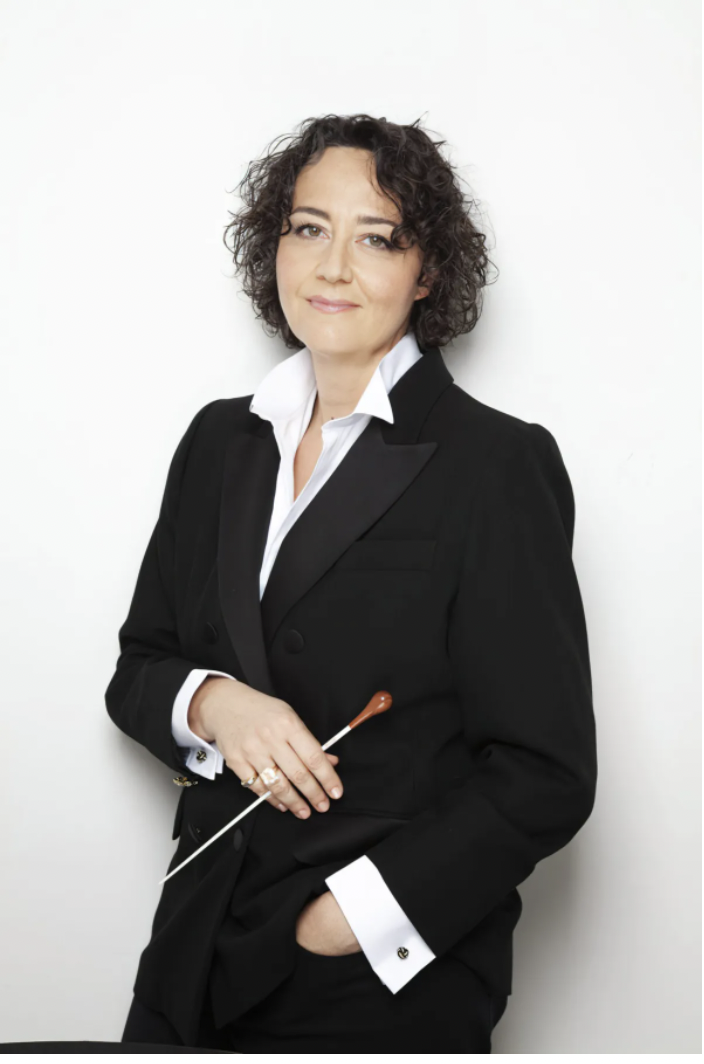 A woman of note: First, there was Marin Alsop, who took to the podium at the Baltimore Symphony in 2007 and thereby became the first female to lead a major American orchestra. Now comes French-born Nathalie Stutzmann, who will become the second when she takes over as music director of the Atlanta Symphony Orchestra this fall.
But first, she will be making her San Francisco Symphony debut in a series of concerts this weekend, leading a program highlighted by Tchaikovsky's Symphony No. 6, the famed "Pathetique." The award-winning San Francisco Symphony Chorus will also be on hand, opening the evening with three choral works by Brahms based on classical mythology — "Nänie," "Gesang der Parzen" and "Schicksalslied."
We're guessing the esteemed conductor may be humming along under her breath for those songs, as, in addition to playing both the bassoon and the piano, she is also a gifted contralto, with some 80 recordings to her credit. You can catch her in action at an open rehearsal at Davies Hall at 10 a.m. Thursday; the full concerts take place at 7:30 p.m. Thursday, Friday and Saturday. Tickets, $30 and $40 for the rehearsal, $20-$165 for the evening concerts, are at (415) 864-6000 and https://www.sfsymphony.org/.
---
No kissing, no hand-holding, no whispering of sweet nothings: A nasty German official named Friedrich has ascended to temporary power in Palermo and has decreed that all things pleasurable are now against the law. So it goes in "Das Liebesverbot (No Love Allowed)," the first of the only two comic operas Richard Wagner ever composed (the second being the much more famous "Die Meistersinger von Nürnberg" written a decade later).
The irrepressible creative types at San Francisco's feisty Pocket Opera have undertaken a production of the work, which Wagner borrowed from Shakespeare's "Measure for Measure" and moved from Vienna to Sicily. It has already played in Berkeley and San Francisco and will wind up its run at the Mountain View Center for the Performing Arts at 2:30 p.m. Sunday.
Conducted by West Edge Opera's Jonathan Khuner, making his debut at Pocket Opera, the production stars soprano Leslie Sandefur as the young novice Isabella and tenor Michael Dailey as Luzio, who definitely wants her out of the convent and into his arms. Spencer Dodd is the dastardly Friedrich, and Aléxa Anderson is Mariana, the wife he has banished to that convent. Find tickets, $69, at https://pocketopera.org/.
---
Enter the 'FRAY': The Bay Area-based CandyBomber entertainment and production company formed four years ago with a goal of finding new ways to tell compelling stories. Its initial production, "FURY," was inspired by the film "Mad Max: Fury Road" and blended contemporary ballet with indie pop and videos and other multimedia effects in an immersive show that was meant to take you inside the apocalyptic world created by the George Miller movies.
Now the group is back with "FRAY," which skips from film to video games for its artistic foundation. The show combines hip-hop and other forms of dance with live music and multimedia effects to tell the story of two brothers who are hooked on video games and enter a vivid and challenging world as they create their own game for a contest.
And you can do more than watch the show. You can play it. CandyBomber has created a video game tied to the story that you can download for free on your Apple or Android device (search the app store for "Fray game" or "Fray jam").
As for the live show, "FRAY" comes to Stanford's Bing Concert Studio at 8 p.m. Thursday and Friday ($15-$45; https://live.stanford.edu/) and 8 p.m. June 3-4 at San Francisco's The Midway performance center ($20-$30; https://www.tixr.com/groups/midwaysf). Check the venues' health and safety protocols before you go.
---
Buddies, not bros: Many friendships come and go, defined by a period in one's life that eventually evolves into another stage with different pals. But some friendships take root and never let go, regardless of where you are in life.
Bay Area playwright and stage director Jeffrey Lo examines this kind of friendship in his new play "Waiting for Next," which is getting its world premiere at City Lights Theater in San Jose. It follows two guys from ages 12 to 40, both coming from dysfunctional families, as they navigate life together: school, dating, sex, delirious highs, and crushing lows.
One of the two is white, the other Filipino American, so they don't experience everything from the same vantage point, yet their bond is such that it transcends ethnic backgrounds. At a time when male behavior and friendship is so often affiliated with the toxic aspects of masculinity, Lo's 90-minute play takes a look at two sensitive lads whose bond is such that each life is enriched by the fact the other is just there.
"Waiting" is directed by Leslie Martinson and stars Max Tachis and Wes Gabrillo, the two actors whom Lo reportedly envisioned when he wrote the play. Proof of vaccination or negative COVID test is required, and masks are strongly advised inside the theater. Tickets are $25-$52; go to https://cltc.org/.
---
Losses and gains: Adam Bock is a prolific, award-winning playwright who is no stranger to Bay Area theater fans. A longtime artistic associate of the Shotgun Players stage troupe in Berkeley, he has seen several works presented here, including "A Fairy's Tale," "Swimming in the Shallows" and "The Shaker Chair."
His play "Five Flights" won the 2003 Glickman Award as the best work to debut in the Bay Area. Now Shotgun Players is presenting Bock's "A Small Fire," which centers on a strong, always-in-charge woman who contracts a disease that gradually robs her of her physical sensations. Naturally, her relationships with almost everyone, especially with her husband, are upended.
But the crux of the play is that these relationships are affected in ways no one could have predicted. Bock, whose works often probe the intricacies of relationships, has said the play was inspired by what happened in his own family after his father had a stroke.
"A Small Fire" plays at Shotgun Players' Ashby Stage through June 12. Proof of vaccination is required, and masks are strongly recommended. Tickets are $27-$38. The production will also be available for streaming June 8-19 (price TBA). Go to https://shotgunplayers.org/.