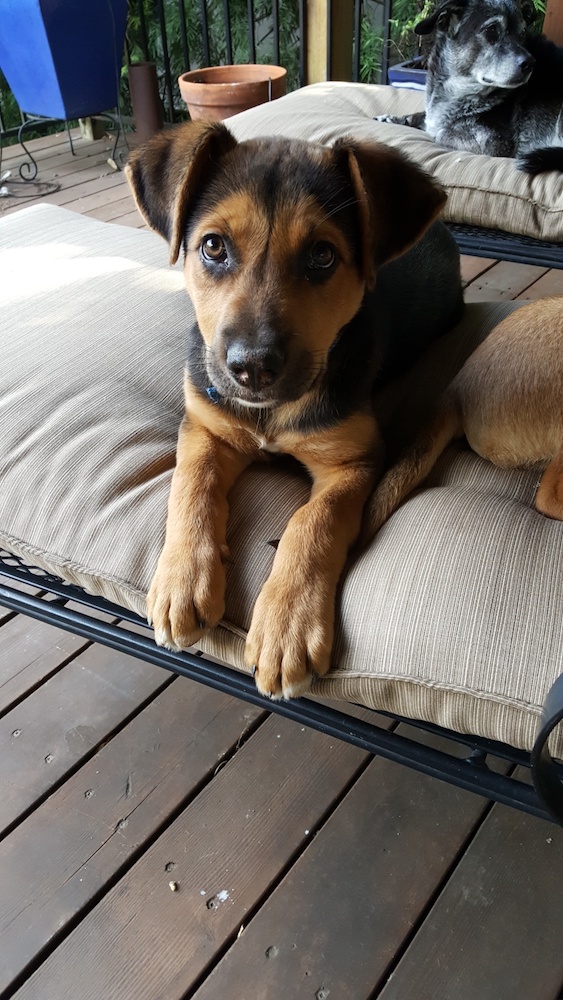 Family: Foster mom / Milo Foundation
Pet: "Doughnut"
Age: Around 3 months
Breed: Unknown
Adoption story: His adoption story has yet to be written! "Doughnut" is a handsome big boy currently being fostered in Piedmont. He's a good-natured, even-tempered pup, and wants to be friends with every person and dog he meets. He's been exposed to all kinds of stimuli and doesn't get too scared or overexcited by anything, except grass. He really loves grass, and wants to roll and run as soon as he steps on it.
He really enjoys playing hard with his sister, but then will happily settle down with a bone or take a sun bath. When he had a play date with an energetic young terrier, he let his sister run and wrestle while he took a nap — he just doesn't have that energy level. He has been living with a small old dog, and respects when the old dog does not want to play. Instead of trying to jump on him, he just greets the old, grumpy dog with kisses. So far he doesn't bark or try to get out of his pen, he sits quietly in the bath, and he loves walking on a leash.
If you'd like to meet this adorable pup or learn more, please contact the Milo Foundation where he is listed as "Doughnut". See his page HERE
The Milo foundation is always looking for people to foster dogs, puppies, cats and kittens. Fostering helps get more dogs out of overcrowded shelters and into homes, and is really needed right now. Learn more HERE.