Family: Michael, Elaine, Shannon and Jojo Murphy
Pet: Sammy Girl Murphy
Age: 14 years
Breed: Belgian Shepherd / Malinois
Adoption Story: We got Sammy in 2010. She was wandering the streets of Stockton and a friend called us and said this lost dog keeps coming to our house everyday and is stealing the neighbors newspapers and leaving them at their door. They snapped a picture of her, and we went to try and find her. When she saw JoJo she promptly laid down and let him pet her. I think she knew she had found her person and family.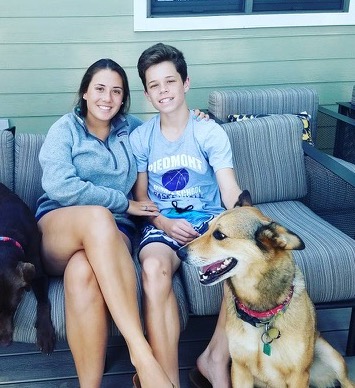 Likes: Sammy loves a daily walk in Piedmont Park with her dad Michael and an afternoon walk through the neighborhood. She also loves Jojo scratching her ears which he does every morning.
Dislikes: She is not too fond of cats, chickens, or squirrels.
Interesting Facts: When she was younger Sammy could jump a 6 ft fence.
Anything else? Sammy Girl has been the best addition to our family.