Three people were arrested after Piedmont's Automated License Plate Reader (ALPR) system reported a stolen vehicle early on the morning of April 9.
The car, a 2009 Toyota Camry, was reported stolen from San Francisco. Piedmont police responded and located the vehicle approximately 20 minutes after the alert at the intersection of Highland and Oakland avenues, according to Piedmont police Capt. Chris Monahan.
The vehicle was stopped with three suspects in it. A search found "burglary tools" inside the vehicle, police reported.
Three adult suspects were taken to Santa Rita Jail in Dublin. The vehicle was returned to its registered owner.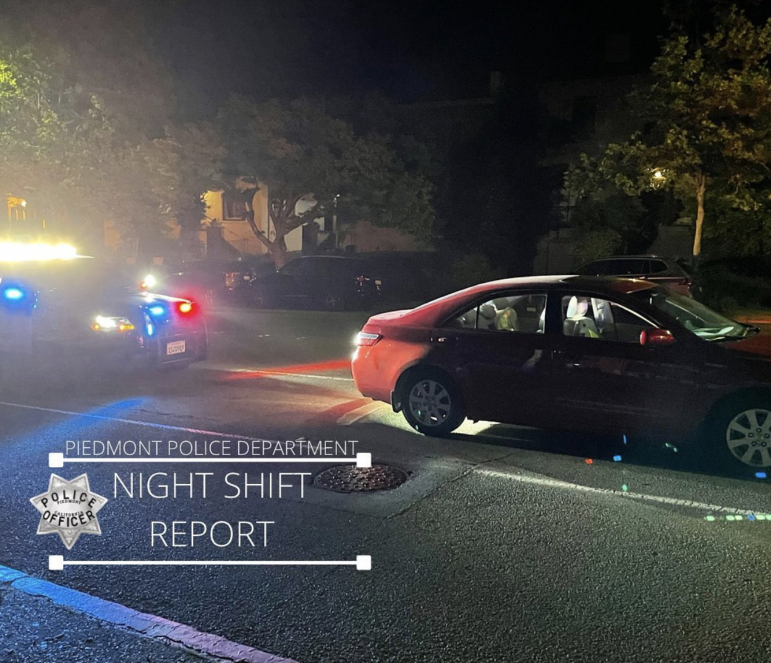 Another stolen vehicle was recovered on March 31. A gold 2010 Toyota RAV 4 SUV reported stolen from Oakland on March 21 was found at 8:35 p.m. on Walavista Avenue in Oakland. Two people were taken into custody and eventually transported to Santa Rita. The vehicle was towed and stored.
The same day, at 3:53 p.m., a Nissan Frontier pickup truck was stolen from the 7-11 parking lot at 3500 Grand Avenue. Piedmont officers observed the vehicle on Mandana Boulevard. A suspect described in the crime log as a white male in his 50s, thin build with a grayish afro and a red burgundy shirt fled the scene on foot. The vehicle was recovered and towed.
On March 27, officers responded to the scene of an alleged attempted theft of a recreational vehicle on Olive Avenue. The report came in at 4:06 a.m. when a caller said someone was attempting to steal his neighbor's trailer. A pickup was coupled to the Camp Light recreational trailer, which did not belong to the driver, according to Monahan.
The driver was arrested for possession of a stolen vehicle, possession of burglary tools, possession of paraphernalia, and resisting arrest. He also had two outstanding warrants, according to Monahan.
At 11:57 on March 25, a report came in of an accident on Wildwood Avenue. The victim said her parked Mini Cooper was hit by a black Honda Fit. Police arrived on scene and found the driver of the Fit showing signs of intoxication with cans of alcoholic beverages in the car, said Monahan.
The driver failed field sobriety tests and blew a blood alcohol content of 0.182 on the scene. He also submitted to a blood test and was charged with DUI.