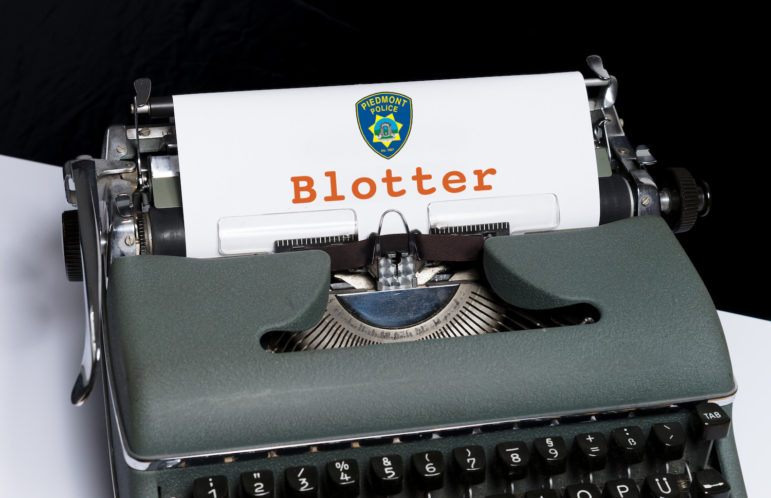 On April 19, a woman was reported to have hit three cars in the Weeds Salon parking lot at Wildwood and Grand avenues. The report came in at 4:47. The driver had left the scene. A white Volkswagen SUV was located in front of a residence. Police made contact with a female driver. She was given field sobriety tests and failed, according to Piedmont police Capt. Chris Monahan. She later blew a .16 blood alcohol content and was taken to Santa Rita Jail in Dublin on suspicion of DUI.
The vehicles suffered moderate to minor damage, according to Monahan.
---
A vehicle stolen in Texas was found in Piedmont. At 10:54 p.m. on April 19, a white 2019 Nissan Versa four-door sedan set off the city's Automated License Plate Reader (ALPR) in the area of Estates Drive coming north from Park Boulevard. The vehicle was reported stolen from Houston on April 14.
The Versa was stopped on Estates Drive with one driver and one passenger inside. The driver had no bail warrants in Alameda County for theft and child endangerment and one from Louisiana for a parole violation. "Mail and credit cards not in the name of the driver" were found in the front seat of the vehicle, per Monahan.
The driver was taken into custody and sent to Santa Rita Jail. The passenger was identified and released.
---
Three people were arrested after a stolen vehicle they were in got into a single-vehicle collision on April 20. The ALPR system recorded a hit on a stolen gray 2010 Volkswagen Jetta at 5:47 p.m. The vehicle, which was stolen from Oakland on April 14, was spotted by an officer at 5:51 driving westbound on Hampton Road, according to Monahan. The Jetta sped off towards Crocker Avenue.
Shortly afterward, an accident was reported at the intersection of Park Way and Highland Avenue. Monahan said witnesses reported three people running from the scene. Officers located and detained the three suspects soon thereafter. Two suspects were taken to Santa Rita Jail and a third was hospitalized due to his injuries.
---
In a follow-up to the April 14 incident involving a report of a PHS student threatening to bring a gun to campus, police have said the investigation is ongoing. Monahan said, "The police department determined that the student did not have the ability to carry out the threats that were made. That determination was based on the accessibility of firearms to the student (there was no readily accessible firearm) and interventions of the police department, student's family and PUSD staff."
"Our juvenile officer, along with other officers immediately contacted the student and parents to investigate the threats and determine the accessibility of any firearms to the student," Monahan said. "Officers did not locate any firearms."
PPD contacted the PUSD during the investigation. On April 16, the department's Facebook page reported, "We understand situations involving potential school violence can be alarming, and we want to assure the community that we do not believe there is any danger to students returning to school next week."