Piedmont High School senior Parker Terrill doesn't get many chances to compete in an actual decathlon. But he took full advantage of his opportunity on April 15-16 at Del Campo High School-Fair Oaks, winning the event at the Del Campo Multi-Event meet.
Terrill scored 5,964 points in the two-day, 10-event competition. He set four personal bests in the 10 events.
The decathlon consists of the 100 meters, long jump, shot put, high jump, and 400 on the first day, followed by the 110 hurdles, discus, pole vault, javelin and 1,500 on the second day. The Olympic and World Champions in the event are often called the "World's Greatest Athlete."
Each event has a scoring table, meaning an athlete's time or mark corresponds to a certain number of points. For example, each one-hundredth of a second in the 100 improves your point total by two or three points. The current tables were revised in 1984.
High school athletes are restricted to four events at normal meets – league dual meets and invitationals, as well as postseason meets. Very few decathlons are available to high schoolers. Ten competitors lined up on April 15 for the 100, the first event of the day.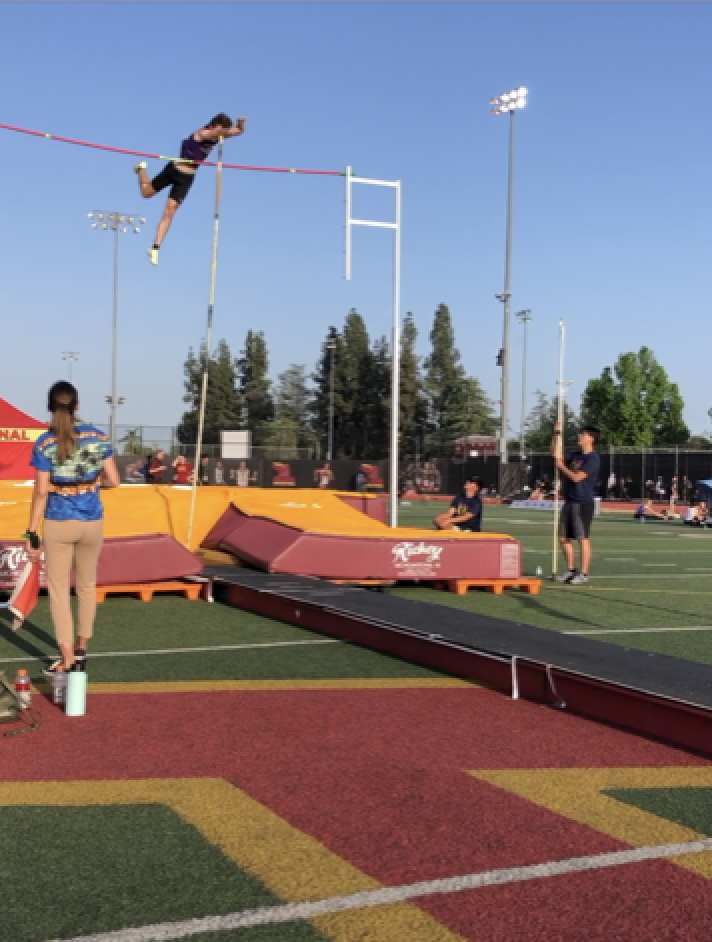 Terrill was third in the 100 in 11.86 for 679 points. His mark of 19 feet, 11 ¾ inches in the long jump was also third-best, and he was on his way to a strong first day. He put the shot 38-5 ½, a personal best by well over three feet. He had another PR in the high jump at 6-0 ½ (tied for second), and finished the day with third straight PR of 52.93 in the 400 (second place). His first day total was 3,221.
The second day started with the hurdles, with Terrill taking third in 17.10. He had the best mark of the day in the discus at 124-1, and also led the way in the pole vault, his specialty, at 13-7 ¼. Terrill threw the javelin 109-4 and finished up with a time of 5:06.46 in the 1500 meters, good for third place in the race and a 29-second personal best.
Terrill's point total appears to be the second-best in the U.S. this year. Kaden Passey of Shadow Ridge-Suprise (Ariz.) scored 6,768 at a meet in Utah concluding April 13.
Terrill is planning to compete in decathlons in college.