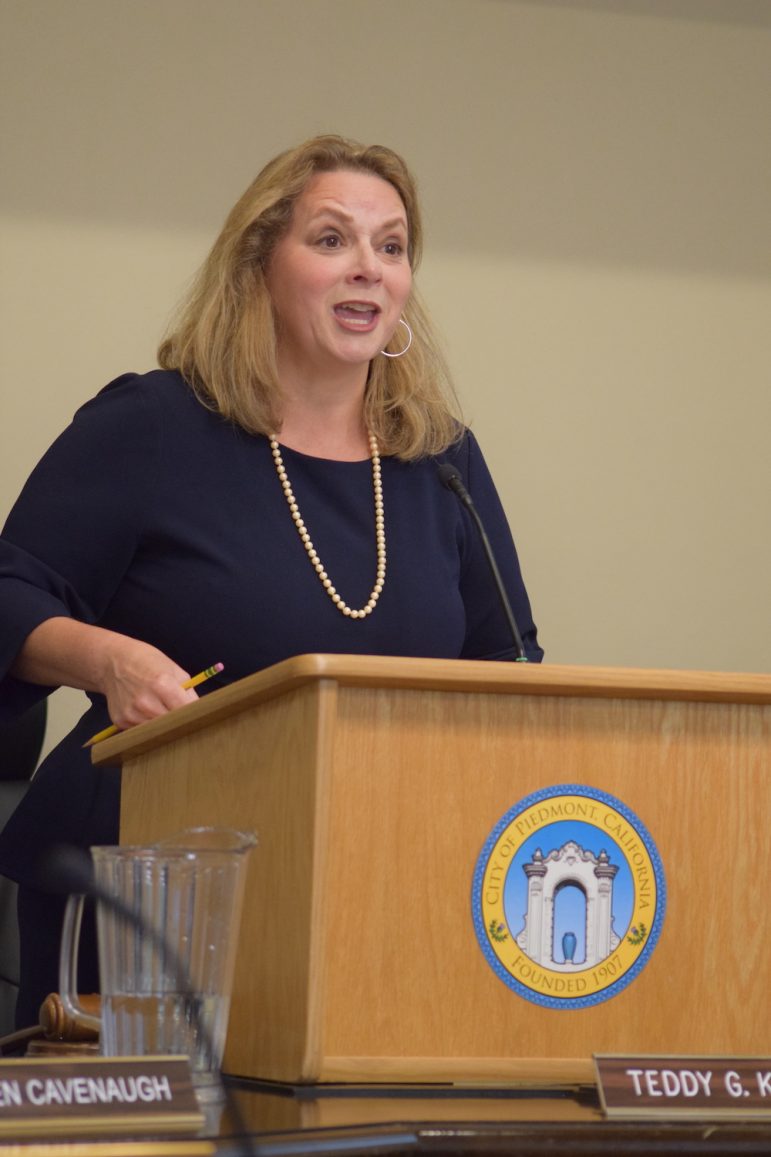 Mayor Teddy Gray King acknowledged she had the benefit of a few years of good work to draw from when compiling a list of significant city government accomplishments. All the more reason, she said, to tout them during Monday night's State of the City address.
Over the course of 40 minutes on Monday night, King highlighted Piedmont's successful campaign to build a new community swimming pool and a host of other important achievements, including work on the long process of making room for almost 600 new homes in the next eight years, making inroads to fight climate change, rethinking how Piedmont police officers do their jobs, making the city safer for pedestrians, bicyclists, and drivers, and keeping city recreation department programs functional even during the depths of the COVID lockdown.
Those things, King told a crowded City Hall council chamber, required the blood, sweat, and tears of virtually every city employee — and she thanked many of them Monday night by name. It was an opportunity, King said, "to let you all know about the amazing transformation that Piedmont is undergoing."
Among the major civic accomplishments King cited were:
Planning the city's new aquatic complex, which is now in the design phase. King called it "the most exciting infrastructure project that Piedmont has seen for decades." The whole project was made possible by local voters' approval of Measure UU in 2020. "The Piedmont pool isn't just for lap swimming or water polo practice, or even just a place to take lessons," King said. "Our community pool was — and will be again — the place where lives are transformed for kids, seniors, and everyone in between."
Initiating the 2023-2031 Draft Housing Element process, its terms charting how the city will meet the state-mandated goal of accommodating 587 new housing units by 2031. The city has had meaningful contributions from two local groups, the Piedmont Anti-Racism and Diversity Committee and the Piedmont Racial Equity Campaign, in helping make sure new housing helps Piedmont become a more fair and equitable city.
The city's Recreation Department keeping youth programs going during the COVID lockdown when "most avenues for live human interaction were cut out or severely limited." She credited Recreation Director Chelle Putzer with keeping the kids' programs open, safe and accessible.
Progress on meeting the city's Climate Action Plan goals, highlighted by the decision earlier this month to heat the new swimming pool with all-electric power. The city last year established a series of "reach codes" designed to reduce natural gas use in Piedmont and create other energy savings in residential construction projects. King noted the city also has made it policy that 100 percent of Piedmont's electricity is obtained through East Bay Community Energy, which gets most of its power via hydropower, wind, and solar. The city has also approved installations of electric vehicle chargers to be available to the public.
Continued success of the city's Automated License Plate Reader camera program that has helped police investigate crimes and stop crimes before they happened. This, along with a University of Texas study of five years of Piedmont police calls for service to help establish proper police staffing levels and to "help us weed out any patterns of racism or bias on our force or in our community," said King, adding that it's all part of a three-year police department department strategic plan.
The recent adoption of the Piedmont Safer Streets Plan, to help the city become more walkable and bikeable. She said the city is currently constructing bulb-outs on Oakland Avenue to slow traffic and reduce the distance pedestrians need to cross at key intersections.
King also praised her fellow council members — Vice Mayor Jen Cavenaugh and members Betsy Smegal Andersen, Conna McCarthy, and Jennifer Long. "Your wisdom and professional experience bring so much to our small but mighty government," King said.
As for the state of the State of the City Address, King said former mayor Margaret Fujioka started the tradition, which has faded out and in again a number of times over the years. Piedmont's last such address, City Administrator Sara Lillevand said, "was in 2016 or 2017."
After her presentation, King said she wants to keep it going, for a number of reasons.
"We really owe it to the residents to share with them what we're doing," she said. "Inside City Hall we know what we're doing, but we can always do better at communicating."
Contact Sam Richards at sam.richards4344@gmail.com