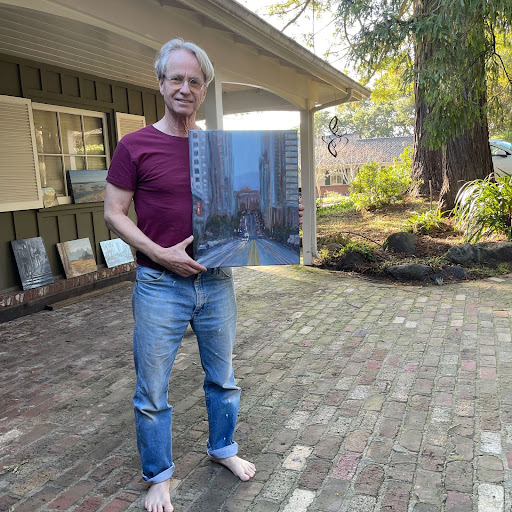 On Saturday, May 7 you'll be able to find artist Brian Judd at his home in Piedmont, surrounded by a selection of the expressive plein air landscape paintings he has created over the past two years. Judd will be one of over 30 artists showing during the 2022 Piedmont Art Walk.
Staying in one place during a beautiful spring day is a rare occasion for Judd, who more often than not can be spotted roadside anywhere between the dramatic peaks of Tahoe to Skyline Boulevard in Oakland with paint brush and portable easel.
Judd, father of three, associate principal at Bishop O'Dowd High School, and lifelong musician is a person who makes full use of each day. Not wanting to let a pandemic get in the way of learning and living life to its fullest, Judd took up painting during lockdown. And not letting lockdown get in the way of what the world has to offer, Judd ventured out on routine camping trips, taking his new painting equipment along, at least once as far as the Grand Canyon.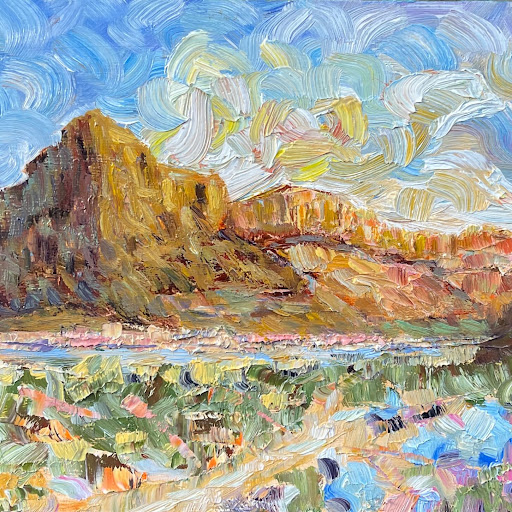 It wasn't long before Judd had mastered perspective, color, and form during his many plein air painting sessions. No slouch in the academic departments either, Judd, originally from Arizona, has also completed philosophy and eucomenial studies with the Graduate Theological Union in Berkeley and holds an M.F.T. degree from Cal State East Bay.
For Judd, the isolation of the COVID pandemic offered an opportunity to choose between getting creative or getting depressed.
He realized that experiencing the "small victories" of learning a new skill gave him the vigor and enthusiasm necessary to greet the day.
And while many might still be yawning over a cup of coffee at 8:30 a.m., Judd is just getting "into the flow" by then, having already spent several hours in the studio or on an East Bay hilltop, paintbrush in hand.
When not painting, Judd can often be found sitting in with his favorite bands, playing mandolin, guitar, or bass at local hot spots like Freight & Salvage in Berkeley and The Chapel in San Francisco.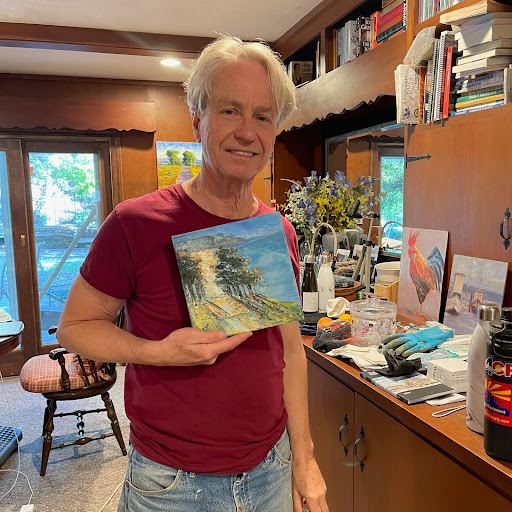 Learn more about Brian Judd and his work by visiting his website HERE.

Learn more about the upcoming Piedmont Art Walk at piedmontartsfund.org/piedmont-art-walk-2022.
Photos courtesy of Katie Korotzer