Flower bombers are back for an April Fools' Day engagement with the neighborhoods of Piedmont.
---
Crocker Park
Solidarity for Ukraine is on display in mama bear's lovely garland of sunflowers, the national flowers of Ukraine. Installation by Valerie Matzger and Annis Kukulan.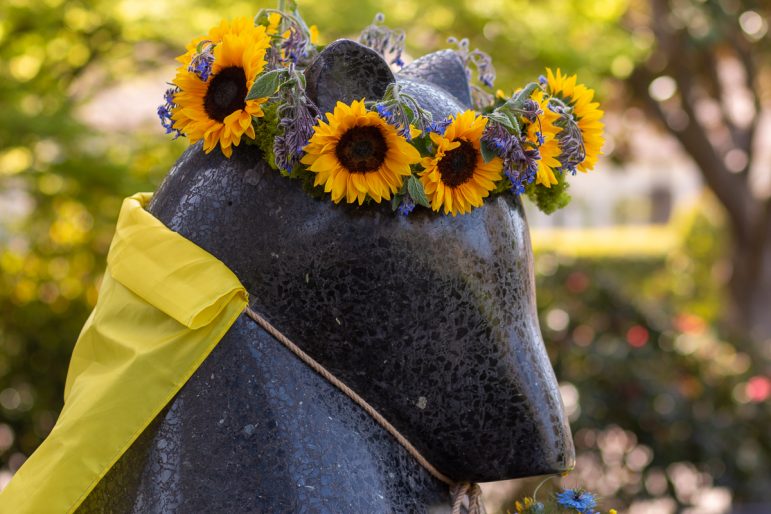 ---
Estates and Hampton
Susan Hill, who lives around the corner, has displayed "a tiny effort to support Ukraine and raise awareness" in a piece titled Holding on by a Thread.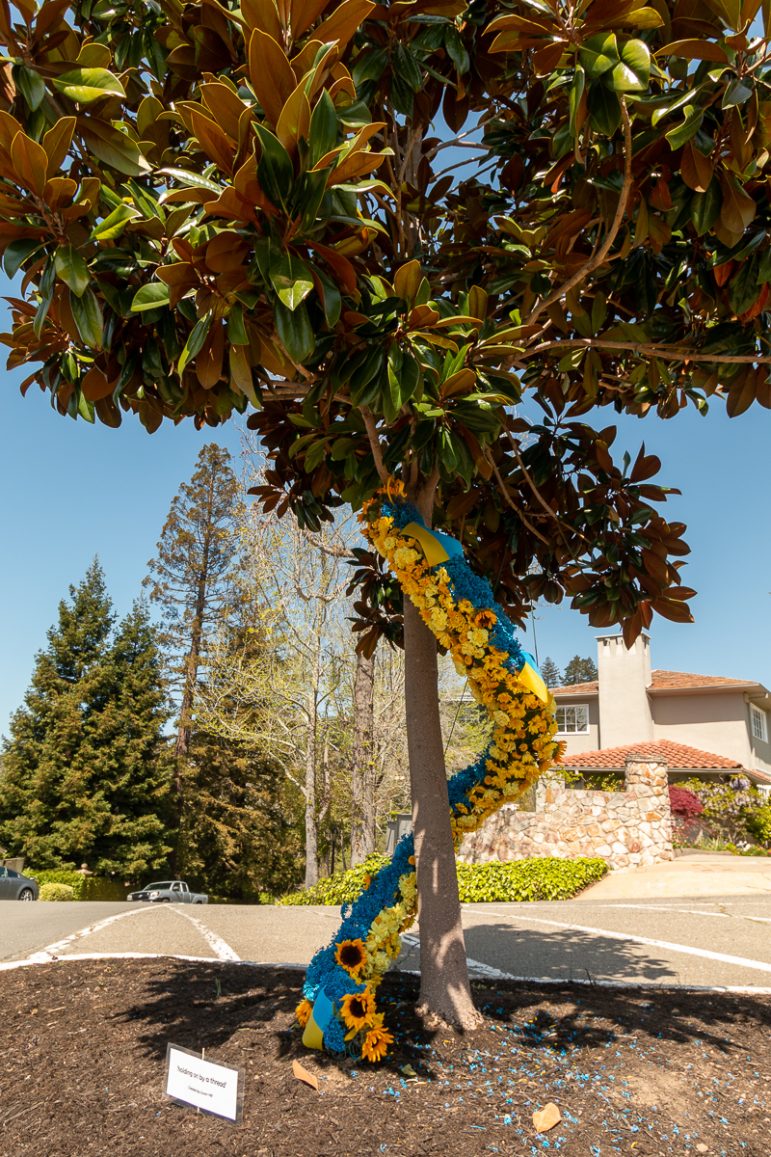 ---
Vista and Bonita
Community spirit on display with Piedmont "purple and white" at Rothenberg Heights; by Lindsey Meyersieck and Gayle Lambert.
---
Highland and Sheridan
More support for the country of Ukraine.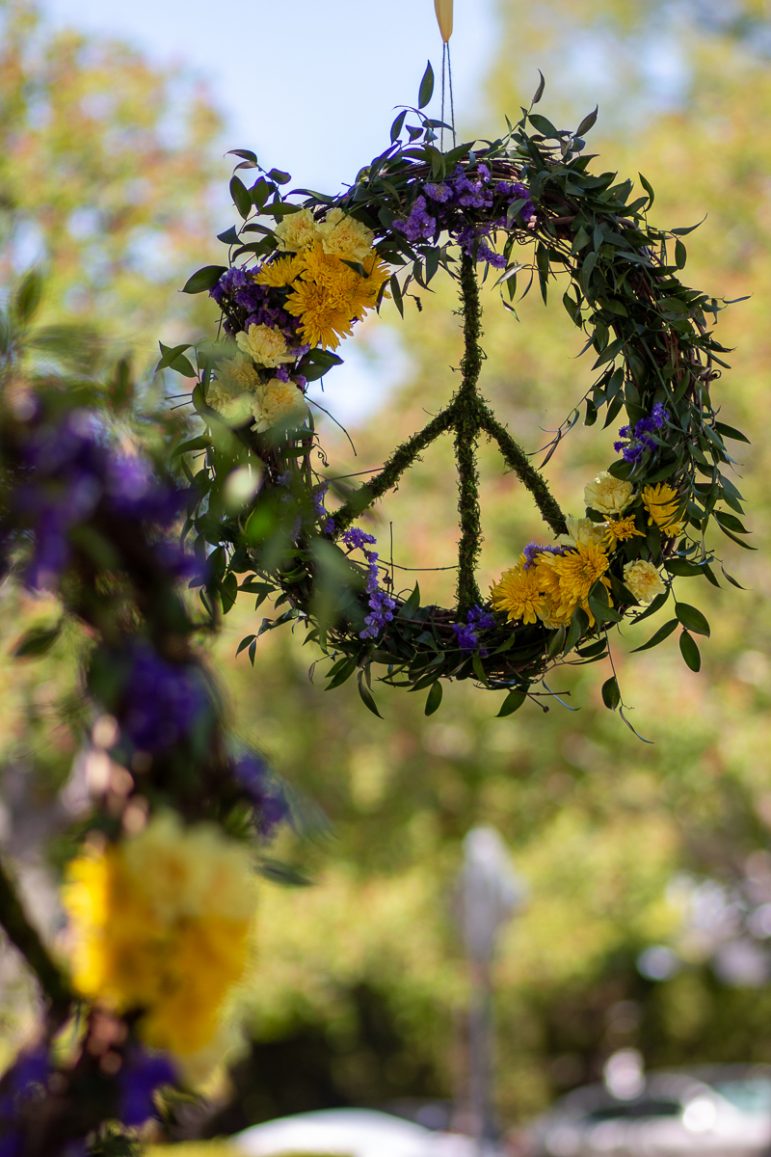 ---
Oakland and Latham Avenues
"For our tireless public works staff, orange has always been the new black."

Patty Dunlap
Flash florista Patty Dunlap was inspired by the amount of hard work that is done by Nick Milosovich and the Piedmont Public Works team to keep our city safe and beautiful. She chose this location because Oakland Avenue is receiving a number of safety improvements this spring and summer, is one of the most trafficked streets in town, and also on a major bus line to downtown Oakland and San Francisco.
---
Highland Avenue bus stop
At the bus stop on Highland Ave between Sierra and Sheridan you'll find an impromptu floral "photo" booth, fashioned like a throne and embellished with blooms. Crowns are provided — and a royal proclamation, signed by "Tom Foolery, Chairman of the Piedmont April Fools," invites passersby to pause, snap a selfie and enjoy the scene while they await the Royal Bus. Installation by Patty Reed, Lisa Tuck and Jan Zovickian.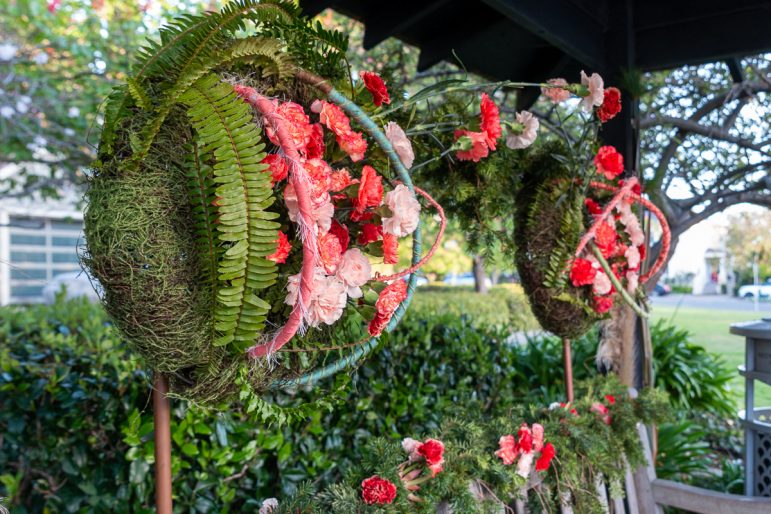 ---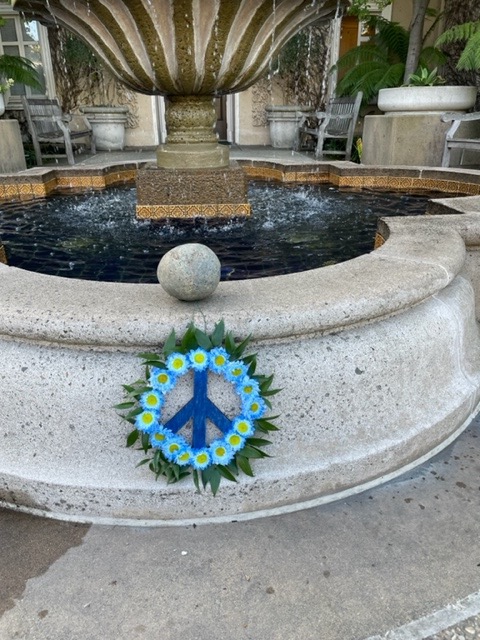 View all of these floral pop ups at the following locations around town:
| | |
| --- | --- |
| Locations | Map Key |
| Oakland Avenue (@Latham) | 1 |
| Vista & Bonita (above tennis courts) | 2 |
| Bus stop (Highland btwn Sierra and Sheridan) | 3 |
| Sheridan & Highland triangle | 4 |
| The Bear at Crocker Park | 5 |
| Estates & Hampton triangle | 6 |