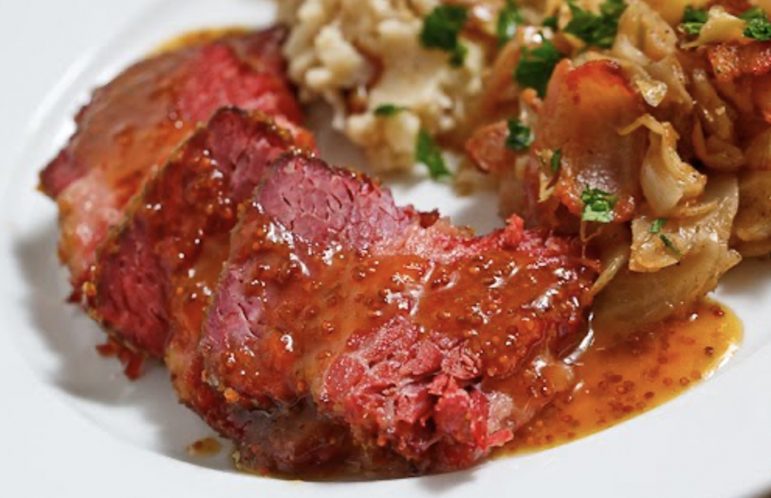 Ruby Glazed Corned Beef with Sauteed Cabbage and Smashed Potatoes
This recipe comes to me from a dear friend and is a step up from your traditional corned beef where sophisticated sweet and tart flavors update this St. Patrick's Day classic. It is adapted from her 35-year-old Silver Palate cookbook, The New Basics. Baked to a beautifully glazed finish, the hot corned beef is sliced thickly and offered with additional Port sauce. Add sauteed cabbage and smashed potatoes (check out NYT recipe Smashed Red Potatoes With Cabbage) to create the full Irish feast.
INGREDIENTS:
Corned Beef:
1 (2-3 lb) corned beef brisket (E.G. Trader Joe's Paddy's Corned Beef)
1 onion, diced
4 whole cloves
1 carrot, cut into 2" pieces
1 celery rib, cut into 2" pieces
3 garlic cloves
6 peppercorns
Ruby Currant and Port Sauce
Glaze
DIRECTIONS
Place beef in heavy pot.
Stud each onion with 4 cloves.
Add to pot with carrots, celery, garlic and peppercorns. Cover with water. Bring to boil.
Reduce heat, cover and simmer until beef is tender, about 3-1/4 hours, turning beef every hour.
NOTE: Can be prepared 1 day ahead. Refrigerate beef in cooking liquid. Bring to room temperature before baking.
---
Position rack in center of oven and preheat to 350 degrees.
Drain beef and pat dry. Arrange fat side up in large roasting pan. Cut off any excess fat and discard.
Spread coarse-grained mustard over beef.
Pour 2-1/2 cups sauce over beef. Sprinkle with sugar.
Bake until beef is glazed deep rich brown, basting every 15 minutes, about 45 minutes.
Transfer to large platter. Spoon some of sauce over top. Serve immediately, passing remaining sauce separately.
For sauce: Combine sauce ingredients in heavy saucepan over medium-low heat. Stir until jelly is melted. Let cool at least 30 minutes. (Can be prepared 1 day ahead.)