The Highlanders faced a full calendar of matches without their #1 singles player. But they managed just fine, winning three matches in three consecutive days.
Piedmont beat El Cerrito, Berkeley and Alameda, with the last two matches part of West Alameda County Conference play. The Highlanders are now 5-1 on the season.
On March 10, Piedmont hosted Alameda and emerged with a 5-2 victory. The Highlanders swept the doubles matches and split the singles.
Lenni Burchardt played at No. 1 singles with Charlie Lambert nursing a back injury. Burchardt fell to the Hornets' Mason Conlin, 6-4, 6-3. but continued to show that he's a top-line addition for Piedmont.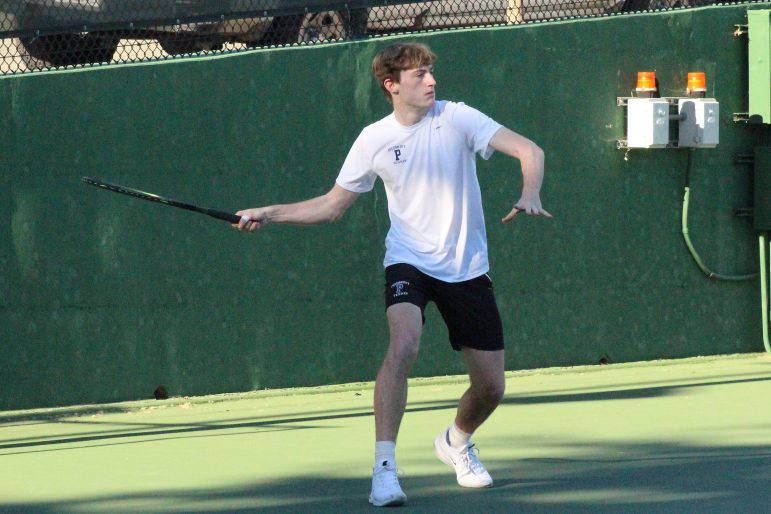 "My forehand just didn't work today," said Burchardt, who was talking to himself about said forehand several times during the match.
"I still need more games to get used to the courts. If I don't play for a long time, I need a lot of matches to get back to it. But I can tell it's getting better every match. Except for today."
Burchardt is from Greiswald, a town of about 60,000 in the northeast of Germany, not far from the Polish border. High school sports isn't a thing in Germany, but he played on a club team with much older players. He likes playing high school sports a lot better.
"I love high school tennis here," he said. "Because you have a team. When I played, it was a man's team, they were all 25, 27 and I was 15, but now everybody is my age."
Burchardt definitely enjoys a lot of things about being here. After his match, he jumped on a bike and popped a couple of wheelies on Vista Avenue.
Julian Morris won the other point for Alameda, beating Ben Breber at No. 2 singles in a tight match, 6-3, 3-6, 6-2.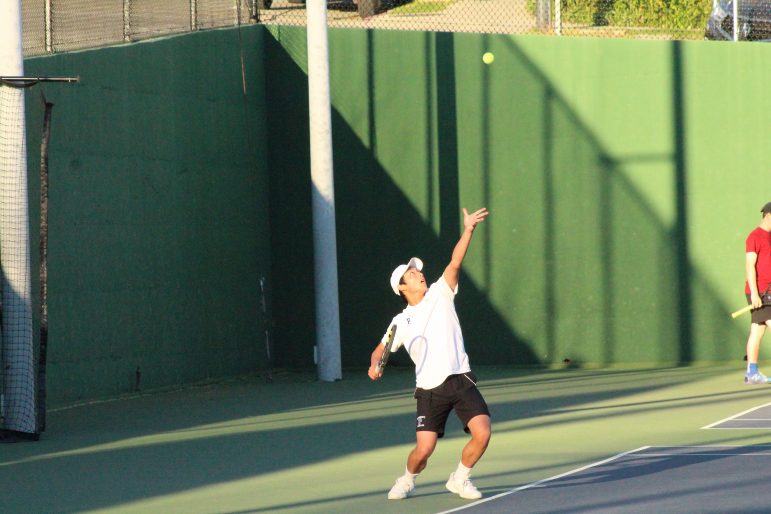 Ethan Pham defeated Yian Pan at No. 4 singles, 6-0, 6-1. Pham said he likes having Burchardt on the squad.
"Our team is pretty deep, so we're winning at all positions," Pham said. "He (Lenni) really brings the team together a lot."
Monte Imburg beat Aidan Boscovich at No. 3, 6-2, 6-2. Imburg was a top doubles player for the Highlanders in the past ,and is just getting used to playing singles.
"It's not my preferred game, but it's starting to get fun, I guess," Imburg said. "I play a lot of pickleball and a lot of my touch at the net comes from that. I feel like it's easier than singles."
The doubles teams were dominant, dropping just seven total games in six sets. The No. 1 team of Kai Baudendistel and Charlie Olcott beat Elek Strong and Colin Pero, 6-0, 6-2. Graham McWeeny and Carson Hicks downed Xander Kong and Caleb Wong at No. 2, 6-2, 6-1. Brady Colbert and Jacob Hsia teamed at No. 3 to defeat Luke Saum and Kandan Saheba, 6-1, 6-1.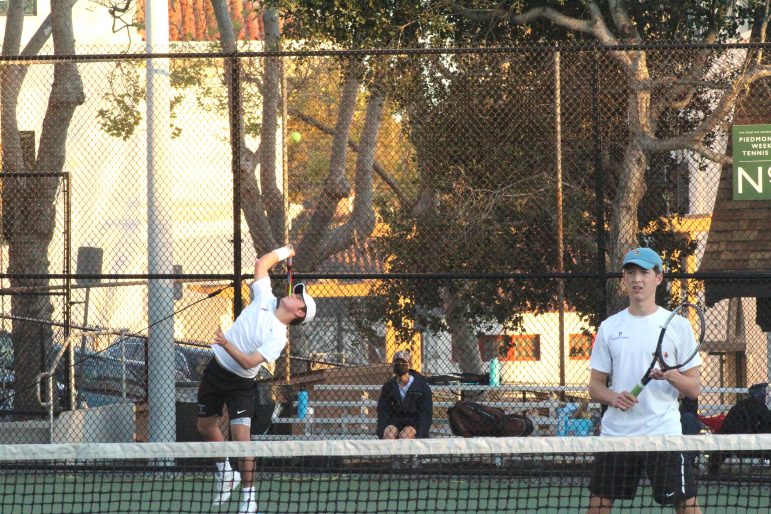 On March 9, Piedmont traveled to Berkeley and beat the Yellowjackets, 5-2. This time, the Highlanders swept the singles and dropped two of three in doubles. Burchardt beat Michael Alhargzy in the No. 1 match, 6-3, 6-2. Breber defeated Leighton Sproul at No. 2 by the same scores. Imburg handled Celian De Labrouille, 6-2, 6-3, while Pham beat Kenji Rohn, 6-4, 6-3.
Baudendistel and Olcott won the No. 1 doubles match over Boris Momtcher and Jasral Dhillon, 6-4, 7-5.
On March 8, the Highlanders handled El Cerrito at home, 6-1. Burchardt beat Jaden Balmacada at No. 1, 6-1, 6-3. Breber had a close match at No. 2, eventually falling to Tory Johanson, 7-6 (4), 4-6, 10-6. Imburg defeated Daniel Seo in the No. 3 match, 6-3, 6-4, and Pham beat Davin Berkman, 6-3, 6-1.
Baudendistel and Olcott defeated Julius Barnes and Ugew Gronpo in No. 1 doubles, 6-3, 6-1. Arun Brahma and Charlie Sullivan beat Chaitawyaa Dandekar and Dylan Richardson at No. 2, 6-3, 6-0. McWeeny and Hicks took the No. 3 match over Henry Addison and Cole Raikow, 6-1, 6-0.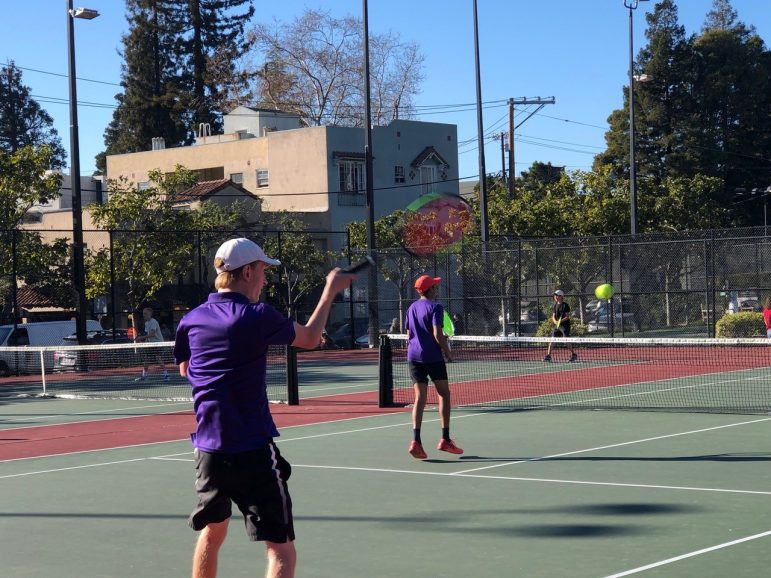 Piedmont suffered its first loss of the season on March 5, getting shut out on the road by a top flight Los Altos team, 7-0.
Burchardt fell to Jay Maliampati, 6-2, 6-3. Breber bounced back after a tough first set but fell to Roahn Panchal at No. 2, 6-1, 7-5. Pham had the closest match at No. 4 singles, losing to Acschaan Attuja, 6-3, 6-4.
Photos by Damin Esper and Maria Carson Breber