Soren Dixon scored eight goals and Nathan Fredericks added six as the Highlanders defeated University-San Francisco 20-11 on March 11 at Witter Field.
Piedmont jumped on top with the first six goals of the game.
"We're always a little slow when we start off," Jack Nelson said. "Once we get locked in and go through our plays, passes are down, shots are down, then we just make things happen."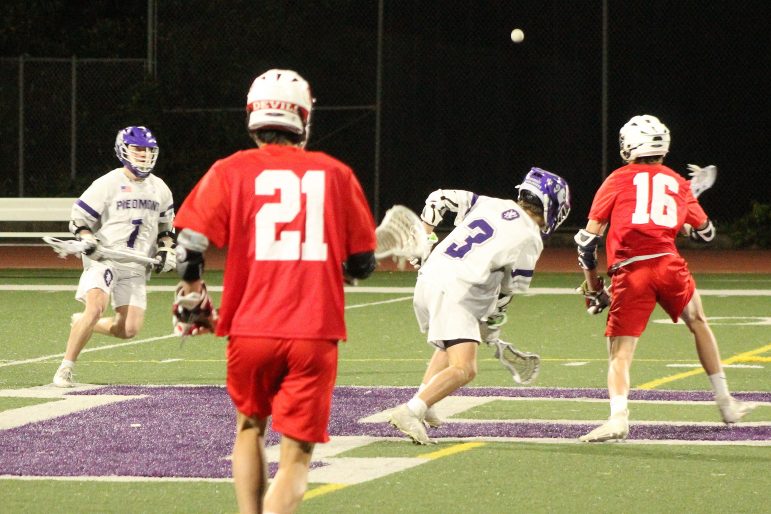 Did we mention the Highlanders took a 6-0 lead?
"Well, you know," Nelson said with a laugh. "Today was a better day."
Nelson had a pretty good game as well with three goals, including a behind-the-back shot in the fourth quarter, and an assist.
"It was a beautiful pass to me," he said of the trick shot. "When I was running across the field, it was too late to do an overhand shot so I had to do around the back. It just happened in the moment."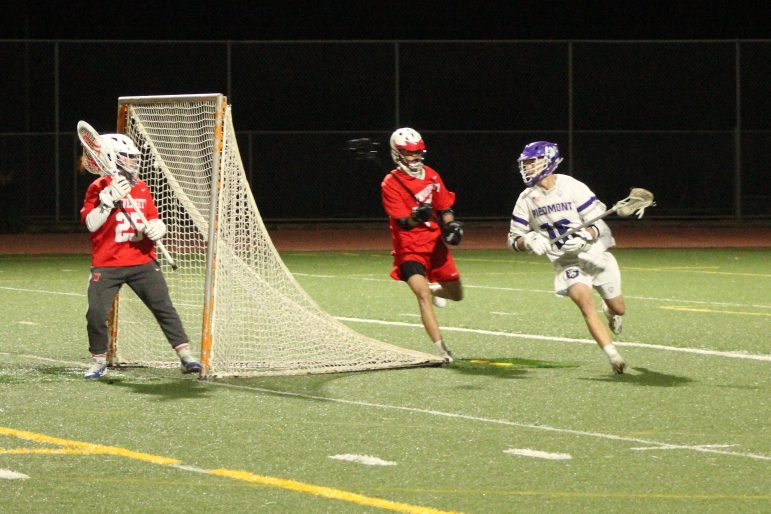 It made the score 19-9 and brought the house down. However, the game was decided early.
Fredericks opened the scoring just 71 seconds into the game. Dixon followed that just seven seconds later. Then, Dixon passed to Nelson for a 3-0 lead with 3:33 to go in the first quarter. Dixon and Fredericks scored the next two. Then, Rylan Nelson found Dixon for a goal. There was still 4:40 on the clock and Piedmont led, 6-0.
Rylan Nelson contributed two goals and two assists.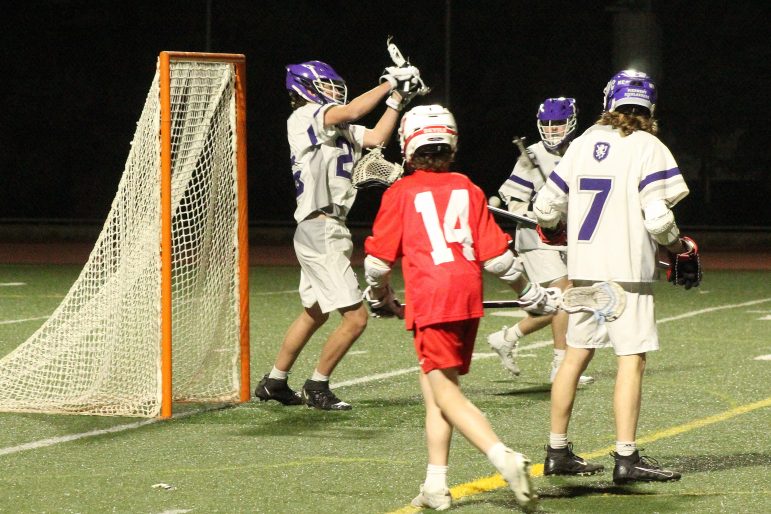 On the other side, Matson Martin was outstanding on faceoffs for University, which allowed the Red Devils several scoring opportunities in the early going. Highlander goalkeeper Gus Von Metzsch made eight saves in the first quarter, however, and the Piedmont defense played tight. That was a good development, according to Piedmont coach Alex Yu.
"Defense is coming along," he said. "They were very raw at the beginning of the season. We only have one returner – Noah Lindenbaum. With our freshman goalie, one returner, we started out a little slow but we couldn't be happier with where we are now. Everybody's improving and they're playing good team defense. Which is all we can ask.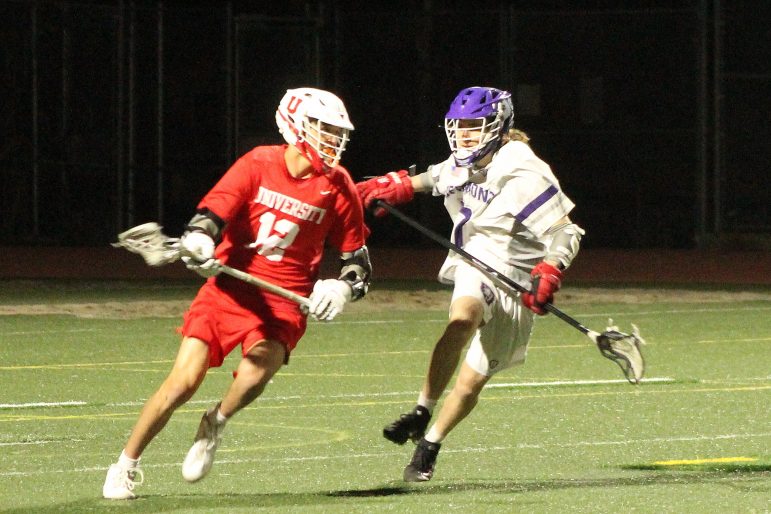 Yu was in a boot and crutches after tearing his Achilles tendon during a practice a few days before. He joked that he tore it kick boxing or street fighting.
"It was me being just … old," he said.
Apollo Gabuka scored four goals for University. Finn McHugh added two.
Piedmont is now 4-0 on the season. On March 7, the Highlanders beat Dougherty Valley at home, 18-8. Fredericks led the way with nine goals. Dixon, Jack Nelson and Rylan Nelson each had three. Dixon also had five assists.
Doughtery Valley's Trevor Tran had four goals.
On March 4, Piedmont defeated Berkeley, 18-10. Dixon scored eight goals and added three assists. Jack Nelson had four goals and four assists. Fredericks had four goals and an assist. Gus Von Metzsch had 15 saves.
Augie Gade scored four goals for the Yellowjackets while Brace Sproul added three goals and an assist. Max Cherbini recorded 19 saves.
Photos by Damin Esper