A landscape-themed exhibition at PCA featuring works created since 2017 by Bay Area-based Robert Brokl reveals the artist as a keen observer of change. In a visual chronicle of nature during an era of savage wildfires, severe drought, and rapid climate change accelerated by human impact and encroachment on the environment, roughly 30 pieces include large scale paintings (oil and gouache), pastel drawings and small woodblock prints. The artwork depicts scenes and settings in the Southern Sierra Nevadas, the deserts of Death Valley and Anza Borrego, Northern California coastal shorelines and Redwoods, and the town of Mendocino.
The exhibit is open Saturdays and Sundays March 5-20, with an artist's reception at 2 p.m. on Sunday, March 13. Covid protocols require proof of vaccination and the wearing of masks while inside the main space and adjoining gallery.
In an interview, Brokl says, "Truthfully, I'm more worried than ever about climate change. I'm not young, so not likely to see the worst of the horrors to come, but I'm able to remember when fire season wasn't year round, but just the last anxious days in October, before the rains that always began around Halloween. Which then refilled the reservoirs, lakes, and rivers."
In 2014, he recalls hot, strong December winds toppling a giant Atlantic cedar onto his home. "Talk about up close and personal!" Brokl says. He connects the incident to other indications of the climate crisis and environmental disintegration he sees while traveling.
In an email, he sends an all too familiar image of charred trees and a dry, barren hillside vista. "This photo is one I took this August on Hwy. 168 coming back from Mono Hot Springs, showing the aftermath of the Creek Fire, which burned through this area the previous fall. Shaver Lake beyond, with exposed shoreline—drought."
The next image and a painting included in the exhibit is, he says, "a series of riffs on desert themes, roughly four foot square. Perhaps one of my most explicit commentaries on what I'm feeling and thinking about the environment." In the painting's upper right quadrant, a red sun hovers in a yellow sky and two cactus float with cattle skulls in the bleached landscape below. The other section of the canvas has great tusked animals parading through frozen or icy, blue, black and white terrain.
Brokl has edited the works in the exhibit with the express purpose of showing a large body of work on a unifying theme in various sizes and mediums. "The gallery lends itself to showing larger pieces in the main space, and smaller, more intimate work in the adjoining gallery. My woodblocks are quite small, but the announcement image is six feet high by eight feet long," he says.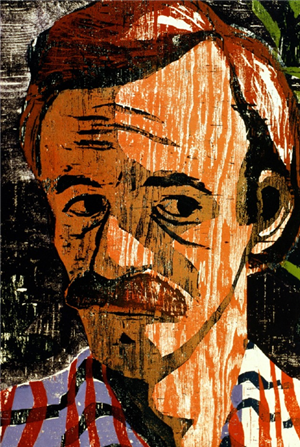 Brokl encourages visitors to the exhibit to learn about him on his Wikipedia page, which cites his primary influences as German Expressionism, Japanese woodblock printing and the Bay Area Figurative Movement. In the Bay Area, his work has been exhibited at the Fine Arts Museums of San Francisco (FAMSF), SFMOMA Artist Gallery, Oakland Museum of California, and San Jose Museum of Art. He holds multiple degrees from the University of California at Berkeley (B.A. 1979; M.A. 1980, M.F.A. 1982) and has served as a Visiting Lecturer at the University of California at Davis, and San Francisco State University.
A longtime political, social and arts activist, Brokl says in addition to recent and past artwork his website is filled "chock-a-block with my writing." About the essays, he says, "Writing is a challenge for me, which makes it worthwhile. Artists can be too dependent upon critics to tell them what they do."
Asked about future projects, Brokl prefaces his reply by saying his primary approach is to be open to the unexpected. "'Follow your nose' was the advice of my teachers, Joan Brown and Elmer Bischoff, and that's wise. Too much pre-planning and preparation kills spontaneity and one of my chief incentives as an artist is to surprise myself. Brown said one doesn't even begin a series, knowing it will be a series."
Claiming he has never visited and is "desperate to go to Japan" when Covid recedes and international travel is easier and safer, Brokl's Japanese-inspired woodblock prints are top on his mind, but not the only thing on his agenda. "I'm also looking forward to a gallery or museum committing to the Legacy Land exhibit a friend and I have proposed, which would feature work by late artist friends who've influenced us, along with some of our own work. I'm participating in the upcoming Kala fundraising auction my Buddha Heads etching inspired by my trip to Southeast Asia in 2005." Brokl will also have an essay about his life, career as an artist, and his decades long political activities appearing on the Hearst Foundation website blog in 2022. Once again becoming the observer of what is in this instance transformation in an internal landscape, he says, "In 1967, I was a Hearst Senate Youth Program delegate from Wisconsin. The essay is a reflection on how I've changed and how I haven't."
Learn more about Robert Brokl by visiting http://www.robertbrokl.com/.