Piedmont High School was well-represented at the 2022 Dublin Distance Fiesta on March 19 at Dublin High. The meet, one of the largest distance race-only events around, featured schools from all over Northern California in dozens of heats at 800, 1,600 and 3,200 meters, as well as the distance medley relay. The meet ran over 14 hours, which didn't include a handful of races held the night before.
Ellie Black set a pair of personal-bests, finishing the 1,600 in five minutes, 13.90 seconds, then coming back to run a 10:57.05 in the 3,200. Her heats were spread out enough that she went home in between races and took a nap.
"I got up this morning and ran a 16 at 10:30," she said. "I was feeling pretty good going into it. It's the first race that I've run with a lot of girls in it throughout the whole race. The past couple of races, I ran the 800 by myself. Also, there's something about 20-plus girls in a race that are all basically running the same time."
She then showed the spike wound on her leg. She earned that two-second PR and 27th place overall out of 515 runners.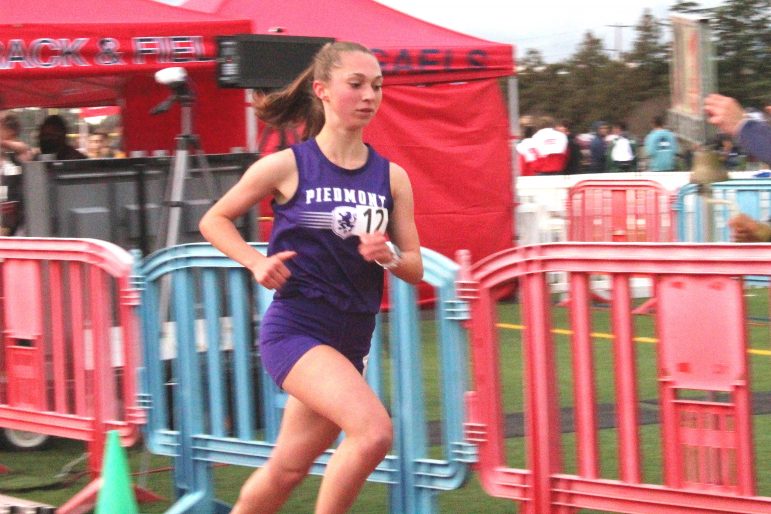 A DJ played music during all the races and athletes could request a song. Black was excited when he put her song – Macklemore's "Can't Hold Us" – on at the start of the third lap.
"Going into the third lap, I was, 'Ah, this is my song, let's go,'" she said. "I don't know, it's my hype song!"
Another thing Black enjoyed were the pre-race introductions. Most of the heats were started right when the final finisher from the previous heat crossed the finish. But for the top heats, the public address announcer read an introduction for each runner. Black made the final heat of the 3,200.
"It's really surreal getting introduced," she said. "This is my first time ever running at Dublin. It was just cool to be introduced."
The race was more of the same – a lot of girls grouped together in a physical race. Black was 10th overall out 189 runners.
"I didn't feel as good as I wanted to, but I didn't feel horrible," Black said. "Overall, a good day!"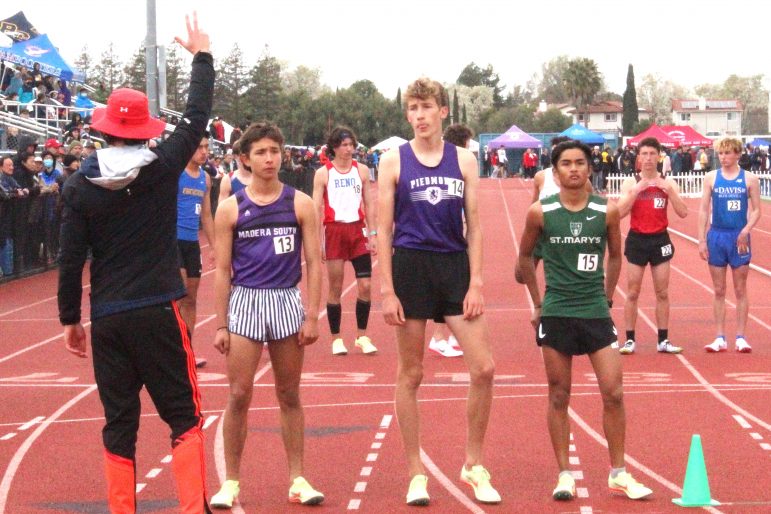 Jack Stein led the boys team, matching Black with personal-bests in both the 1,600 and 3,200. He had the eighth-fastest time in the 1,600, recording a 4:19.07 – a PR by nine seconds. There were 906 finishers in the event. His 9:20.56 in the 3,200 was 18th out of 420, and dropped over 19 seconds off of his PR.
Christian Taylor was a surprise add to the final heat of the 1,600, and was happy with his time of 4:27.34. He came back to run a sub-2:00 800, clocking 1:58.92. Teammate Cooper Downing won his heat in the 800 in 1:57.87.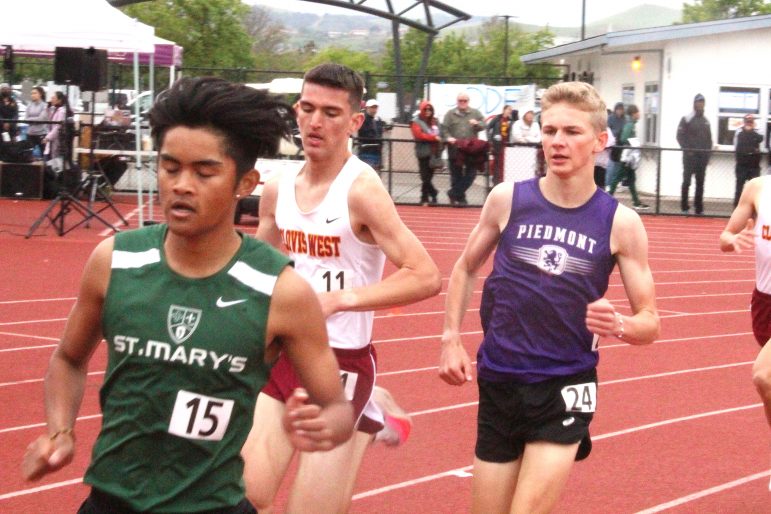 "My goal was to hit 28 after the first 200," Downing said. "That's right where we were. There was one guy in front of me and I focused on trying to reel him back in the last lap. With 150 to go, people started kicking and I was getting swarmed but I had a lot left in the last 100 to take it back."
Said Taylor, "It was great. I tried to go out in 60 and then just kick the last lap. I came in in 60.5 and everyone was starting to slow down. So I just kicked."
Parker Long ran a 4:36.47 in the 1,600. Xander Schulte-Sasse ran 4:41.60 and Julien Lee ran 4:42.39. Long came back to run 9:48.08 in the 3,200.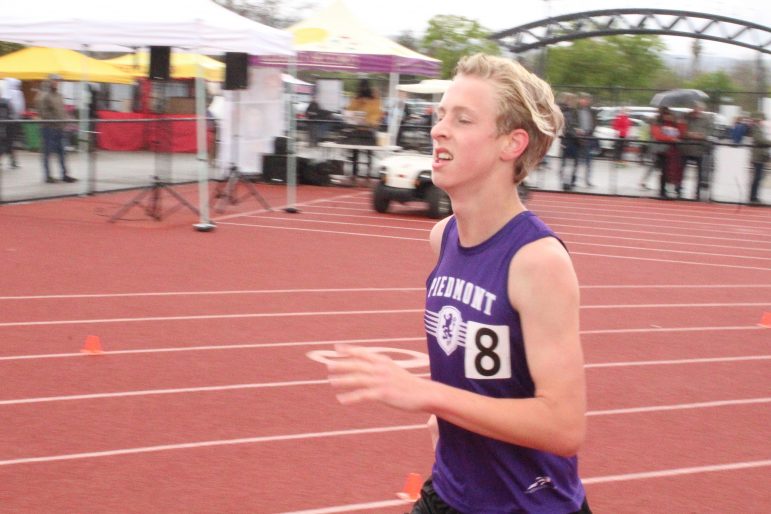 Highlander coach Jeanine Holmlund was ecstatic with her team's performance.
"We're very excited," she said. "They've been doing amazing. Even if they didn't get a PR, which most of them did, they matched what they've been running."
About Downing and Taylor, Holmlund said, "Our goal was get under that two. They've got ambition to run at Arcadia. They aren't satisfied. We love it."
Photos by Damin Esper