You'd be hard-pressed to come up with a trio of operas more diverse in both subject matter and musical character than what feisty West Edge Opera has planned for its upcoming Summer Opera Festival: an ornate Baroque work, replete with vocal and orchestral pyrotechnics, about a triumphant Roman general and his Egyptian queen lover; a singular, sinister and somewhat surreal take on a legendary bigamist's sixth bride from an early 20th century Impressionist composer; and the American premiere of a 2018 work by a British composer based on a wildly popular, slightly spooky children's novella by Neil Gaiman.
Just as significantly, the nimbly peripatetic West Edge company has assembled a multitude of great talent to present this wide-ranging festival, staging it this time at the landmark Scottish Rite Center on Lake Merritt in Oakland, the latest of at least a half dozen venues it has occupied in recent years.
It begins on July 23 with the opening of Handel's "Julius Caesar" (aka "Giulio Cesare in Egitto") from 1724, which is set in 48 B.C. as the conquering Roman enters Egypt and falls for proud Cleopatra. The celebrated young countertenor Aryeh Nussbaum Cohen, having just wound up his debut at the Metropolitan Opera in New York, joins the cast in the title role, singing opposite soprano Shawnette Sulker as Cleopatra. West Edge general director Mark Streshinsky is the stage director, and music director Christine Brandes, herself a widely admired soprano, conducts. There will be repeat performances July 31 and Aug. 4.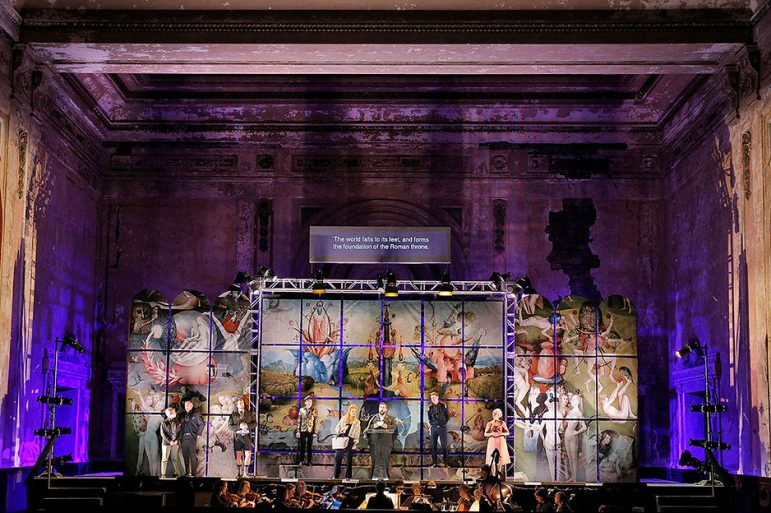 Next up is 1907's "Ariane & Bluebeard," the only opera written by French composer Paul Dukas, most remembered for his "The Sorcerer's Apprentice." Its plot revolves around the defiant newlywed Ariane, given seven keys upon her arrival at Bluebeard's castle, who is forbidden the use of the seventh but ignores the command. Much weirdness ensues. Mezzo-soprano Renée Rapier is the bride who ferrets out what happened to her predecessors, and respected Bay Area bass-baritone Philip Skinner, a West Edge favorite, sings the role of Bluebeard. The production, conducted by Jonathan Khuner, West Edge music director, and staged by Alison Pogorelc, opens July 24, with repeat performances July 29 and Aug. 6.
The festival closes with English composer Mark-Anthony Turnage's work "Coraline," getting its U.S. premiere after its 2018 debut at the Barbican Centre in London. Based on the 2002 bestselling children's book by Neil Gaiman that was also turned into a stop-motion feature film in 2009, the West Edge production, a partnership with Papermoon Opera Productions, is aiming to please all ages. Mezzo-soprano Kendra Broom takes the lead role as the plucky little girl who enters a parallel universe through a strange door in her New York apartment and does battle with otherworldly forces. Mezzo-soprano Stephanie Sanchez and baritone Efraín Solís sing as the Mother and Father and the Other Mother/Other Father. "Coraline" opens July 30 and repeats Aug. 5 and 7.
As a sort of bookend to the festival, West Edge is also offering a separate concert preview of a commissioned work, its first, that will debut on the company's 2023 summer festival lineup. San Francisco composer Nathaniel Stookey's "Bulrusher," based on a play by Eisa Davis and set among rural Mendocino's Boontling-speaking people, will be presented in a workshop format on Aug. 14 at the Taube Atrium Theater in San Francisco.
Subscription packages to the festival, on sale as of Friday, are $132-$378, available at https://westedgeopera.org/festival. Single tickets, $40-$140, will go on sale June 1. Separate tickets for the "Bulrusher" workshop are $40.