The North Coast Section champion Piedmont High boys soccer team received accolades Monday night from the Piedmont City Council, in the form of a proclamation and some personal congratulations from city leaders. The Highlanders defeated University High School-San Francisco 1-0 on Feb. 26 at Witter Field for Piedmont's first NCS championship.
"I know you'll look back on this years from now," City Administrator Sara Lillevand told the players, who were gathered in council chambers. She was a member of an NCS championship team herself at one time. "You probably don't know what an accomplishment this really is," Lillevand said. "It's one of the fondest memories of all my athletic endeavors."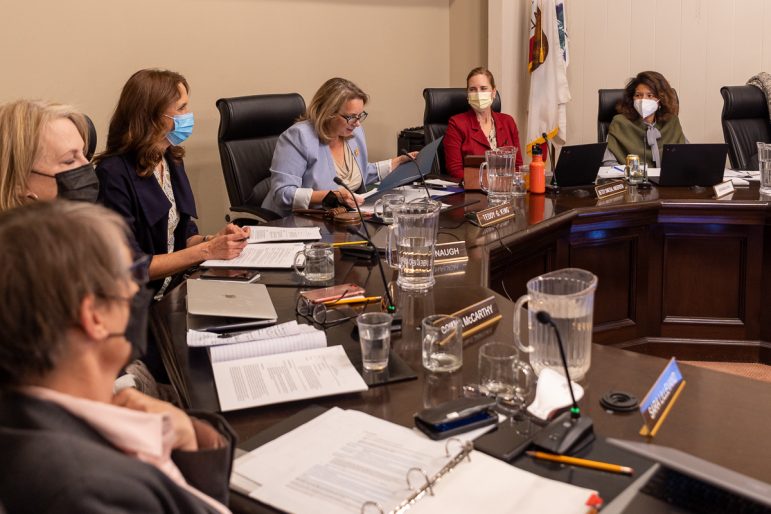 Highlanders Coach Todd Sullivan agreed. "This is something that will live with us for the rest of our lives."
Mayor Teddy Gray King said, "We are Piedmont proud of every single one of you."
---
Casalnuovo promoted
Nicole Casalnuovo, who served for almost three years as the Piedmont Police Department's juvenile officer was recently promoted to sergeant, and her formal "badge pinning" ceremony took place as part of Monday night's City Council meeting, as well.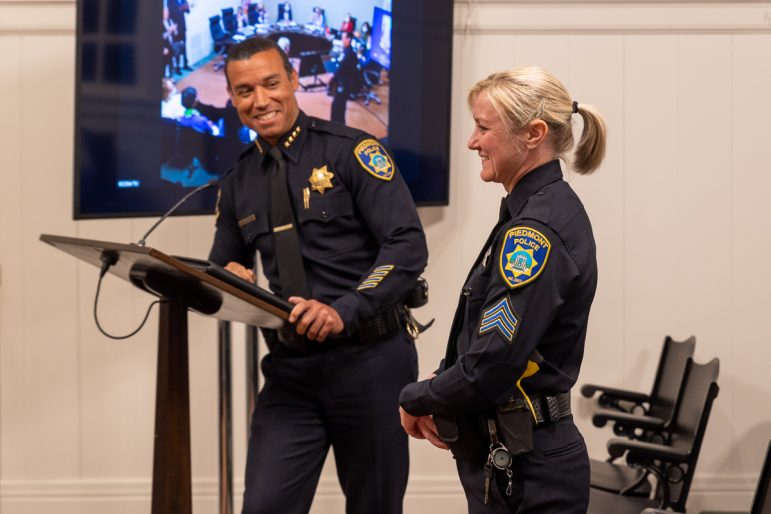 She joined the Piedmont PD in September 2015 as a patrol officer, and in July 2019 was named the department's juvenile officer, whose initial tasks were education and training to discourage vaping and other nicotine use, and help develop a diversion program for students who run afoul of the law.
"It's been challenging but rewarding already, and I'm grateful to have the new role," Casalnuovo told the council. Police Chief Jeremy Bowers said Casalnuovo was watch commander while a handful of notable crimes – including a recent assault and robbery in Dracena Park and a substantial drug bust – were reported.
"She's been a little bit of an 'expletive' magnet," Bowers joked.
Councilmember Jen Cavenaugh joined her colleagues in congratulating Casalnuovo, and praising her previous work. "What I heard actually is that Sgt. Casalnuovo gets 'expletive' done," Cavenaugh said.
Photos by Julie Reichle