Many seniors in the Bay Area are already struggling to make ends meet, and it's about to get a whole lot worse.
The growing population of people over 65 will put more pressure on limited resources and inadequate infrastructure for housing, employment, transportation and health care.
The region is not alone. Globally, the World Health Organization projects that the population aged 65 and above is expected to grow from 524 million in 2010 to nearly 1.5 billion in 2050 – an increase from 12 percent of the total population to 22 percent.
That aging boom will be even bigger in California as the population of seniors is expected to grow by two-thirds in the next two decades.
The state Department of Finance's Demographic Research Unit estimates that by 2052, 30 years from now, people age 65 and above will account for nearly 26% of California's total population. Without significant investment in planning, many older Californians face an increasingly bleak existence.
The impact of an aging population
California is already experiencing an ongoing retirement crisis as the population shifts towards a larger proportion of residents over the age of 65.
According to the U.S. Government Accountability Office, data from 2016 showed that nearly half of all U.S. households were headed by an individual over the age of 55 with no retirement savings. In 2015, the UC Berkeley Labor Center reported that many aging workers were unprepared for retirement and that California seniors were expected to struggle to afford even basic needs like housing and health care.
Housing — and the lack of affordable units — is one of the most complex issues facing the state and is directly tied to the state's high cost of living. Lack of stable housing has also been linked to severe health challenges, especially those related to mobility and cognitive decline.
These challenges hit seniors especially hard. Today, in many areas of California, people over the age of 50 are the fastest growing population of homeless people.
The California Elder Index, produced by UCLA's School of Public Health, which calculates the cost of basic living expenses for seniors, including shelter, food, medical care, transportation, and a minimal amount for other costs, such as personal care. According to the 2015 Elder Index report, 46.5% of single elders in California are unable to afford the basic cost of living. The percentage is even higher for renters, for whom 65.8% of single elders have incomes that fall short of basic needs.
The population of seniors in poverty is twice as high for seniors of color, a population that will grow to make up over half of California's seniors by 2035. According to the findings of the UC Berkeley Labor Center, seniors of color, on average, have half the income of white seniors in California, and largely lack access to the systems that would help them prepare for retirement, such as employer-provided retirement plans.
For many seniors, this means that an unexpected expense or change to their circumstance can ruin their chance of stability as they age.
Priscilla Essert, former executive director of Vintage House Senior Center in Sonoma, has seen this happen with many seniors.. "I will never forget one woman who was living on her own and happy, doing very well. She was prepared for retirement and had plenty of money when she fell victim to one of those online Social Security scams that target seniors."
The impact was devastating. "She lost her $300,000 savings and had to move in with her daughter," recalls Essert. "This woman was taken advantage of and lost everything."
What's being done to prepare for an aging population
Given the predicted demographic shifts, the state is putting effort and resources toward anticipating and planning for the shifting needs that come with an aging population, as well as caring for seniors who face these challenges now.
These aging trends are significant — but not a surprise to state planners.
California Gov. Gavin Newsom issued an executive order in June of 2019 calling for the development of a Master Plan for Aging. The plan establishes goals and strategies for multiple public agencies and private organizations to tackle the issues posed by an aging population and build a "California for All Ages" by 2030.
This blueprint lays out five core goals along with 23 strategies and 123 action-ready initiatives for 2021-2022. The five key objectives are: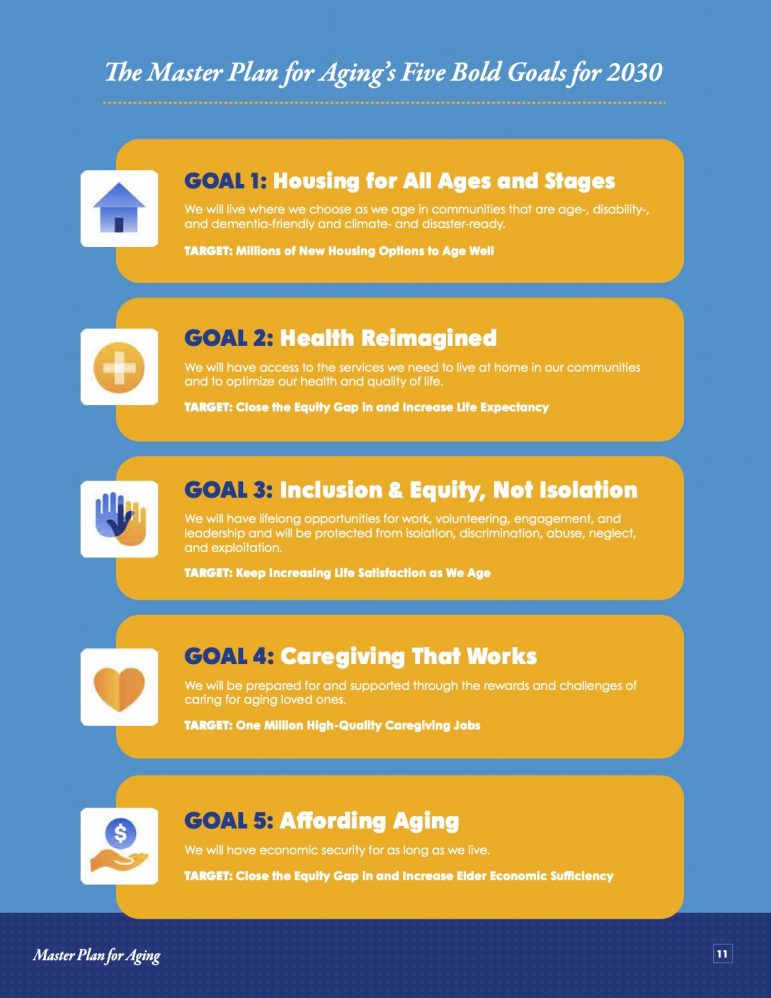 GOAL ONE: Housing for All Stages & Ages
The housing component calls for flexible living options, saying: "We will live where we choose as we age in communities that are age-, disability- and dementia-friendly and climate- and disaster-ready."
The plan seeks to provide millions of new housing options to help people age well. Housing plans for seniors need to factor in household size; proximity to transportation, community centers and other public spaces; and disaster preparedness. They also need to adapt to changing needs as seniors age.
GOAL TWO: Health Reimagined
This goal seeks to close the wealth gap and increase life expectancy, stating: "We will have access to the services we need to live at home in our communities and to optimize our health and quality of life."
This effort aims to provide access to healthcare and healthy communities, with particular focus given to addressing the systemic racism and inequity that impacts that access- a reality which has been exposed by the COVID-19 pandemic in particular. The goals on health also consider the health needs of older Californians in particular, over half of which will acquire at least one chronic illness in their lifetime. The plan also looks at the challenges of prescription medication and healthcare costs, which is of particular concern given the high incidence of poverty among Californians over the age of 65.
GOAL THREE: Inclusion & Equity, Not Isolation
The third goal focuses on building community for older Californians, and aims to "keep increasing life satisfaction as we age."
This goal seeks to provide seniors with opportunities to work, volunteer, stay engaged and take on leadership roles in their communities. It looks for ways to protect older people from isolation, discrimination, abuse, neglect, and exploitation – issues which have received added attention lately following news stories investigating abusive senior living and care facilities across the country.
According to the National Council on Aging, an estimated one in every 10 Americans over the age of 60 experiences elder abuse. It is further estimated that only one of every 24 cases of elder abuse is reported, so the number of seniors affected is likely even higher.
In tackling issues of elder abuse and exploitation, the plan also aims to highlight the role of seniors as community leaders, business owners, mentors and volunteers.
GOAL FOUR: Caregiving That Works
The projected increase in the population of seniors will dramatically increase demand for caregivers. To prepare for this, the plan sets a target of one million high-quality caregiving jobs. State statistics shows the number of caregiving jobs increased by 6% between 2018 and 2019, resulting in a net creation of approximately 30,000 additional jobs.
The Master Plan for Aging also recognizes the need to support other caregiving adults, such as relatives of seniors, who are providing care for their aging family members. The state estimates that nearly 5 million Californians serve as family caregivers, and that 1.7 million of these caregivers are caring for someone with either Alzheimer's Disease or dementia. The plan estimates that these individuals engage in approximately 4 billion hours worth of unpaid labor – worth an estimated $63 billion – with the disproportionately large share of this work falling upon women, especially women of color.
GOAL FIVE: Affording Aging
This category represents a broad concept of financial well-being for seniors and incorporates many of the metrics from Goals One through Four.
Rising costs for housing, health, and personal care put many seniors in an increasingly precarious position with little economic security as they age. Social Security payments are not adequate for such basic necessities as housing, food and healthcare; pensions and retirement savings, which previously provided a cushion for many seniors, have been eliminated or diminished.
"California has the second highest rate of poverty among older adults in the country, leading to high levels of hunger and increasing homelessness," according to the Master Plan
The strategies laid out to pursue this goal include ending homelessness for homeless adults, providing income security as Californians age by expanding employment opportunities and reducing housing and health costs, and protecting older Americans from poverty and hunger.
Can the plan succeed?
It's too early to say how much of the Master Plan has a chance of becoming reality in California; many initiatives are just getting started, and the Data Dashboard created to track the plan's progress has only been updated sporadically. An initial progress report on the plan issued in January of this year included many details about initiatives underway, but at this early stage it's far too early to judge the likelihood of success.
It is clear, though, that California has its work cut out for it. The Master Plan for Aging provides a roadmap but the state is far from its goal of becoming "the most age- and disability-friendly state in the nation."
"I just think that many of the pieces of that plan are going to get stalled out because of battles between health care and development, and it's just going to have so, so many obstacles," said Priscilla Essert, former executive director of Vintage House Senior Center in Sonoma.
"It's great that they came up with a plan," Essert said. "But it's going to need to be revised, it's going to have to have a lot of different stakeholders sitting at the table really committed to finding solutions, and it's going to be costly."
---
This article was produced by LOCAL NEWS MATTERS as a project for the USC Annenberg Center for Health Journalism's 2021 Data Fellowship.