Seven* Piedmont students will perform with the Young People's Symphony Orchestra on Saturday, Feb. 26 at 8 p.m. at the First Congregational Church of Berkeley. Ticket details below.
YPSO continues its season of live performances with the second of four concerts on Saturday, Feb. 26. This is YPSO's 85th season and David Ramadanoff's 33rd season as its music director/conductor. He will be conducting 93 young musicians who range in age from 12 to 19, and hail from many Bay Area cities, including seven from Piedmont: Samantha Cheunkarndee (9th grade, violin), Caitlin Gong (12th grade, cello), Jacob Hsia (12th grade, violin), Cameryn Kwong (12th grade, violin), Sophena Tuli (9th grade, clarinet), Eleanor Vo (12th grade, viola), and Isabella Wu (12th grade, violin).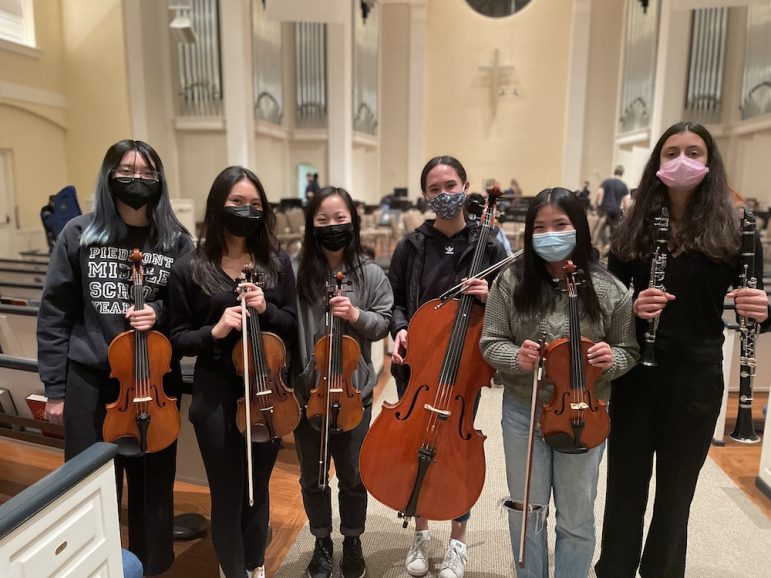 The concert will feature the works of Dmitiri Shostakovich, and two living American composers – Jennifer Higdon and Adolphus Hailstork.

The first half of the program will feature Blue Cathedral (Higdon) and Epitaph of a Man Who Dreamed (Hailstork). Blue Cathedral was composed in 1999 in honor of Higdon's brother who passed away. According to an interview with the composer in the Pittsburgh Post-Gazette (2005) regarding the themes of her piece, "It was about deciding if life was going to be about living or about death". And while this was a very personal expression of a period in the composer's life, it is also a topic that is very universal and very present in our current decade.

Epitaph for a Man Who Dreamed was written by contemporary composer Adolphus Hailstork, current Professor of Music and Composer-In-Residence at Old Dominion Universtiy, in honor of Dr. Martin Luther King Jr. In an interview with the composer, he says, "I believe that African Americans deserve to have the same homage paid to their suffering, and to their glories when they occur, as has happened throughout all of Western history. YPSO was originally scheduled to perform this concert a little closer to MLK Jr. Day, but the date was pushed back due to Covid safety concerns. The intent of learning and performing this piece is to honor Dr. King, and explore his impact with student musicians in the orchestra. Even though the date was changed, the themes remain relevant and timeless.

Closing out this concert, will be a performance of Shostakovich Symphony No. 5 – a beautiful and challenging piece to play. Shostakovich composed during difficult times – as an artist living in Soviet Russia. While he was frequently lauded by that government, he was also constantly under pressure to craft music which supported the wishes of the Soviet government. His ability to express his artistic vision through those limitations, and in fact to overcome those restrictive boundaries is one part of what makes this piece so amazing.

YPSO
YPSO will wrap up their season in a Summer 2022 tour to the European cities of Leipzig, Prague, and Vienna.
Founded in Berkeley in 1936, YPSO is the oldest youth orchestra in California and the first independent youth orchestra in the nation. YPSO is funded in part by the Berkeley Civic Arts Grant, Kiwanis Club of Berkeley, Alameda County Arts Commission, individual and foundation donors, and the friends and families of YPSO students.
Tickets: $20
Buy tickets HERE
(510)-849-9776
Concert info HERE
Venue Info HERE
The audience members for this concert and open rehearsal are required to show proof of COVID vaccination unless under age 5, and all must be masked throughout the performance. If you have any symptoms of illness or have had a positive test within the past five days, please do not attend.
*This article was updated Friday night to reflect that seven local students were performing, not six as originally reported.